Have you ever wondered what the top coffee drinking countries are? Surprisingly, it's not what you think. Coffee can only be grown on the coffee belt, which favors tropical – mountainous regions, therefore other countries rely on importing their favorite beans from these locations. 
This would lead most people to assume that the countries that produce the most coffee also drink the most coffee because imagine having access to unlimited coffee right at your backdoor?! 
But that couldn't be further from the truth, in fact, you will find that in the top 10 coffee drinking countries, there are NONE of the top exporting countries. Strange right?
So now you will definitely be wondering which countries consume the most coffee. Based on statistics and research, this list covers the top coffee-drinking countries per capita (per person). Plus, we will also quickly cover by country as a whole too. 
Related: Most expensive coffee in the world.
Top 10 Coffee Drinking Countries by Person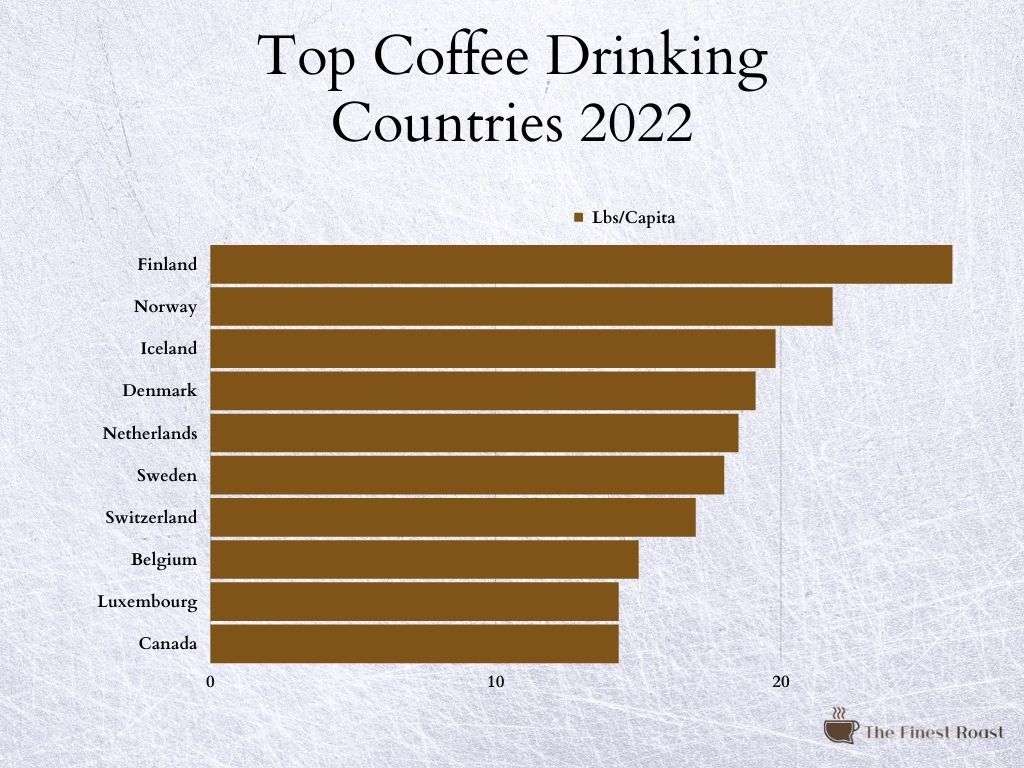 1. Finland – 26lbs Per Capita
To date, Finland is considered one of the largest consumers of coffee in the world. On average, each person in Finland consumes about 4 cups of coffee per day. Coffee in Finland is heavily embedded into the country's culture, you will be offered coffee at any house you visit and find coffee servings at most events.
The preferred style is to drink the coffee black, just boiling the water and coffee grounds together, similar to Turkish coffee methods. This may be to enjoy the caffeine kick but also to keep warm in the sub-zero temperatures. They also prefer a lighter roast.
Did you know that the love for coffee in Finland is so great that they have a law that requires each company to offer not just one coffee break per day to their employees but two? 
2. Norway – 21.8lbs Per Capita
Norway comes in second place when it comes to being one of the top coffee-drinking countries in the world. The high consumption of this caffeinated drink is mostly due to the colder weather. Norwegians drink about 3 cups of coffee per day on average. 
Kaffe in Norway goes back centuries and can be found everywhere you go. Most Norwegians enjoy their coffee black (the best way).
Just like Finland, Norway also offers several "Fika" or coffee breaks to their employees.  
3. Iceland – 19.8lbs Per Capita
It may come as a surprise but it is believed that the main reason why Icelanders have a strong relationship with coffee is because of alcohol scarcity and expensive bar drinks. Just like most people in other coffee drinking countries, coffee is a big part of their socialization.
Coffee shops in Iceland are independently owned and there are no big coffee chains in the country. So if you can't live without Starbucks, you might struggle! 
Iceland has a strong coffee culture and hosts a number of popular coffee competitions for baristas and independent roasters.
4. Denmark – 19.1lbs Per Capita
In Denmark, people don't just drink coffee to satisfy their caffeine cravings but they drink coffee to socialize. Danes call it "Kaffeslabberas", which means hanging out with friends for coffee and cake. 
The great thing when it comes to Danes and drinking coffee is that they prefer supporting local roasters compared to big coffee corporations where they can get excellent coffee quality. 
5. Netherlands — 18lbs Per Capita
Coming in fifth place in the Netherlands. If you notice, most of the top drinking coffees in the world are from countries with cold climates. The Dutch prefer to keep their cup of joe simple and is sometimes enjoyed with something… let's say extra.
It is actually the Dutch colonies and settlers that are responsible for introducing coffee plants to many different countries around the world – so we have them to thank for that!
In the Netherlands, there is Koffietijd which is a dedicated coffee time where people enjoy coffee and sweet treats.
6. Sweden – 18lbs Per Capita
In Sweden, they also call their socialization through drinking coffee "Fika" since Norwegians and Swedish all stemmed from a common forefather, Old Norse. Fika means coffee time and usually associates itself with a sweet treat. 
The average consumption of coffee per person per day is 1.8 cups. In Sweden, you won't have to worry about being without coffee, as there are thousands of coffee shops to satisfy your cravings. More importantly, the social aspect of drinking coffee is an integral part of Sweden's coffee culture.
7. Switzerland – 17lbs Per Capita
Did you know that Switzerland is home to the most favored coffee brand in the world which is Nespresso? 
The most common coffee consumed in Switzerland is "Kaffe-crème" which translates to espresso with cream. For those who enjoy coffee away from the home, it can be an expensive taste as Switzerland is one of the most expensive countries in Europe. 
8. Belgium – 15lbs Per Capita
The signature specialty coffee of Belgium is called "Brûlot" which was crafted by the renowned pastry and coffee shop, Wittamer café. Brûlot is an espresso-based drink with cinnamon, clover, sugar, lemon peel, and warm cognac.
9. Luxembourg – 14.3lbs Per Capita
Compared to other top coffee drinking countries in the world, Luxembourg is one of the smallest countries. The passion and love for coffee in Luxembourg is so big that it makes up for the lack of landmass they have. 
The most-loved coffee drinks in Luxembourg are Café Gourmand (a type of espresso) and Lait Russe (latte). 
10. Canada – 14.3lbs Per Capita
The last country on the list of top coffee-drinking countries is Canada, the only country outside Europe, likely due to the cold weather climate it has. Unlike people in Europe who love to consume coffee in cafés, Canadians prefer enjoying a sip of their favorite coffee in the comforts of their home. 
---
---
In case you were wondering – These are the next 15 on the list!
| | |
| --- | --- |
| Bosnia and Herzegovina | 13.67lbs per capita |
| Austria | 13.45lbs per capita |
| Italy | 13lbs per capita |
| Brazil | 12.79lbs per capita |
| Slovenia | 12.79lbs per capita |
| Germany | 12.13lbs per capita |
| Greece | 11.9lbs per capita |
| France | 11.9lbs per capita |
| Croatia | 11.24lbs per capita |
| Cyprus | 10.8lbs per capita |
| Lebanon | 10.58lbs per capita |
| Estonia | 9.92lbs per capita |
| Spain | 9.92lbs per capita |
| Portugal | 9.48lbs per capita |
| United States | 9.26lbs per capita |
Related article: World's strongest coffee.
---
---
Top 10 Coffee Drinking Countries by Country
So we have covered the top countries per capita, but what about the top coffee-drinking countries based on the entire country as a whole? These are the top 10 – based on each bag containing 60kg of coffee.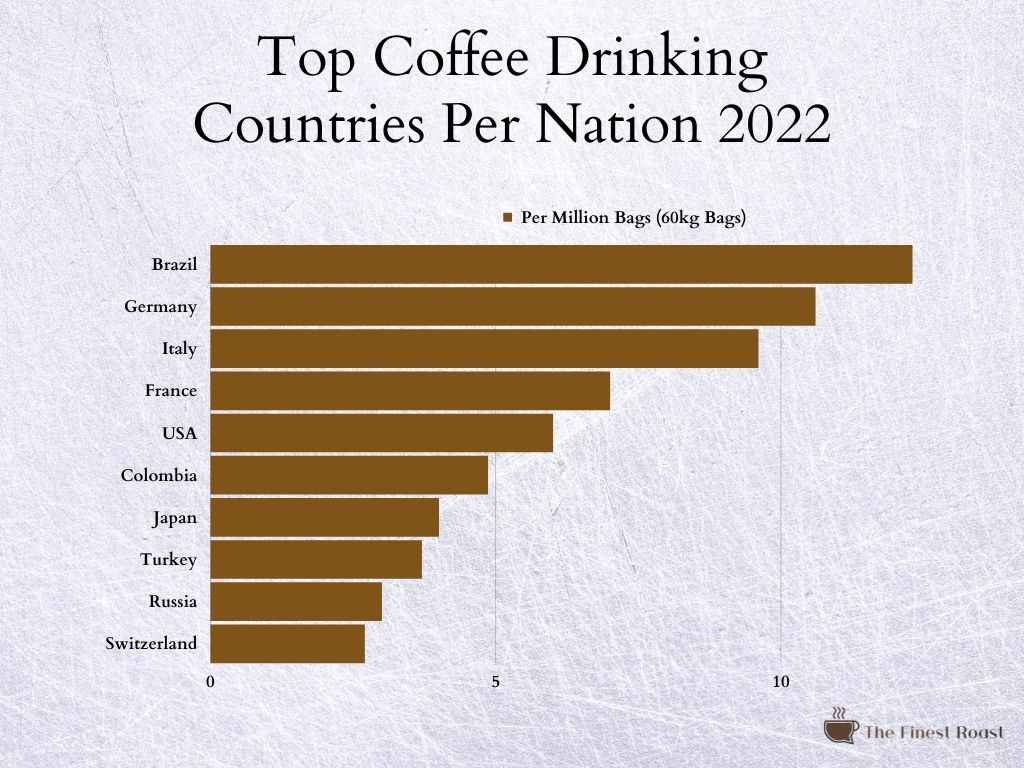 | | |
| --- | --- |
| Brazil | 12.3 million bags per year |
| Germany | 10.6 million bags per year |
| Italy | 9.6 million bags per year |
| France | 7 million bags per year |
| USA | 6 million bags per year |
| Colombia | 4.86 million bags per year |
| Japan | 4 million bags per year |
| Turkey | 3.7 million bags per year |
| Russia | 3 million bags per year |
| Switzerland | 2.7 million bags per year |
Notice how different coffee consumption by country is compared to the per capita coffee consumption stats. There is no telling how these stats will look in 5 years time, but we expect them to change a little.
The Final Sip
That's the 10 top coffee drinking countries in the world, with some surprising countries being up there. Currently, Northern Europe is dominating when it comes to their people drinking coffee. We put it down to the cold weather! Do you live in one of the top 10 countries? Let us know in the comments.
Enter Your Email & Never Miss a Post
P.S. We also run giveaways