Imagine having two of your favorite drinks, coffee, and alcohol, infused into one single cocktail, the coffee martini. It's a very simple but flavorful drink that you'll definitely fall in love with. There are many variations of this cocktail, but we will be looking at the most popular coffee martini recipe.
Make sure you check out this iced coffee recipe too.
What Is the Best Coffee to Use for a Coffee Martini?
The best coffee to use for a coffee martini is a medium-dark roast brewed as an espresso. This creates a bold taste with maximum flavor extracted to compliment the alcohol.
As you'll be adding a lot of flavors for your coffee martini, you don't want your brewed coffee taste to get lost in the mix, so the best coffee roast to use is from medium-dark to dark roast coffee beans.
Related Recipe: Irish Coffee
Is There an Alternative to Vodka?
Some people don't like the taste of vodka, so if you're one of the few, don't fret! You'll still be able to enjoy some coffee martini. All you need to do is replace vodka with gin. Did you know that the traditional way of making martini is using gin? 
If you want your coffee martini to be perfect, in terms of taste and texture, it's highly recommended that you use vodka instead.
For your vodka, you should use mid-range to high-end vodka. You can either choose for Belvedere or go for Grey Goose. Both these drinks have the perfect flavor to complement the coffee taste. If you use a cheap brand of vodka, your cocktail will likely fail and not taste very good.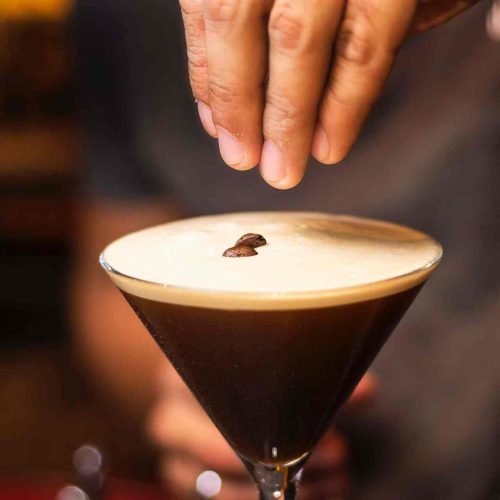 Coffee Martini
The coffee martini or espresso martini is a coffee and vodka based cocktail. The vodka compliments the bold coffee taste and creates a smooth, creamy cocktail that can be enjoyed at any time.
Equipment
Espresso Maker

Martini Glass

Cocktail Shaker
Ingredients  
2

Oz (60ml)

Vodka

1-2

Oz

Coffee Liqueur

15

Ml

Espresso Coffee Freshly Brewed 

3

Medium Cubes

Ice Cubes

1

Squirt

Whipped Cream

2

Individual

Coffee Beans
Instructions 
Prepare your cocktail shaker (or alternative) and martini glass. Add as much ice as you prefer to the glass. We recommend adding 3-4 cubes that are medium-sized, enough so that your drink isn't watered down.

Next pour the espresso, coffee liqueur, and vodka into the cocktail mixer. Shake well.

Pour the mixture over your ice into the martini glass.

Add whipped cream on top with some coffee beans as a garnish (optional).
Notes
You don't have to add ice to the coffee martini. Just remove ice from the recipe and follow the instructions the same. Some people prefer not to have ice, so their drink doesn't get watered down.
If you want to upgrade and experiment more on your coffee martini, you can either use Baileys or Kahlua as your coffee liqueur. Some people prefer to have their coffee martini creamy. 
If you want bolder coffee flavors, you can increase the amount of espresso. 
Can You Use Coffee Instead of Espresso in Martini?
You can use coffee instead of espresso in a coffee martini, however, it is recommended to use espresso for the best flavor. Espresso has a stronger flavor due to the ratio of coffee to water, therefore a stronger taste in your drink.
Does Vodka Mix With Coffee?
Vodka mixes very well with coffee in cocktails. It might not work adding it straight to your black coffee, but when combined with different ingredients, it creates a world-class cocktail. Take the Black Russian for example.
Do You Use Cold Coffee for Espresso Martini?
Espresso coffee is prepared hot. When mixing with your espresso martini, you can pour over ice when brewing, when mixing, or even when shaking. This will cool the espresso down quickly, so you don't add hot coffee to your cocktail.
The Final Sip
The coffee martini recipe is very simple to make, doesn't require much time, and doesn't use many ingredients. It can be enjoyed at home or at most bars. You can experiment with different syrups, creams, and alcohol to find unique flavors to suit your taste. Remember, do NOT use cheap vodka, or you will ruin the taste.