The Dalgona coffee surged into popularity through social media trends – following the #dalgonachallenge trend which has creators making amazing-looking coffees and people at home trying out the Dalgona coffee recipe.
It is now a popular and refreshing iced coffee drink that is a go-to for most people. Some consider it as a sweet treat and some enjoy it as a replacement for their hot brew when it gets to the summer months.
The Dalgona coffee recipe takes minutes to make and requires very few ingredients. The outcome is a smooth and sweet milky coffee drink that has the perfect balance of coffee mixed with the creaminess of the milk. You can learn more about what is Dalgona coffee here.
---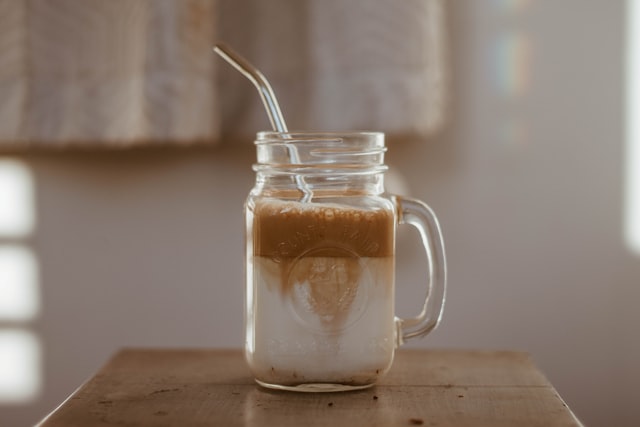 Dalgona Coffee Recipe
How to make a Dalgona coffee.
Equipment
1 Electric or Hand Whisk

1 Glass or Mug

1 Whisking Dish
Ingredients
2

Tbsp

Hot Water

2

Tbsp

Sugar

2

Tbsp

Instant Coffee

1

Cup

Milk

Adjust based on how much you want.

1

Pinch

Coffee or cocoa for dusting
Instructions
In a mixing bowl, pour in water, sugar, and instant coffee. Whisk all the ingredients until they are properly combined. You can either use a manual hand mixer, or an electric mixer to make things easier.

Keep on mixing until the mix becomes smooth and thick. You'll know it's ready when you're able to create soft peaks.

In a glass (preferably a tall glass), pour in some ice cubes. Pour the milk slowly in the glass over the top of the ice.

Scoop the whipped coffee out into the glass and scrape out any remaining. Remember NOT to stir this drink.

Sprinkle some instant coffee granules or cocoa powder on top.
---
If you want to experiment with Dalgona coffee, you can always try it with some different ingredients. Some people have tried the following:
Use ground coffee beans (fine grind) instead of instant coffee to create different flavors. For this to work, the coffee beans must be almost powder-like.
Using different kinds of milk such as oat milk and almond milk, to give a fresher taste.
Using half-and-half to create a creamier and thicker drink.
Test different sugar to mix with the coffee, such as coconut sugar.
Add syrup either to the coffee mixture or the milk.
Mixing chocolate in with the coffee mixture.
Creating a matcha Dalgona instead of the coffee version.
As you can see, there are many creative ways to mix up the Dalgona coffee, even more than we included above. Plus, if you have children, it's a fun activity to whisk the coffee and make the drink – although probably not wise to let them drink it!
Enter Your Email & Never Miss a Post
P.S. We also run giveaways