In order to start the day right, a freshly brewed coffee would definitely wake your senses up. If you had time, a visit to a trendy coffee shop would be ideal, but unfortunately, there just isn't enough time for that in the morning. So how about making your own coffee bar or station at home!
You can choose to create a fun project for yourself and the family by creating a DIY coffee bar or just simply purchase one online. If you don't want to spend any money, just take a look around your home and repurpose unused space or materials!
A home coffee bar can be visually pleasing and add a unique touch to your home decor. It can also provide a place for you to unwind if you wanted to add some seating around the station or bar. Not only this, but it also helps to keep all your coffee making essentials oganized so you don't have to root around if you are in a rush.
13 Coffee Bar Ideas
1. Day-to-Night Coffee Cart
The day-to-night drinks cart is a very versatile cart built on wheels, making it easy to move to any location in your house. This cart offers dual-purpose and provides enough space to store your morning coffee essentials and even your evening wine/drinks if you prefer. You can stack each shelf with different items including a book/newspaper, brewing essentials, and coffee extras.
2. White Wood Coffee Station
Making a coffee bar at home can be quite overwhelming since you probably don't have any idea what will work. White cabinets are a good thing when it comes to style and decoration as they never go out of style. A shelf, drawers to store your other coffee essentials, and a wall-mount cup display rack. This unique coffee station is separate from the kitchen and doesn't get in the way, which is ideal.
3. Refurbished Coffee Cabinet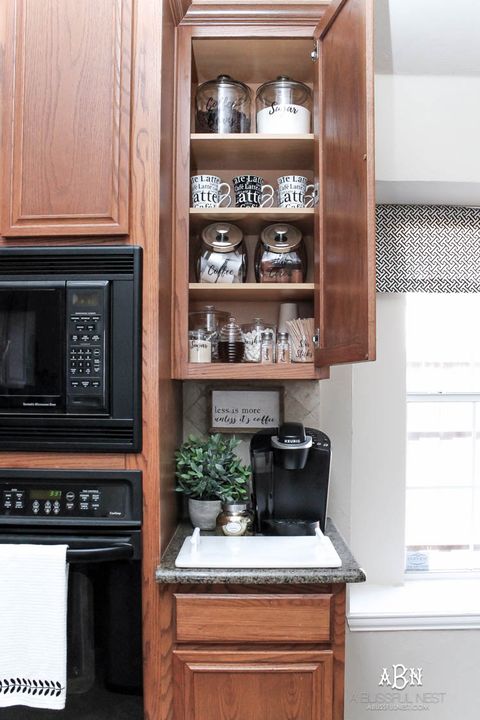 Do you have an empty cabinet area in your kitchen that you can't seem to figure out what to do with it? Well, it's high time for you to refurbish it as a makeshift coffee station. Store your coffee essentials in one cabinet and keep them organized. If you don't have the money to spend, this is the perfect solution. It doesn't have to be located in your kitchen either.
4. Hanging Coffee Cups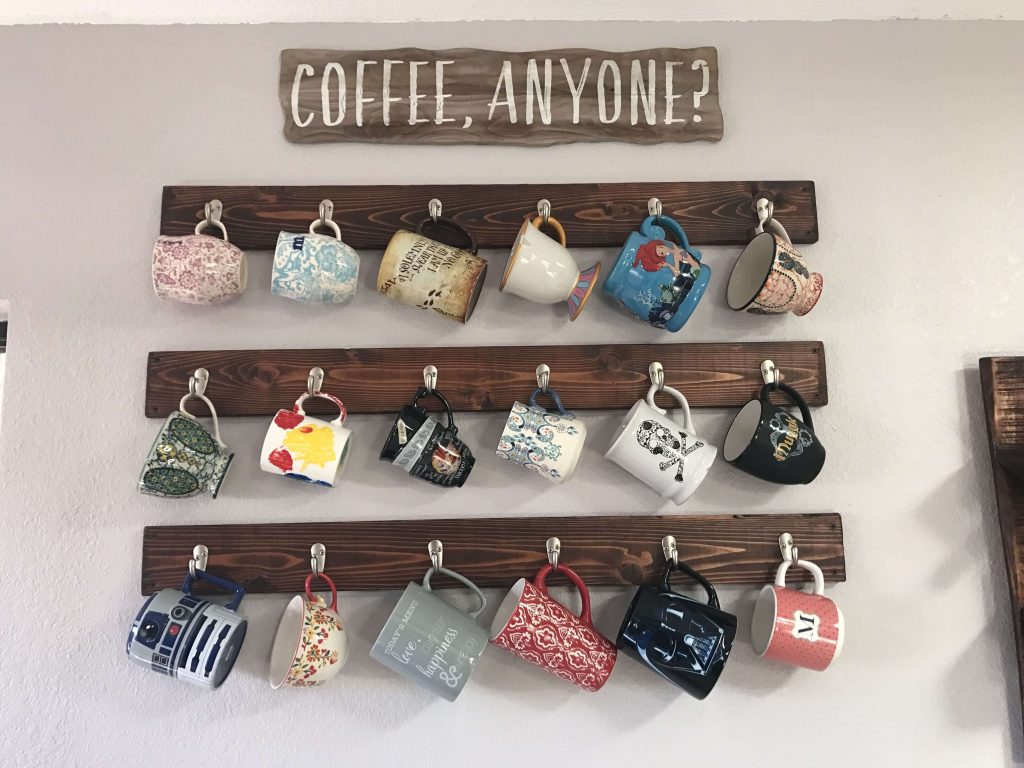 Do you have a coffee cup collection that is tucked away in a cupboard? Why not put them all on display and add personality to your homemade coffee bar. This design is just for cups but you can combine it with a coffee bar to put underneath and have a very nice feature wall for your coffee.
5. Keurig Coffee Bar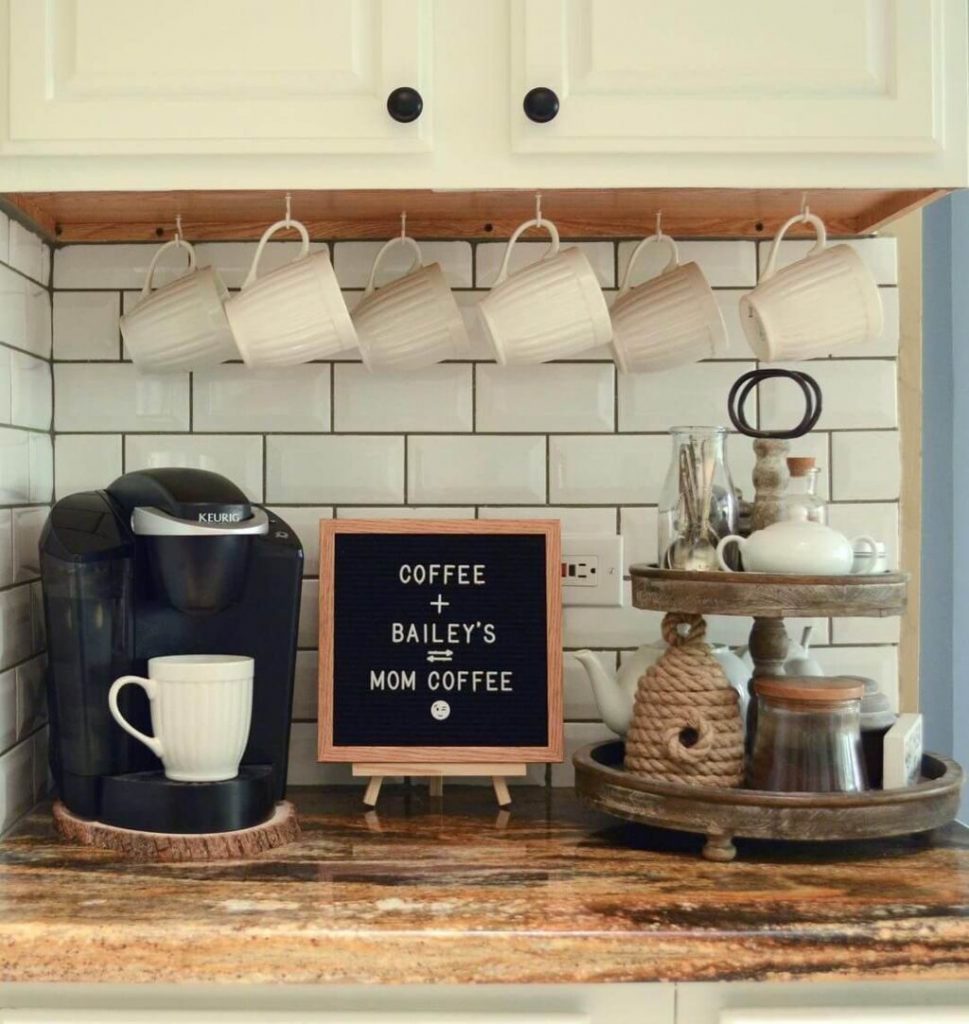 If you have a Keurig coffee maker at home and you want it to be the center of interest, then you should definitely try this design. To add more convenience to your coffee corner, instead of storing K-Cups in a drawer, stack your K-Cups on a wall mount together with your coffee cups. This is a great example of repurposed space in a compact area.
6. Modern Coffee Bar
This coffee bar idea is slightly larger than the others. It looks like it belongs more in a hotel, but it can work in a large house. This is actually a sit-down coffee bar rather than a station or place to just make coffee. If it fits with the aesthetics of your home then we definitely recommend this design.
7. Kitchen Corner Coffee Bar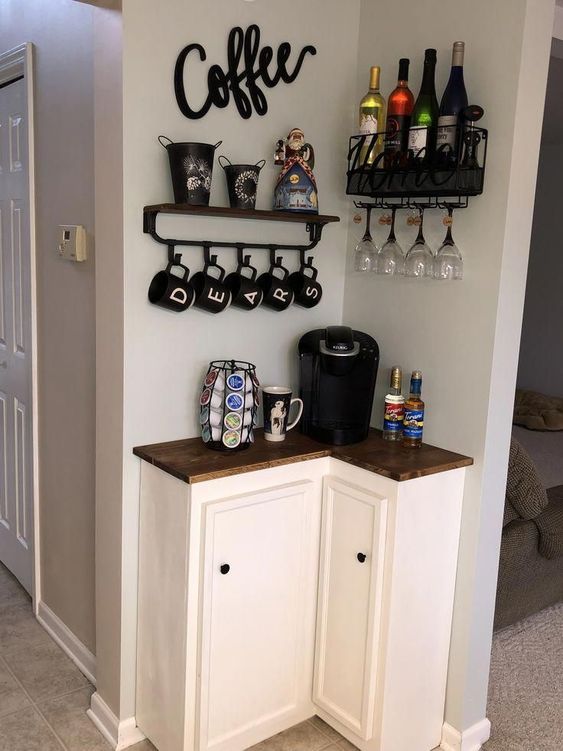 If you have an area like this in your kitchen, turn your empty corner space into a cute corner coffee bar. To highlight your coffee bar, try painting the wall with simple black paint and put some white accents. Add more style by putting on some wall signs and coffee art. 
8. Home Espresso Bar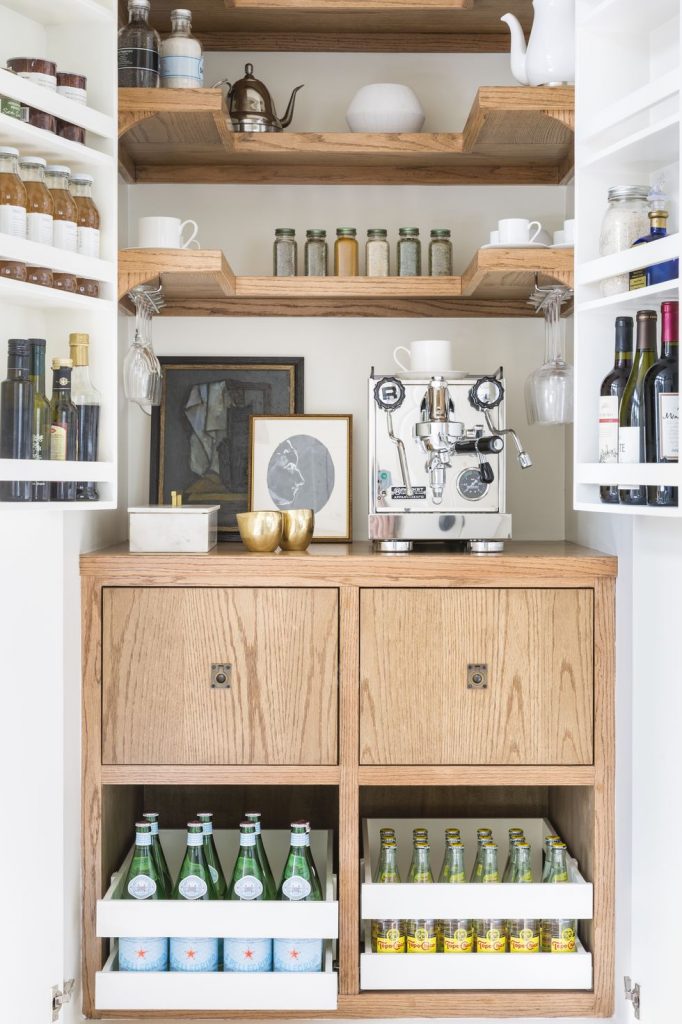 Display your love for coffee by drawing attention to your espresso machine. Make it the focal point of your coffee bar and make use of racks plus hanging shelves to put your cups and other coffee essentials. This idea contains compartments for other drinks but you can adjust that to your needs.
9. Rustic Coffee Bar 
Do you have some wood left from your last DIY Home project? Put your creativity to work by creating your own rustic coffee bar. You don't have to spend a lot of money on this one, even the simplest wooden accent table can be made into a beautiful piece.
Before you start decorating, remember to protect the wood with some varnish in order to preserve the wood and make it last longer. 
10. Minimalist Black and White Coffee Bar
Nothing can ever go wrong with black and white. Not only do these colors suggest simplicity but they also convey elegance. You can add small accents of a different color, like adding in a green pot plant. This will definitely make your black and white coffee bar pop out.
11. Minimalist Coffee Cart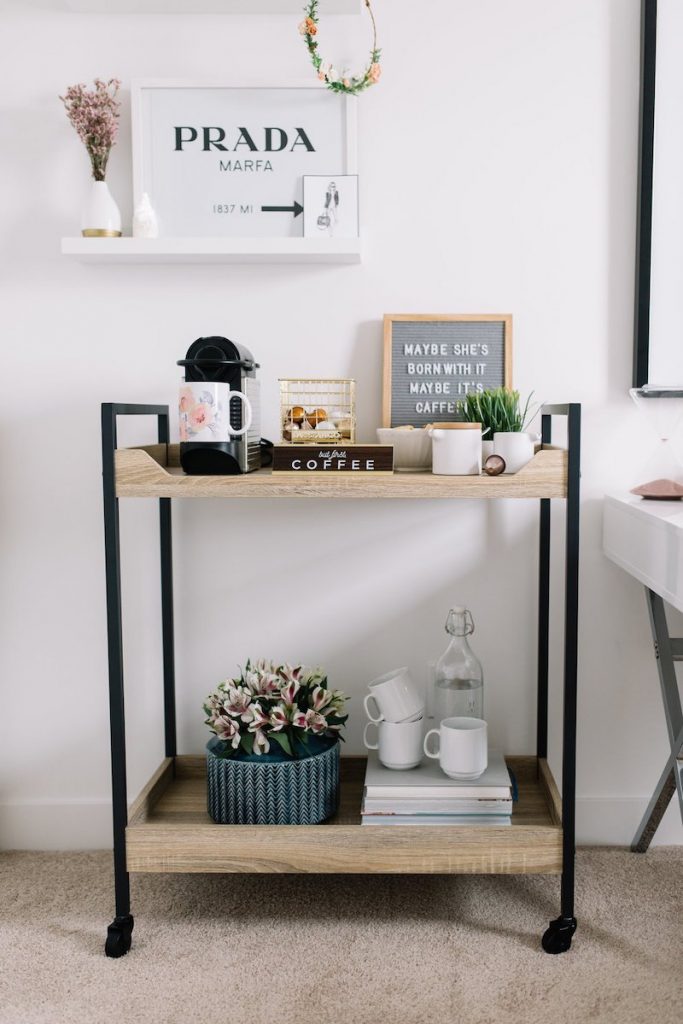 You've probably heard of minimalist designs already or you haven't realized yet that you're living a minimalist lifestyle because you prefer to own less and make everything look neat and clean. If you have a minimalist heart, then you should definitely recreate this coffee cart. It's showing all of your coffee essentials while keeping the setting simple and clutter-free. 
12. Coffee and Tea Station at Home
This idea uses cupboard space and hosts tea as well as coffee. It's more of a storage solution that an actual coffee bar but it's still a very good design. Make use of label organizers and baskets to organize your containers so you can easily identify which is which. 
13. Homemade Coffee Bar with Plants
Liven up your coffee station with your favorite plants. Make use of different sized plants, this way you're able to create different levels of decorations. Not only do these plants create a beautiful embellishment to your coffee corner but it also gives out a pleasant aroma & fresh oxygen. The rustic wooden design works well against a white wall too.
Key Take-Away for your Coffee Bar Ideas.
Whether you like to have a dedicated coffee space to have a seating area for two people or you want to make use of that little corner space to showcase your coffee essentials, it's always good to remember to keep your coffee bar as simple as possible. 
Make use of drawers, cupboards, hanging shelves, and racks to store your coffee essentials instead of crowding all of them on top of the table. Also, make sure to use small accents to make your corner pop. Remember, the goal for this is to create a beautiful coffee bar at home that will showcase your love for coffee with added convenience.