Along with the weather and colors of the fall season, fall marks the beginning of seasonally flavored coffee beverages at many cafés and retail establishments. That includes the release of pumpkin spice flavored beverages and products from Dunkin' Donuts. With a variety of products this year, there is a fall beverage for everyone. The Dunkin' Donuts pumpkin spice coffee is released with their range of pumpkin spice and other seasonal beverages in August, so the time has arrived to enjoy these limited-time flavors.
What Day Does Dunkin' Donuts Release Pumpkin Spice?
Dunkin' Donuts announced that their entire lineup of fall products, including the Pumpkin Spice Signature Latte, will be released on August 17, 2022. This makes it the earliest release of fall beverages for the chain, and earlier than most other coffee chains. 
While this is standard across all locations, some U.S. and international locations may implement a different release date. Some locations aim to end their fall menu in September, but some may extend their seasonal items. Either way, get a limited-time item from the Dunkin' Donuts' seasonal menu before availability ends.
What is the Dunkin' Donuts Pumpkin Spice Signature Latte?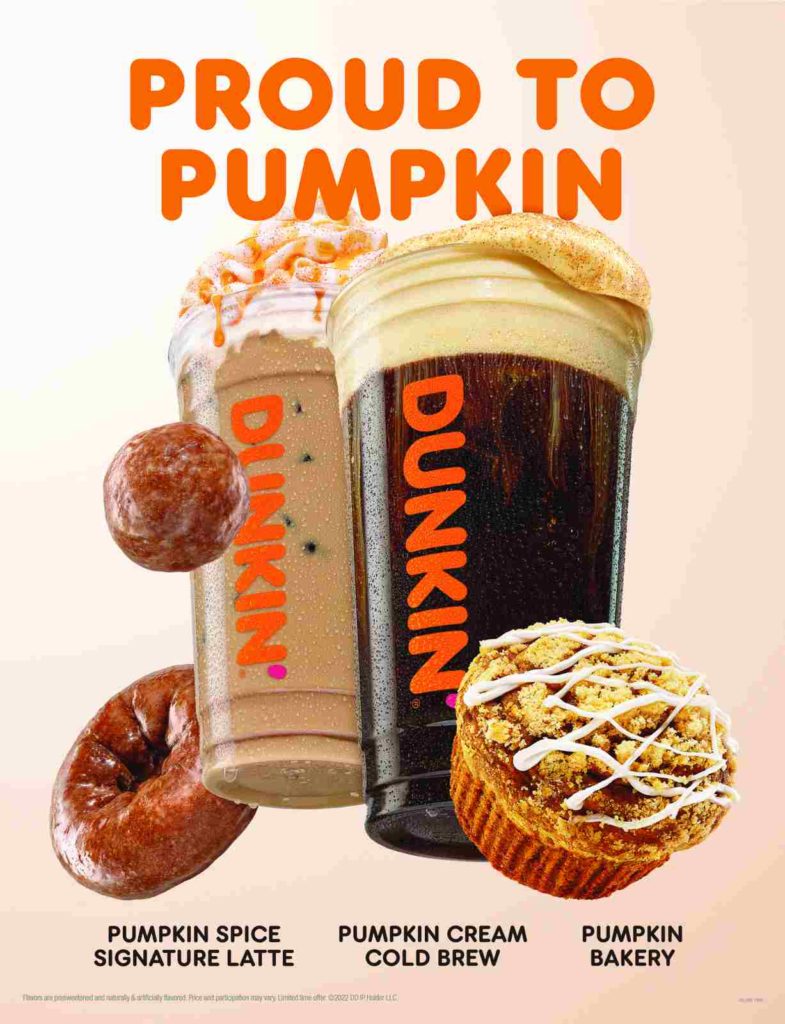 The Pumpkin Spice Signature Latte is one of the signature fall beverages available at Dunkin' Donuts locations. While Dunkin' Donuts only introduced the Pumpkin Spice Signature Latte in 2020, pumpkin-flavored coffees and other items have been a staple in their fall menu.
This latte of espresso and steamed milk is flavored with pumpkin, vanilla, and warming spices. It is topped with whipped cream, a caramel drizzle, and cinnamon sugar. The Pumpkin Spice Signature Latte is available hot or iced.
Also, be sure to check out the Starbucks PSL release!
What Other Pumpkin Spice and Fall Products Are Available at Dunkin Donuts?
In addition to the Pumpkin Spice Signature Latte, Dunkin' Donuts has released a number of seasonal beverages as part of their fall menus. The Pumpkin Cream Cold brew is a great beverage for fans of stronger (and cold) coffee beverages. The Pumpkin Cream Cold Brew features a cold brew steeped with brown sugar and fall spices. The drink is topped with a smooth pumpkin cream foam and cinnamon sugar.
A new beverage released this year, the Nutty Pumpkin Coffee combines Dunkin's Original Blend coffee, pumpkin spice, hazelnut flavor, and a cream topping. The Nutty Pumpkin coffee is available hot or iced. Another new beverage is the Blood Orange Dunkin' Refresher. The seasonal refresher combines cranberry, blood orange, and fall spice flavors served over ice. At retail locations, customers can find Pumpkin Spice Ground Coffee in bags or K-Cups.
For customers that want seasonal food to pair with their coffee beverage, Dunkin' Donuts has a number of offerings. Seasonal bakery offerings include the glazed Pumpkin Cake Donut, Pumpkin MUNCHKINS® Donut Hole Treats, and the Pumpkin Muffin.
For customers seeking a savory option, Dunkin' Donuts is also returning the Maple Sugar Bacon. This sweet and savory treat can be enjoyed on the Maple Sugar Bacon Breakfast Sandwich or on its own as Maple Sugar Snackin' Bacon. No matter what someone is in the mood for, there is a fall coffee, beverage, or snack for every craving.
Frequently Asked Questions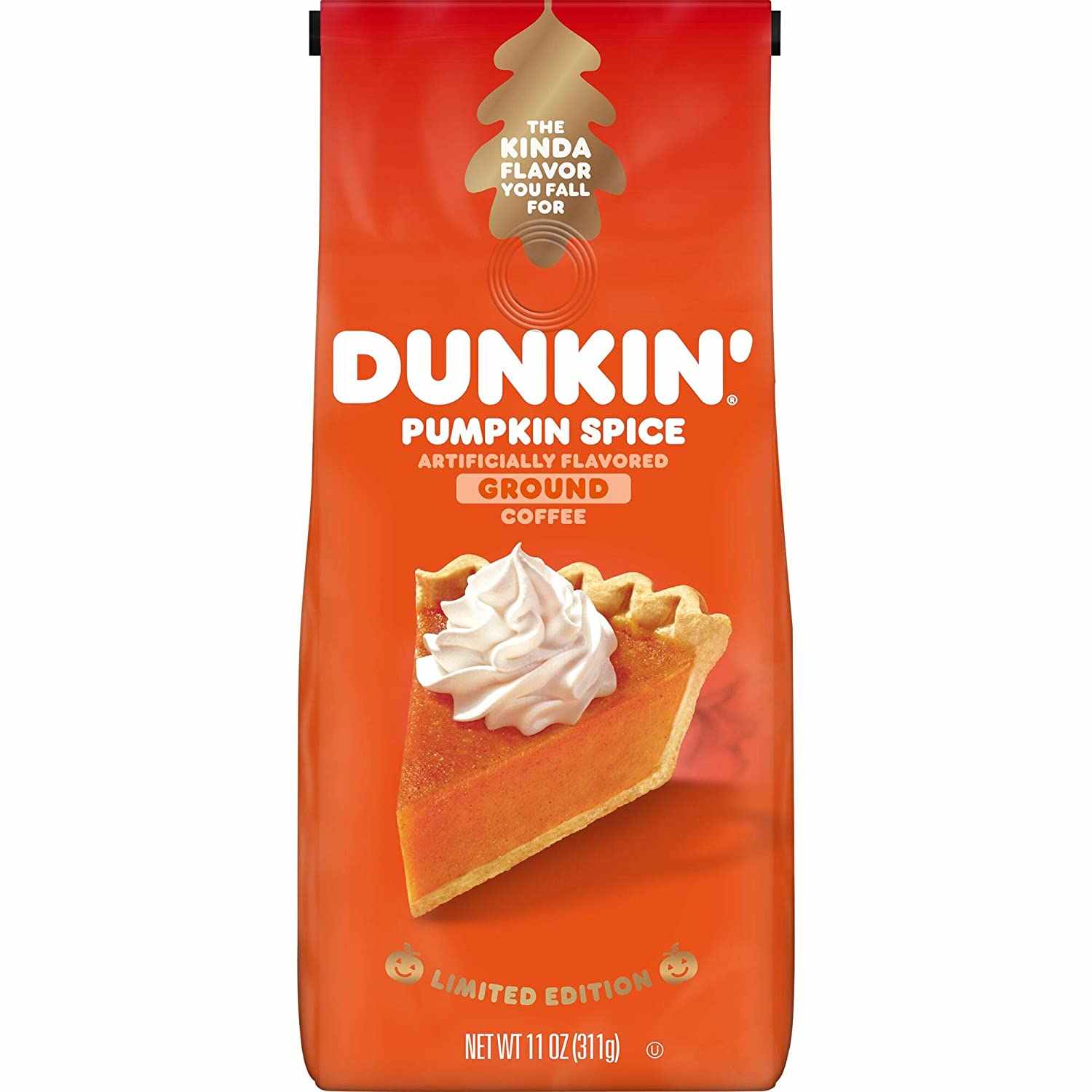 Is Dunkin' Donuts Pumpkin Spice coffee back?
Yes! Pumpkin spice season at Dunkin' Donuts starts on August 17th. A specific date for ending the fall menu has not been released. Some locations may decide to continue their pumpkin spice range for longer than others.
Does Dunkin have pumpkin-flavored coffee?
In addition to in-store pumpkin coffee, Dunkin also has a range of pumpkin-flavored coffee grounds and pods available for purchase at major retailers. This is coffee that is flavored like pumpkin but doesn't contain pumpkin syrup.
Is pumpkin spice available year-round at Dunkin' Donuts?
The Pumpkin Spice Signature Latte, and other seasonal items, are only offered during the fall season at most Dunkin' Donuts locations. However, some locations may continue to serve these products at their discretion. Questions about availability at specific locations should be directed towards the location in question.
Does the Pumpkin Spice Signature Latte have caffeine?
Yes, all coffee contains caffeine, including decaffeinated coffee which contains trace amounts. This includes products at Dunkin' Donuts. A regular, or medium, size signature latte contains over 150mg of caffeine.
The Final Sip
Luckily, for both coffee and fall enthusiasts, the Dunkin' Donuts Pumpkin Spice Latte is currently available at all Dunkin' Donuts locations. They also offer a robust fall menu featuring other fall-flavored beverages, pastries, and other products. Whether someone is in the mood for a pumpkin latte or a fall-themed breakfast sandwich, there may be a Dunkin' Donuts seasonal item for everyone. If you'd prefer, you can also try a homemade pumpkin spice latte recipe!