As two of the world's most famous Italian coffee brands, there are many different things to consider when it comes to which one is better. Having dominated the coffee markets for many years, these brands have a lot to offer with high-quality and great tasting coffee. We are going to take a look at Lavazza VS Illy to see which one is better in terms of taste, price, quality, and other factors.
Regardless of our opinion – when it comes to which is better Lavazza or Illy? Your personal taste preferences, budget, and coffee brewing style will determine the answer. But we can help guide you there with our overview! So, let's have a look at both in a bit more detail.
What Is Lavazza?
Lavazza S.p.A., also known as Lavazza, is an Italian company that operates in the coffee market worldwide with headquarters in Turin, Italy. It has been owned by the Lavazza family since its inception in 1895 when Luigi Lavazza opened his first coffee shop in Turin, Italy.
The company has been around for more than 120 years and it's one of the largest coffee companies worldwide. Lavazza operates on six continents and distributes its products to over 100 countries worldwide.
Currently, Lavazza is run by the third and fourth generations of the Lavazza family. Lavazza believes in sustainable agriculture that they have programs in Columbia, Honduras, and Peru called the ¡Tierra! project – which aims to improve the quality of coffee and working conditions in those respective communities.
Lavazza offers three different bean options: whole beans, pre-ground beans, and coffee pods.
What Is Illy?
Illy is a privately owned company with headquarters in Trieste, Italy. The company has more than 100 years of history and is now the leading brand of coffee in Italy. Illy produces a variety of products from ground coffee to instant coffees to cold beverages and hot beverages.
Illy is one of the most popular coffee brands in the world. It was founded in Trieste, Italy by Francesco Illy in 1933. He was born in Temesvár, an Austria-Hungary Empire. Francisco launched a cocoa and coffee business in 1933 and later decided to devote his time to coffee alone.
Francesco's first breakthrough came when he invented the industrial-scale roasting machine that produced high-quality roasted coffee beans at a much lower price than had been available before. This machine allowed him to pursue his dream of making quality coffee available to everyone.
Francisco's desire to produce high-quality coffee did not just end with processing and roasting top-of-the-line coffee, he also helped develop a packaging system that preserves coffee for a long time. Illy packaging is placed in cans that are pressurized with nitrogen to avoid oxidation.
The Difference Between Lavazza Vs Illy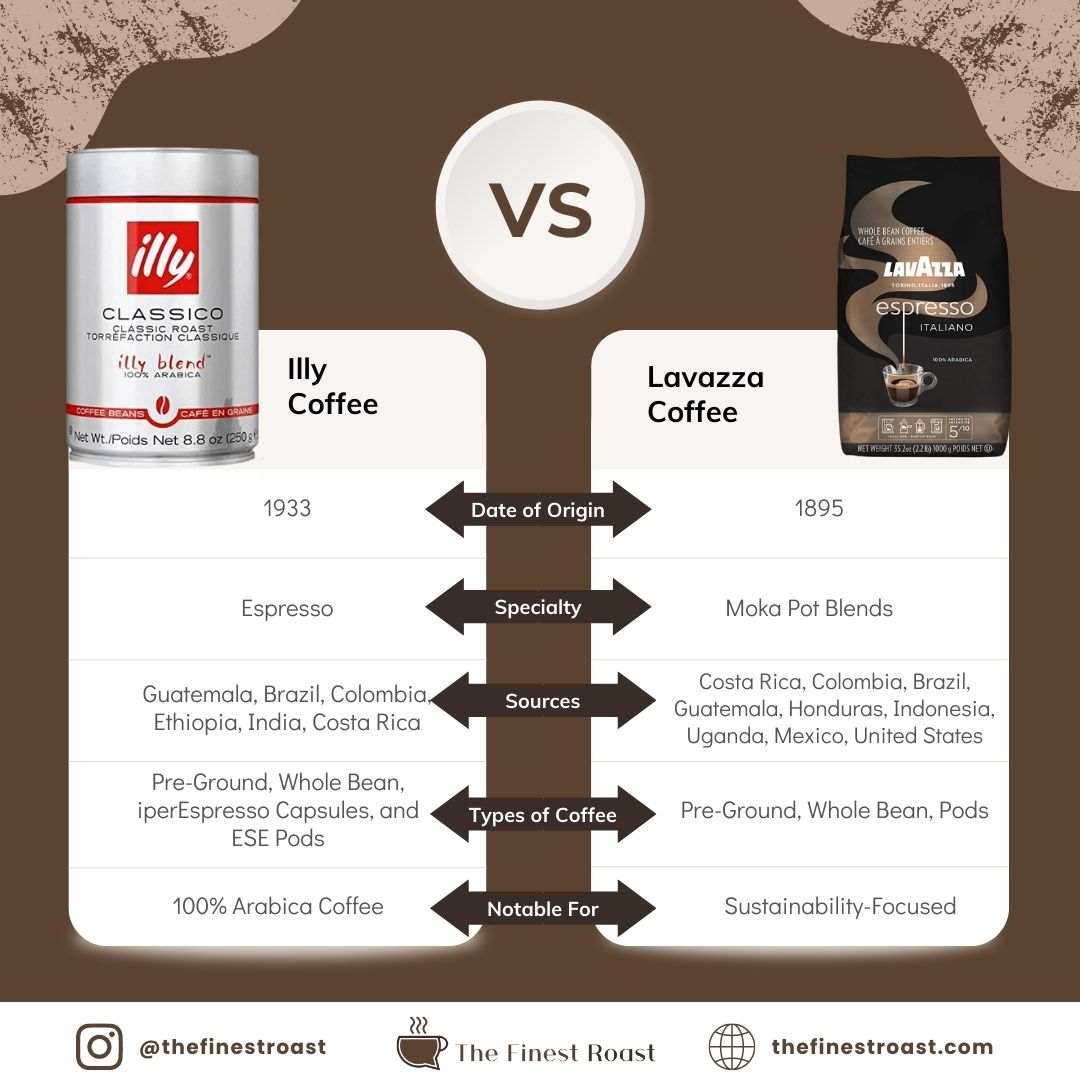 The Aroma
Lavazza coffee beans are among the best in the world. They are roasted to perfection with a rich, nutty aroma. On the flip side, Illy offers an intense aroma of toasted bread. When it comes to Lavazza VS Illy, to some, aroma would not be a factor when it comes to comparing coffee, but to others, aroma is everything. It allows you to 'pre-taste' the coffee and prepare your senses for the amazing coffee drink that lies ahead.
The Beans
Illy's claim to fame is that it is a single-origin coffee, meaning that the beans are roasted and ground together, then packaged together. Illy uses 100% Arabica beans which are packaged and roasted together. This means that Illy has complete control over how those beans are roasted.
Illy exclusively purchases Arabica beans from Brazil, Columbia, India, and some countries in Africa and Central America.
Lavazza on the other hand uses a blend of different roasts and grinds from different places. The company claims to be able to offer you more variety with this approach because they're not limited by what their roaster can do. They use a blend of Arabica and Robusta beans.
They get their coffee beans from Brazil, Columbia, Costa Rica, Guatemala, Mexico, Honduras, Uganda, and the United States.
The Price and Quality
Lavazza coffee offers high-quality coffee products at a reasonable price but compared to Illy coffee, they are more expensive.
In general, the better the quality of the beans for Lavazza, the higher the price will be.
Both Illy and Lavazza coffee offer top-of-the-line coffee beans but if you are looking for premium coffee without breaking your budget then Illy is the perfect selection for you.
The Product Variety
Lavazza offers several different types of coffee such as espresso, lungo, decaffeinated, etc., which cater to the needs of different people who love their caffeine fix in different ways.
They have taken their time to create the perfect blend of beans that make up their product line. Lavazza produces four key categories of coffee which are ground coffee, instant coffee, whole beans coffee, and espresso coffee capsules.
Their whole beans selection has 2 varieties, the Qualita Rossa which is a blend of Arabica and Robusta, and Caffee Espresso which is made out of 100% Arabica beans. Lavazza's instant coffee has 7 varieties. iTierra Brazil (100% Arabica beans from Brazil), iTierra Peru (100% Arabica beans from Peru), Qualita Rossa (a blend of Arabica and Robusta beans), Caffe Espresso (100% Arabica beans), Lavazza Decaffeinated Ground Coffee (100% Arabica beans), Crema E Gusto (30% Arabica beans and 70% Robusta beans), Qualita Oro (high-end coffee with 100% Arabica beans), and Lavazza Prontissimo and Lavazza Prontissimo Intenso (both are made out of 100% Arabica beans).
The Specialty
Lavazza's specialty is Moka Pot Blends while Illy is espresso. This would ultimately depend on how you enjoy your coffee. An espresso is a short pull of coffee that extracts coffee at high temperatures to create a smooth and small 'shot' of coffee. Moka pots create larger coffees that focus on quantity but also retain a strong coffee flavor.
You can check out the best Moka pots here.
The Taste
Illy has a much more complex flavor than Lavazza. It has a richer, smoother texture. It also offers hints of caramel, chocolate, fruit, and toast. Illy coffee aficionados swear that what makes Illy coffee stand out from the rest of the coffee brands is the consistent taste and quality of coffee in every brew.
On the other hand, Lavazza offers mild acidity, and one of their top-selling products, the Lavazza Super Crema creates creamy notes of brown sugar and hazelnut.
What Makes Lavazza Unique?

Lavazza has a range of different products available but what really makes them special is the blends of coffee beans used. You will find that each pack has a different blend and variety of beans. This allows for more experimentation with flavor and ultimately more options for you as the coffee drinker.
Check out the advantages and disadvantages of Lavazza.
Advantages:
Lavazza products are available in almost every single country
Most of Lavazza products are a mix of Robusta and Arabica beans which guarantees a strong, bolder cup.
Lavazza has a variety of flavors and a sizable selection of roast levels so everyone can find their favorite type of coffee
Disadvantages:
Lavazza might be too expensive for some people.
When it comes to offering other coffee-related products, Lavazza only has two options of coffee brewers and machines compared to Illy.
Lavazza does not offer coffee subscriptions.
Why Is Illy Coffee So Good?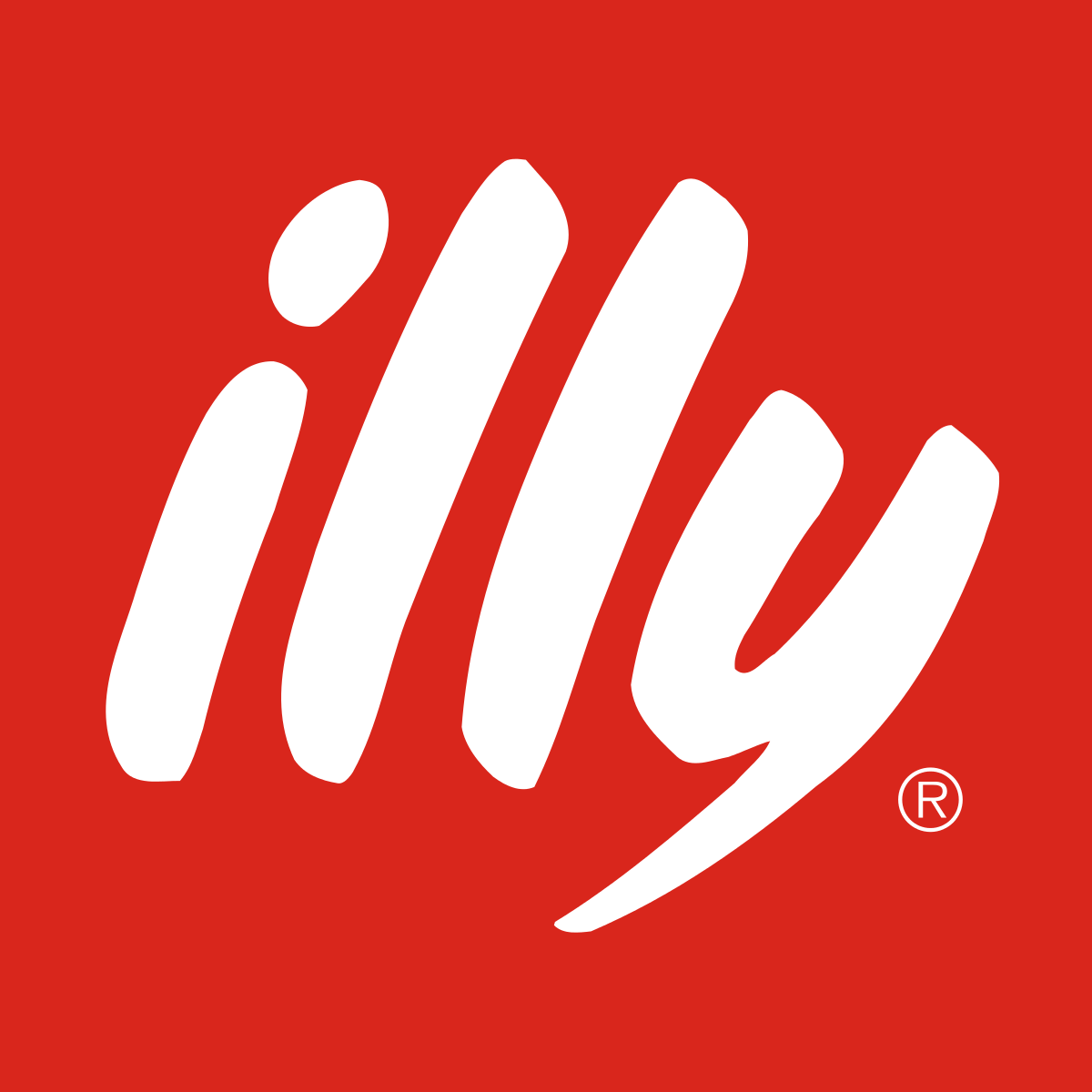 Illy uses Arabica coffee beans that are sourced from many different locations allowing them to create a tasteful cup of coffee whilst also achieving the same consistency in every cup. They are a well-known coffee brand around the world and there's many reasons why:
Advantages:
Illy coffees are less expensive compared to Lavazza.
Illy does not only offer coffee products, they have around 50 different coffee machines and accessories on their website.
Illy offers coffee subscription services that allow you to choose which coffee you want and the frequency of delivery.
Illy offers whole beans, pre-ground beans, and coffee pods.
Disadvantages:
Illy does not have a sizable selection of roast levels since they only use Arabica beans in their coffee.
The Final Sip
There are many similarities between these two coffee brands but ultimately it comes down to your taste. Why not order a bag of coffee beans from each brand and see which one you like best? When it comes to Lavazza VS Illy, our favorite is Illy, but that's just personal preference. Which one is yours? Let us know below!