Starbucks is one of the largest and most recognized brands in the coffee industry. They have locations all over the world and sell coffee beans and pods, but until recently, they have never produced instant coffee. As a well-loved brand, Starbucks Instant Coffee has been sought after for many years.
For many coffee brands, it is tough to produce instant coffee, as it doesn't contain the same flavors or freshness that beans or coffee grounds do. The moment coffee is exposed to oxygen, it starts to deteriorate in taste. This process is sped up when the coffee beans are ground.
So what is the point of instant coffee? Instant coffee is perfect for those in a rush, always on the move, people who take coffee to work, and even truck drivers. All you need to do is add hot water to the coffee and your drink is ready, no brewing equipment is needed.
So, let's learn a bit more about the premium range of Starbucks Instant Coffee.
Does Starbucks Have Instant Coffee?
Starbucks has a small variety of instant coffee options available to purchase. These include popular choices such as the Italian Roast and, more recently, Blonde Roast instant coffee.
It might come as a surprise to you that Starbucks offers instant coffee, considering how they focus on freshly sourced coffee from around the world.
While Starbucks has a selection of instant coffees available to order online and in-store, they also provide some amazing instant coffee recipes on their website. Drinking instant coffee black isn't recommended if you don't enjoy a bitter taste, but when you make a unique recipe, it can taste amazing.
What is Starbucks Instant Coffee?
Starbucks instant coffee has three premium flavors, Blonde Roast, Medium Roast, and Dark Roast, made with the exact high-quality beans that Starbucks use. You can now buy these instant coffees at most grocery stores, or you can order them online through the Starbucks website.
There are other instant coffees available at Starbucks, but none compare to the premium range, and they are sachet versions of instant coffee. For that reason, we are only covering the premium range.
The majority of Starbucks coffee is sourced from Latin America, where it is used to create the most unique and flavorful blends. Their coffee is made from 100% Arabica beans, the same beans that they use in their cafés.
Starbucks Premium Instant Blonde Roast
The Blonde Roast instant coffee has a sweet flavor and is made using the same Arabica beans from the Starbucks farms. It is a lightly roasted coffee that aims to preserve the complex flavors of the beans for your cup.
Premium Instant Medium Roast
This instant coffee offers a smooth and balanced cup. It is medium roasted coffee and would be slightly stronger in taste than the Blonde Roast. This coffee will have notes of chocolate and nuts.
Premium Instant Dark Roast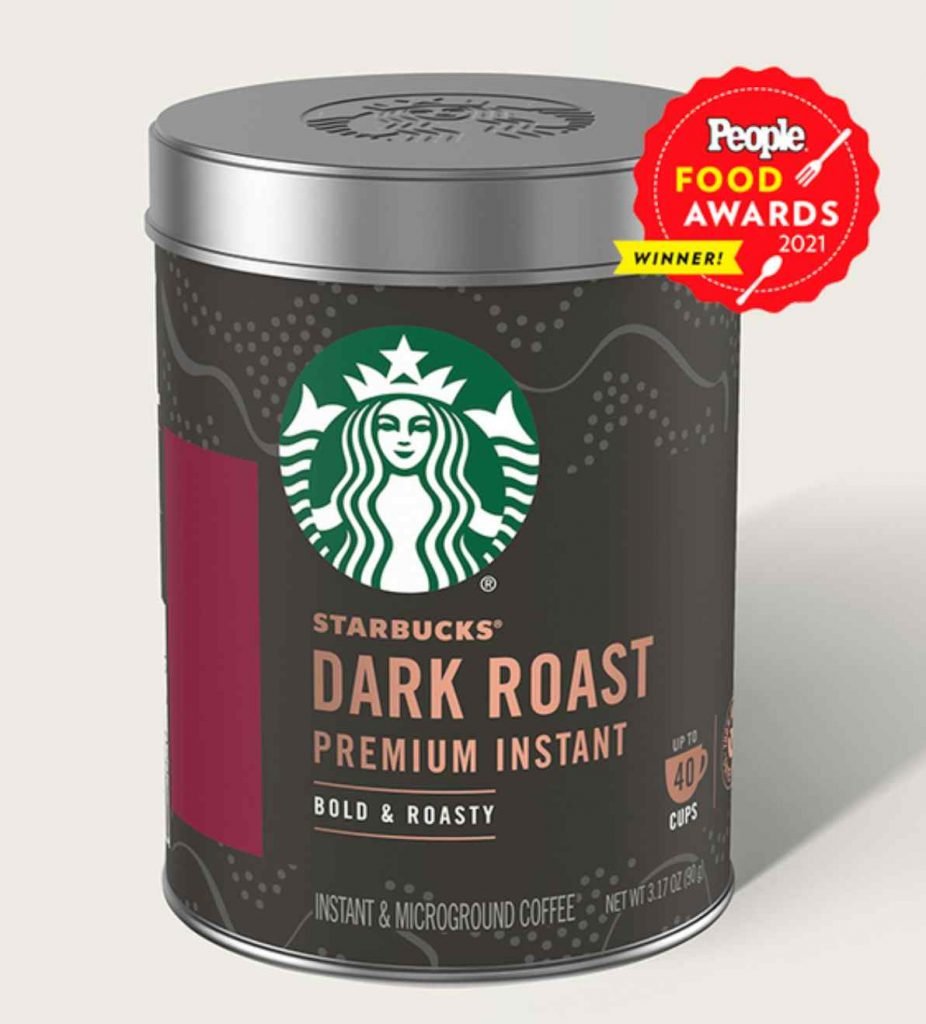 This is the option for those who enjoy a strong, bold coffee. It has a toasted sweet flavor and has been dark roasted to perfection. You will get notes of chocolate when drinking this coffee.
How Do You Drink Starbucks Instant Coffee?
You can enjoy the drink in many different ways. Either you make the drink as it is, like a hot brewed coffee, or you can make the viral Dalgona coffee and give the drink your twist by adding some cinnamon grounds or replace sugar with honey.
Did you know that you can even dissolve Starbucks instant coffee in cold water? Yes, you can! So if you're thinking about creating an iced coffee, you don't have to wait for your hot coffee to cool down before adding ice.
As mentioned already, there are also a number of recipes available on the Starbucks website that offer unique drinks using their premium instant coffee.
---
---
Starbucks Instant Coffee Reviews
Starbucks premium instant coffee has received some highly popular reviews from consumers.
One Reddit user u/coffeefuelme said that Starbucks instant coffee is a life and space saver especially if you're a backpacker since you only need that one canister of instant coffee.
Another Reddit user u/godbois commented that instant coffee is pretty good. It's very convenient for him especially if he needs a quick coffee fix and the weather is not favorable to go out and buy from coffee shops or if he doesn't have any cash on him.
That being said, Starbucks coffee is a quick and easy way to satisfy your coffee urges, anytime, anywhere.
The Final Sip
If you are looking for a high-quality instant coffee that doesn't sacrifice taste over convenience, then Starbucks Instant Coffee is for you. With three different roast types and three premium options to choose from, there is something for everyone's taste preference.