If you enjoy your coffee with a sweet touch, prefer a dessert coffee, or just have a sweet tooth, you don't want to miss out on tasting the Biscoff Latte. We all like to indulge in the sweeter things in life, so if you love the taste of biscoff and enjoy a daily coffee, this is for you.  
The best part about this coffee is that it's easy to make, requires minimal ingredients, and produces one of the best sweet coffee treats you will ever try. You can either choose to have it as a hot drink or poured over ice.
You may have already guessed, but this is another coffee that has exploded on the social media platform TikTok. It has risen in popularity and has trended all over the world. You will find variations of the recipe, but in this article, we are covering the original version of the Biscoff Latte.
Most people also wonder what is a latte? So if you aren't sure, read our other post first.
What is a Biscoff Latte?
A Biscoff Latte is prepared using espresso coffee, Biscoff butter, and a healthy amount of milk. It is a sweet coffee that doesn't require added sugars or syrups but makes for a sweet treat or a dessert coffee. The coffee rose to popularity on the social media platform TikTok.
Note that you aren't actually putting a Biscoff biscuit in your coffee. You are in fact using a Biscoff spread, but you can serve the coffee with a Biscoff biscuit on the side for an added treat. 
After Dalgona Coffee became a trend last year and is still trending, the Biscoff Latte may just take over as the hottest coffee trend to come out of TikTok. Of course, there will be many more to come, but we will never forget this one. 
How The Biscoff Latte Became a TikTok Coffee Trend
Thanks to the TikTok creator @7amcoffeeclub, people have been craving the new Biscoff Coffee. The video recipe has now over 1.2 million likes, and you'll soon find out why the drink has become an online TikTok coffee trend. 
What the TikTok creator did was to pour hot espresso over a Biscoff spread, mix them together and transfer the blend over an ice-filled glass. The cold blend is then topped with milk to make the iced Biscoff Latte. One UK creator, @thatfoodiejess made an even better variation of the TikTok coffee trend by adding whipped cream and topping it with Biscoff biscuits. 
We expect to see many more variations of the coffee as time goes on. You can add your own twist, but the basic recipe is good enough to have alone!
How to Make a Biscoff Latte
Making a Biscoff Latte is very simple and fun to do. You don't have to be a trained barista to make this TikTok coffee. It can be a great recipe to make when you have friends or family over, especially if you pay attention to how it looks (the taste will take care of itself). 
You can either have the simple hot version of the Biscoff Latte or you could also create the full delectable iced version. We recommend that you try the hot one during the fall season and maybe add some cinnamon or nutmeg on top. You should have the iced variation of the Biscoff Latte in the warmer months and may be in the evening time.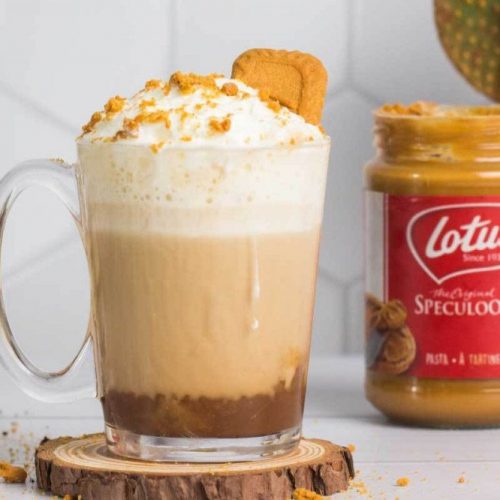 How to Make a Biscoff Latte
Making the Bisoff Latte, a sweet and buttery coffee with a taste of biscoff.
Equipment
Spoon

Coffee Bean Grinder

Coffee Glass

Espresso Machine
Ingredients  
For the Espresso Shot
1

tbsp.

Fine-sized ground coffee

1

ounce

Water
For the Biscoff Coffee Blend
1

tbsp.

Biscoff spread

1

Shot

Espresso
For the Biscoff Latte
1

Shot

Biscoff Coffee Blend

1

tbsp.

Simple Syrup

1

cup

Fresh Milk
For iced Biscoff latte
1

Handful

Ice

1

Squirt

Whipped Cream

2

Pieces

Biscoff Biscuit
Instructions 
Most people would choose the easiest way to brew espresso coffee which is to use a pre-ground coffee, but if you want to extract the best flavor and get the best quality of espresso, it's highly recommended that you grind your coffee beans. This way, you're able to capture the aroma and flavor of the freshly grounded coffee beans.

Once you've grounded up your coffee bean into fine-sized ground coffee, prepare your shot of espresso.

While your espresso is brewing, start frothing the milk. In order to make a perfect milk for a latte, heat the milk at 150° F. Insert the nozzle and froth the milk in a tilted position for about 20 seconds, making sure you heat from the bottom, then just underneath the top to get the foam.

Take a spoonful of Biscoff Spread and place it into a cup. Pour the hot espresso shot over the Biscoff Spread then mix it thoroughly.

The next step depends on whether you like your drink to be hot or not.
For the hot Biscoff Latte:
Prepare your favorite coffee cup, pour the Biscoff blend and then add the frothed milk.
For the cold Biscoff Latte
In a tall glass, pour your ice into it. Then pour your froth milk, syrup, and your Biscoff coffee blend. Stir the mixture properly.

Top it with whipped cream and place 2 pieces of Biscoff Cookie on the side, on top, or crumbled on top.

Voila! Your very own Biscoff Latte.
Video
Notes
For Simple Syrup:
To make the simple syrup, all you need are equal parts of water and brown sugar.
Mix them together in a saucepan on medium heat. Keep stirring until the mixture is blended properly and until all the sugar grains are completely dissolved. 
For Milk Froth:
If you're using a milk frother, heat the milk at 150° F to get better results for your froth. Once your coffee is already hot, pour it into a tall glass. Hold the glass at a certain angle and begin frothing. Remember to move the froth of the milk in an up and down motion for 20 seconds, or until you create foamy bubbles. Don't overdo the frothing since you want your froth milk to blend properly with the coffee. 
If you're using a whisk, use very hot milk when frothing. Although this method takes more time and creates less foam, it's a good alternative if you don't have a milk frother. Pour the hot milk into a container and whisk it vigorously until you create a layer of bubbles. Pour it into a container and tap it on a flat surface to get rid of the large bubbles. 
If you're using a French press, heat the milk at 150° F. Pour the scalding milk into the French press. To froth the milk, use short and quick plunges for about 30 seconds, or until foamy bubbles form. Pour it into a container and tap it on a flat surface to remove the large bubbles. 
Key Take-Away
What is a Biscoff Latte? To summarize, it is a variation of coffee drink that involves using biscoff spread in a latte drink. It originated on TikTok and has become a trending coffee all over the world. You can enjoy this drink iced or hot. For another great coffee recipe check out the Dalgona coffee.