There's no denying that in recent years exciting and innovative coffee creations have become more popular, especially with the introduction of TikTok. It's no longer about the floral notes from your black coffee, it's more about the syrups, creams, and iced vanilla unicorn macchiatos. The Dalgona coffee however is different and we are going to take a look at what Dalgona coffee is, and how you can make one.
If you like to get creative in the kitchen, enjoy iced coffees, or want a coffee replacement for summer, then the Dalgona coffee is exactly what you need. It's smooth, rich, creamy, cold, and still has a coffee flavor. Let's have a look in a bit more detail.
What Is Dalgona Coffee?
A Dalgona coffee is a thick and frothy iced coffee drink created by mixing coffee, sugar, and water, all poured over some ice and milk. The key to creating that perfect foamy texture on top is through strong whisking or an electric whisk if you're tired, this handheld mixer is actually perfect for whipping coffee.
Dalgona coffee is also known as "whipped coffee" or "frothy coffee".
The final result has two separate layers that make up one very tasty iced coffee drink; A bottom layer of milk and ice, topped with whipped coffee. As you sip the milk, it combines with the whipped coffee for you to get the full taste. Of course, you can also add different milk types, syrups, and choco shavings on top, the recipe is open for experimenting!
How Did Dalgona Coffee Start?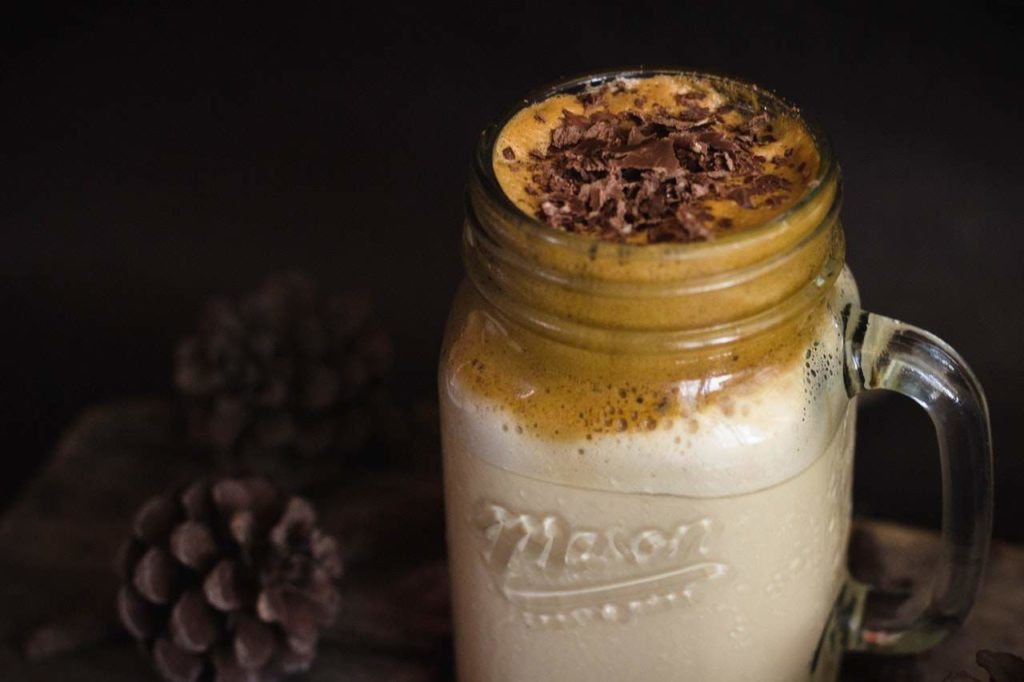 Dalgona Coffee started to trend in February 2020 in South Korea, and later caught the attention of the Americans and Western Nations. From there, the Dalgona trend took off. It became popular when a number of people got involved with the Dalgona challenge on Instagram, in order to ease their boredom of being stuck at home in lockdown.
Although many people think that the drink's origin is South Korea, there are numerous other countries that have a similar drink to Dalgona Coffee long before it became a popular trend. To name a few, India, Pakistan, Greece, and Macau.
Macau is actually one of the primary origins of Dalgona Coffee. There was a coffee shop run by Hon Kee, who is famous for the 400x coffee. It is said that the Korean actor named Jung Il-Woo tried the coffee and said that it resembled a candy from his home country. Coincidentally, the candy was called "Dalgona".
You might be wondering about the 400x coffee. Well, that's how many times it is said that you have to (manually) whip the coffee. Obviously, you can use an electric whisk, but where's the fun in that!
How Did Dalgona Coffee Become So Popular?
The Dalgona Coffee craze rose to popularity when South Korean actor Jung II Woo uploaded a video on YouTube with him trying out some whipped coffee at a café in Macau. Jung II Woo's followers likened the whipped coffee to Korean-style honeycomb toffee called Dalgona candy. 
After this, social media did its thing and the craze went worldwide. Dalgona coffee became trending when people started sharing video tutorials on Instagram and TikTok using the hashtag #dalgonacoffeechallenge
It's unclear whether this trend will be here to stay as it takes a little more effort to make than a normal coffee. It can be a very interesting coffee to serve as a dessert though, you can mix up a batch and serve it to friends and family. 
Dalgona Coffee Recipe
A Dalgona coffee is very simple to make and requires few ingredients, we have listed a quick guide below but you can find the full Dalgona coffee recipe here. Below is also a video of a popular Dalgona creation!
Ingredients
2 Tbsp Hot Water
2 Tbsp White Sugar
2 Tbsp Instant Coffee Powder
1 Cup Milk
Instant Coffee Granules or Cocoa Powder (Optional)
How to Make a Dalgona Coffee
In a mixing bowl, pour in water, sugar, and instant coffee. Whisk all the ingredients until they are properly combined. You can either use a manual hand mixer, or an electric mixer to make things easier.
Keep on mixing until the mix becomes smooth and thick. You'll know it's ready when you're able to create soft peaks.
In a glass (preferably a tall glass), pour in some ice cubes. Pour the milk slowly in the glass over the top of the ice.
Scoop the whipped coffee out into the glass and scrape out any remaining. 
Sprinkle some instant coffee granules or cocoa powder.
That's it! A very simple recipe that is easy to make and enjoyable. It can also be fun to make with kids, maybe using decaffeinated coffee.
Why Use Instant Coffee for a Dalgona?
You have to use instant coffee if you want to replicate Dalgona Coffee properly. Why not ground coffee? 
Although pre-grounded coffee sounds much better than instant coffee, the problem when you use ground coffee is that you won't get that frothy texture that Dalgona Coffee is famous for. 
Although ground coffee and instant coffee might look similar, they are two different things. Ground coffee is made by grinding coffee beans into a fine texture or coarse grounds depending on the brewing method.
Instant coffee is made by roasting, ground, and brewing coffee beans. The water from the brewed coffee is then removed in order to get dehydrated crystals. During the dehydration process, emulsifiers are then added to it. The emulsifier, particularly soy lecithin, added Is the reason why instant coffees are able to create that frothy texture when whisked properly.
However, there are some people out there that have used coffee grounds to create a Dalgona. Check out instant coffee vs ground coffee.
For the Fluffy Texture, Use White Sugar
You can actually use brown sugar or even coconut sugar as it is as sweet as white sugar, but the problem when it comes to using other types of sugar is that the coffee won't reach the desired texture. The reason for this is that brown sugar and coconut sugar contain more moisture than white sugar, and they are more "dense".
It has been done, but it may require some altering of the recipe and some trial and error.
The Hotter the Water, the Better the Mix
You have to remember that in order for you to get the best result, make sure that you use freshly boiled hot water. This will help ensure that your instant coffee and white sugar will dissolve immediately, allowing you to combine the mixtures with no leftover sediment.
You Can Get Creative and Use Milk Alternatives
The ideal bottom layer is milk, but you can be creative and use any other milk alternative, especially for those who cannot drink regular milk. Try some variations with almond milk, coconut milk, and even oat milk. Just remember that the taste will be very different if you use different flavored kinds of milk.
Read the best milk alternatives for coffee.
---
---
You Can Store the Whipped Coffee for Up to 3 Days
The secret is to store the whipped coffee in an airtight container. Keep in mind that you need to refrigerate it, and you can store it for as long as 3 days. But this would only be possible if you've whipped the coffee into a consistency the same as whipped cream. This would allow you to prepare enough for a few mornings and wouldn't have to worry about the preparation time.
Dalgona Coffee Might Not Be for Everyone
This is especially true for those who prefer black coffee. This drink is extremely sweet and works better as a dessert coffee or for someone who has a sweet tooth. You certainly won't be getting the full-bodied taste of coffee in this drink due to the sugar content.
If you have thought about cutting the sugar out of the drink, that won't work. The reason why sugar is added to the mix is not only to make the drink sweeter, but it's there to maintain the foam and help create a frothier drink. Remember to use an equal amount of sugar and instant coffee so as not to compromise the taste. 
Other than the sweetness, a Dalgona Coffee can require a little more effort than a regular coffee. Not by much, if you are prepared, but it's not something you are going to prepare just before you head off to work.
The Final Sip
So what is Dalgona coffee? To sum up, it's whipped instant coffee on top of milk and ice. There are many ways you can enjoy Dalgona Coffee other simple recipes. Don't be afraid to create your own twist or come up with your own unique creation. Your coffee creation might become the next best thing on Instagram or TikTok.
Enter Your Email & Never Miss a Post
P.S. We also run giveaways