While there are many affordable coffee makers on the market, there aren't many that can make high-quality coffee with barista-like features. That's why some people seek out the best high-end coffee makers that offer more quality, more features, and unfortunately, come at a higher price. 
What's the point of splashing out hundreds, if not thousands of dollars on a high-end coffee maker though? Well, you will have more control over your coffee brewing and will be able to produce café quality coffees from home. 
If you aren't at all bothered about how your coffee tastes, then a regular pod coffee maker will be just fine for you. You can check out this related article on the best Keurig coffee makers.
Related articles:
---
Quick Guide – Best High-End Coffee Makers
| | | | |
| --- | --- | --- | --- |
| 1. Braun MultiServe Coffee Maker | | | |
| 2. Keurig K-Café Special Edition K-Cup Pod Coffee Maker | | | |
| 3. De'Longhi La Specialista Arte Espresso Machine | | | |
| 4. Café Specialty Drip Coffee Maker | | | |
| 5. Ninja CM407 Specialty Coffee Maker | | | |
| 6. Ratio Six Coffee Maker | | | |
| 7. Technivorm Moccamaster Coffee Maker | | | |
| 8. Nespresso Creatista Plus Espresso Machine by Breville  | | | |
| 9. Miele CM5300 Coffee Maker | | | |
| 10. Breville Dual Boiler Espresso Machine | | | |
The Finest Roast Purchasing Guide
Purchasing a new coffee machine can be a big decision, especially if you are looking to splash $150 or more on one. You want to make sure that it meets certain requirements you have, consider these factors when searching for the best high-end coffee makers:
Cup Size
The cup size is how much coffee you will get out of a pod or brewing cycle. Some machines only produce an espresso amount or a lungo size, while others produce a full cup of black coffee or a latte. Of course, you can use an extra pod or two to boost your coffee amount, but that wouldn't be cost-efficient. So always consider the cup size and your preferences are.
Brew Types
Do you want a machine that just makes black coffee or a range of milk-based coffee drinks? Every machine is different; a standard pod machine would just make black coffee drinks unless you purchased the Aerocinno to add milk. Whereas a more expensive machine would likely make lattes and cappuccinos.
Water Tank Size
This isn't really a deal-breaker, but this is the amount of water the machine can hold before you have to refill the machine. If you don't want to keep filling it up every day, you would want to purchase a machine with a larger tank.
Milk Options
If you want to enjoy milk-based coffee drinks, then you can either purchase a standard pod machine with the Aerocinno, or purchase a fully automatic or barista grade machine with a milk steamer wand.
Manual/Automatic
Do you want the machine to make full coffee drinks for you, or do you want a manual coffee brewing device? It's all down to your preference, but it's something you should consider. There are also espresso machines where you will have even more control over your brewing.
Types of Coffee & Quality 
Some brands of coffee machines only have a limited range of coffee pods available and don't support other branded coffee pods. Luckily, Nespresso has one of the best ranges of coffee pods available. You can always head into a store to taste them too. If you are looking at an espresso machine or high-end coffee maker, you have the option of using any coffee beans you like.
Hopper Size
Again, this one isn't a major deal, but if you want a machine that holds a lot of coffee beans, then you want a large hopper size. This generally applies to high-end coffee machines and not to pod machines.
Pressure/Temperature
If you are really particular about coffee, then you are going to want to pay attention to the BAR (pressure) and the temperature. The BAR will determine how the coffee flavors are extracted and how much crema is on your drink.
Maintenance Required
Some basic coffee makers require cleaning after every use and others can make up to 5000 cups before needing a cleaning cycle, they will also need descaling. The more advanced espresso machines will require oiling regularly, taking apart and cleaning thoroughly, and various other maintenance tasks depending on the brand.
Cost
Ultimately, the main factor influencing your purchase of a new coffee machine is cost. Consider how often you will use it, is it worth spending $2,000 on a state-of-the-art machine when you have one black coffee a day?
Display
Do you want a coffee maker with an LCD display that automates everything? The more expensive coffee makers generally have these built-in so you can fully automate your coffee brewing. 
Grind
High-end coffee makers will generally have grinders built into the machine, but some might require an external grinder. Make sure the machine you purchase has a grinder that covers all the grind settings you need.
Accessories
Check that your purchase comes with a milk frothing jug, tamper, measuring scoops, and anything else that you may require to make your coffee. Not all machines will come with these items so you might have to purchase them separately.
Other
If you want to go in-depth, take a look at the water pressure, how the steam wand works if there are filters built into it, temperature and pressure gauges, and any other advanced features/items you want included.
---
10 Best High-End Coffee Makers
1. Braun MultiServe Coffee Maker – $159.96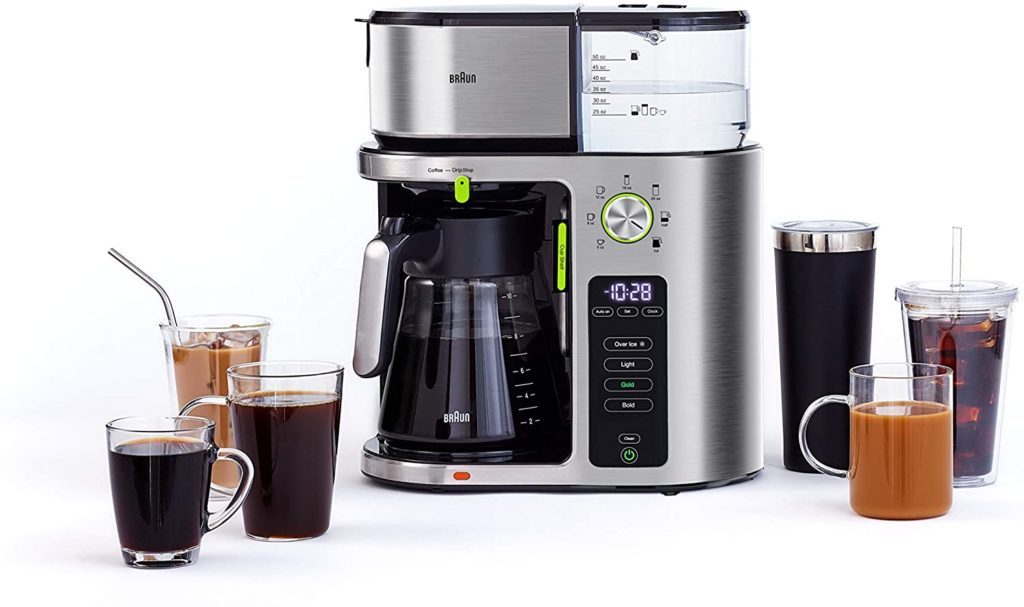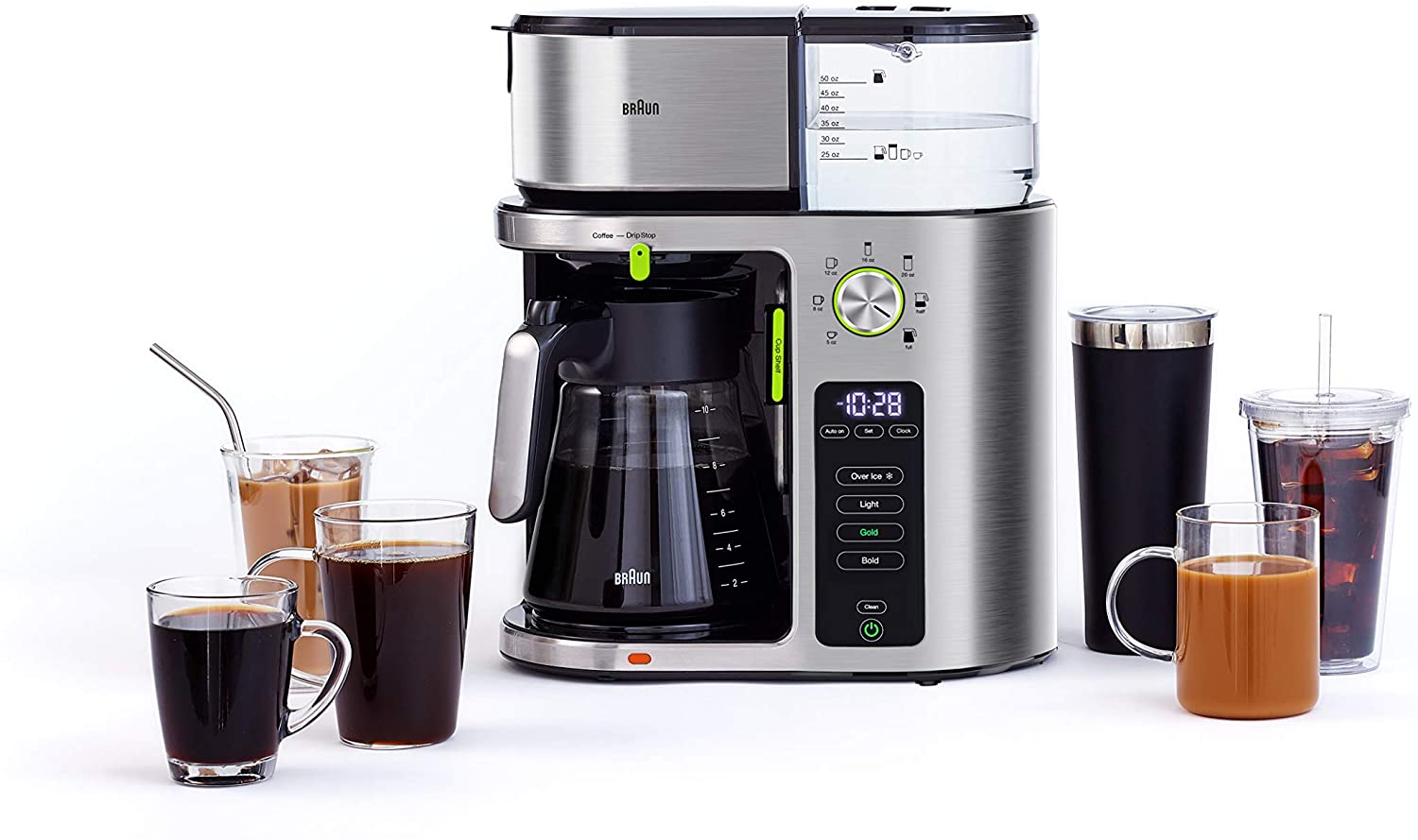 Customize your coffee with hot & cold options
Full pot of coffee in under 8 minutes
Temp sensor system for the perfect temperature
7 different brewing options
Freshness indicator to know when your coffee is fresh
The Braun MultiServe coffeemaker delivers a consistent brewing experience with its exact brew system. It features a fast brewing technology that allows you to enjoy a fresh cup of coffee in just under 8 minutes.
To ensure that you get the same brewing temperature throughout the process, the Braun MultiServe coffeemaker has a 3 temperature sensor system that monitors the whole process to achieve the Specialty Coffee Association standard. Make sure that you get the coffee that you want with the BrewChoice Plus button.
---
2. Keurig K-Café Special Edition K-Cup Pod Coffee Maker – $189.99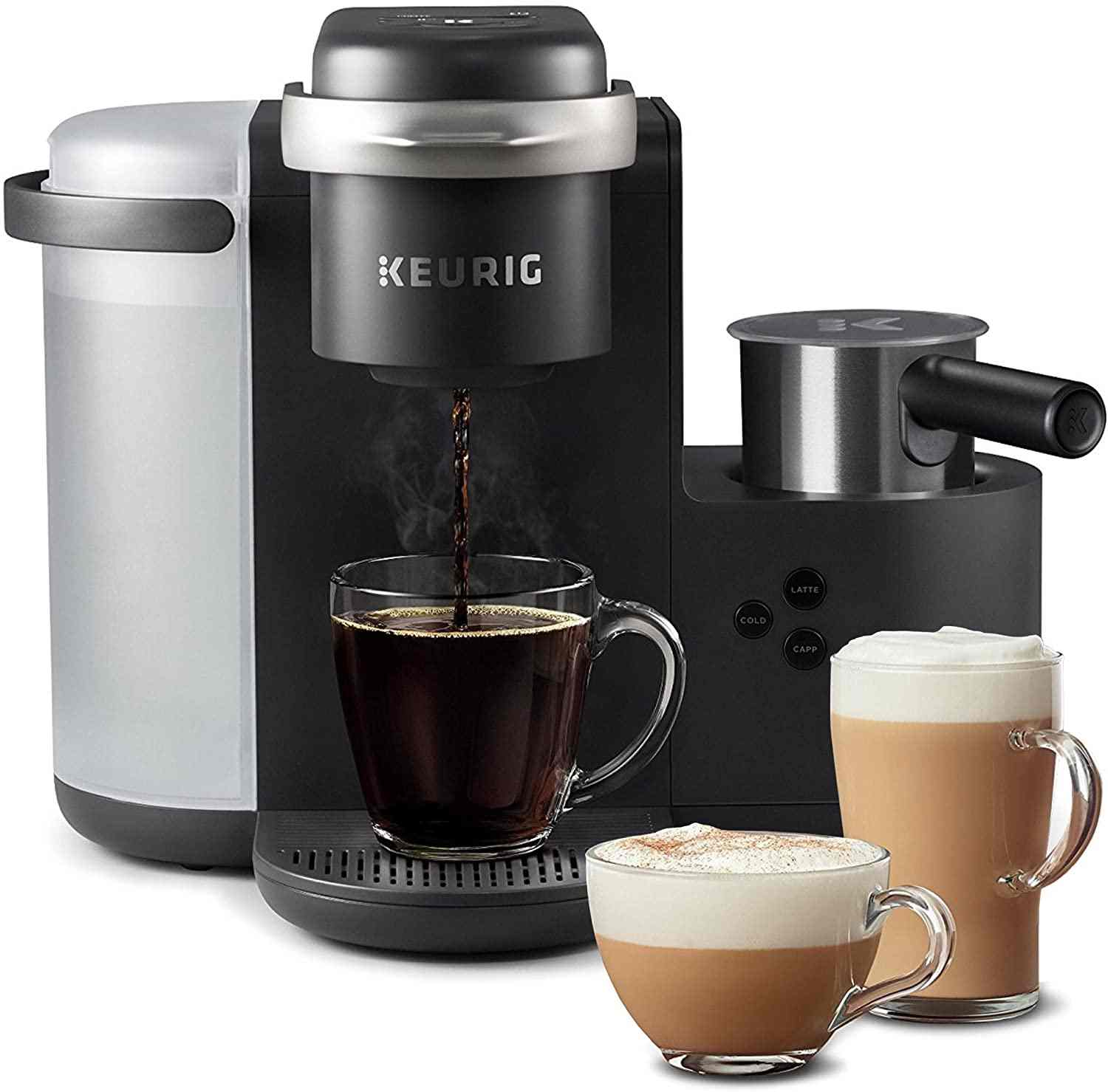 Brews coffee, lattes, and cappuccinos
60oz water tank to brew 6 cups 
No waiting for it to heat up
Auto-off feature
Travel mug compatible
Listed as one of Amazon's Choices, Keurig K-Café Special Edition is capable of brewing regular coffee, lattes, and cappuccinos. It has a large 60 oz. water reservoir which allows you to brew up to 6 cups of coffee before refilling it with water.
The Keurig K-Café Special Edition features a Smart Start which heats up first before brewing in one go for a faster brewing experience. It's very easy to use with its button controls, just simply insert your K-cup pod and choose the best coffee option from regular coffee to specialty lattes and cappuccinos.
It can accommodate travel mugs up to 7.2" and is very energy efficient with its auto shut off after 2 hours of being idle.
---
3. De'Longhi La Specialista Arte Espresso Machine – $679.99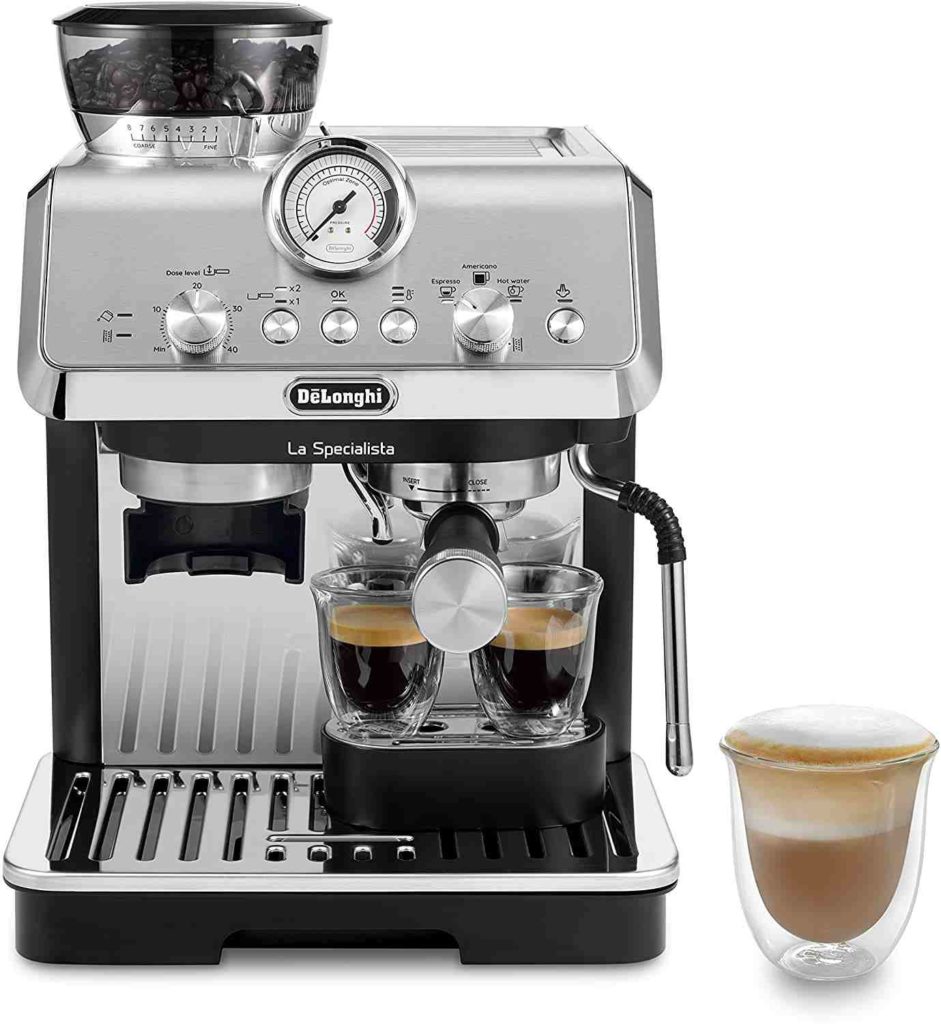 Built-in grinder with 8 precise settings that ensure optimal single or double dose and grind size
Active Temperature control with 3 settings
My LatteArt steam wand
3 preset recipes for rich, balanced Espresso, Americano, and Hot Water
Manual tamping tools
This is one of the best high-end coffee makers due to its look, features, and of course the high price tag. The De'Longhi La Specialista Arte Espresso Machine has many built-in functions to help you make the perfect tasting cup of coffee. It has a built-in grinder with various grind size options, temperature controls to extract the perfect flavors, and a steam wand to create milk froth.
If you are looking for a machine that does it all, this is the one for you. It does come at a high price, but it is worth it when you consider the features you are getting with this machine.
Related article: Best De'Longhi Coffee Machines.
---
4. Café Specialty Drip Coffee Maker – $290.99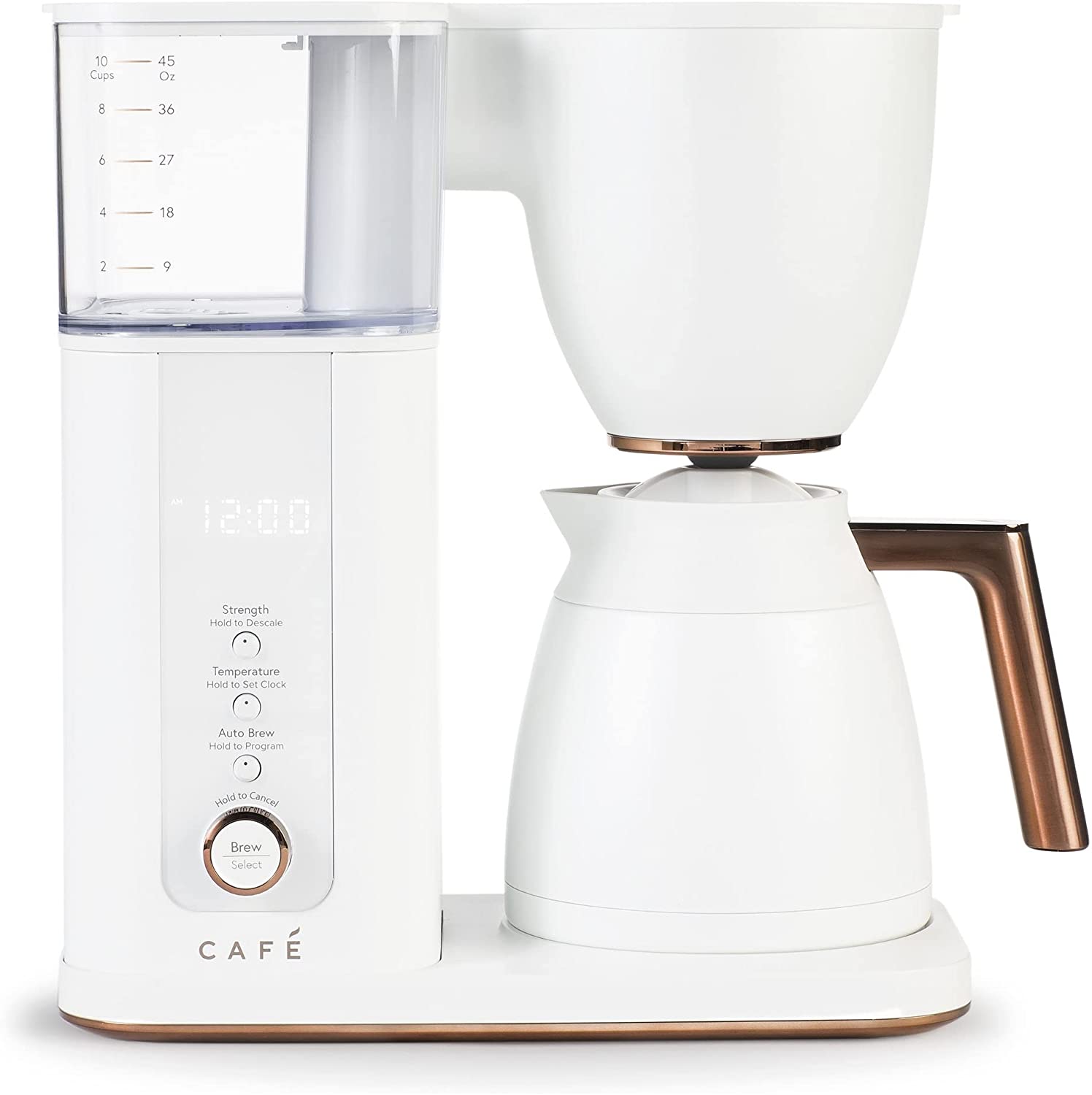 SCA Certified coffee maker
Can be controlled with the SmartHQ app, Alexa, and Google Home
10-cup coffee maker that stores your settings for number of cups, temperature and brew strength
Gold, Light, Medium and Bold strength options
Automatic brew options
Listed as one of Amazon's Choice, Café Specialty Drip Coffee Maker is SCA Certified. This coffee maker brews up to 10 cups of coffee with a custom brew strength from gold, light, medium, and bold.
Make your mornings easier with the automatic brew feature where you can program it to brew just at the moment you wake up. The best thing about the Café Specialty Drip coffeemaker is that it is WIFI Enabled which you can pair with your smartphone and control the machine using SmartHQ App, Alexa, and Google Home.
---
5. Ninja CM407 Specialty Coffee Maker – $334.63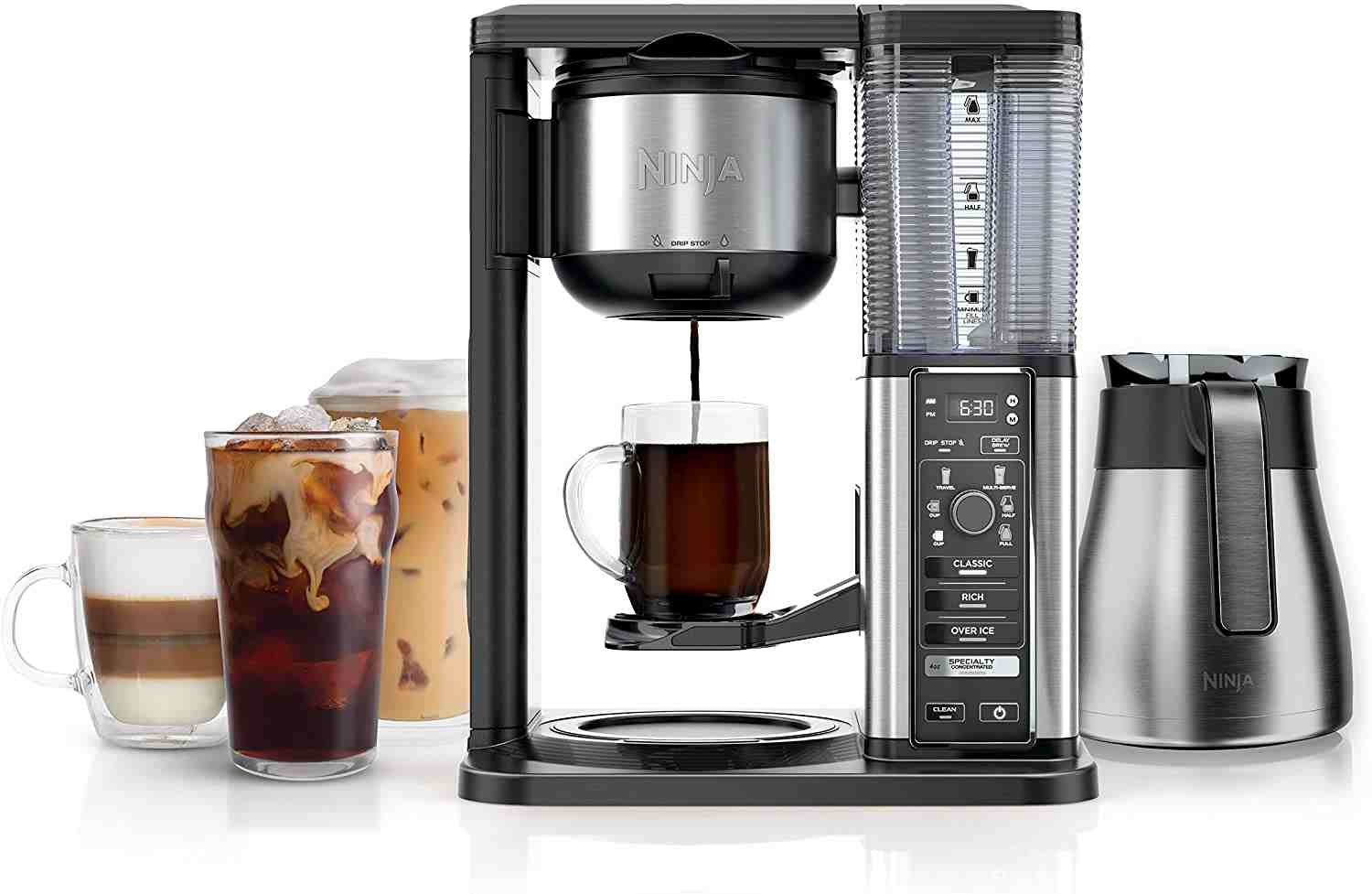 Specialty brew
Iced Coffee options
6 brew sizes
Fold-away frother
No coffee pods needed
The Ninja Specialty coffeemaker allows you to brew the traditionally brewed coffee, specialty coffees like lattes, macchiatos, cappuccinos, other specialty coffees, and even a flavorful iced coffee that is never watered down. This coffeemaker includes a built-in Fold-Away Frother for that creamier specialty coffee.
The Ninja Specialty coffeemaker features 6 brew sizes where you can choose to use a single cup of freshly brewed coffee, a large coffee mug, a travel mug, half carafe, or a full carafe. Keep your drinks to the optimal drinking temperature without a warming plate with the thermal carafe.
---
6. Ratio Six Coffee Maker – $345
Thermal carafe
1.25 liters / 40 ounces brewing capacity
BPA-free copolymer water tank
Holds a variety of paper filters
Brew from 2 to 8 Cups
Enjoy world-class coffee minus all the fuss with Ratio Six coffeemaker. The Bloom, Brew, and Ready phases of Ratio Six operate in sequence to ensure that you get the perfect cup every time. This coffeemaker has a stainless steel shower head which helps the water flow evenly to ensure the ideal extraction temperature.  
---
7. Technivorm Moccamaster KBGV 10-Cup Coffee Maker – $349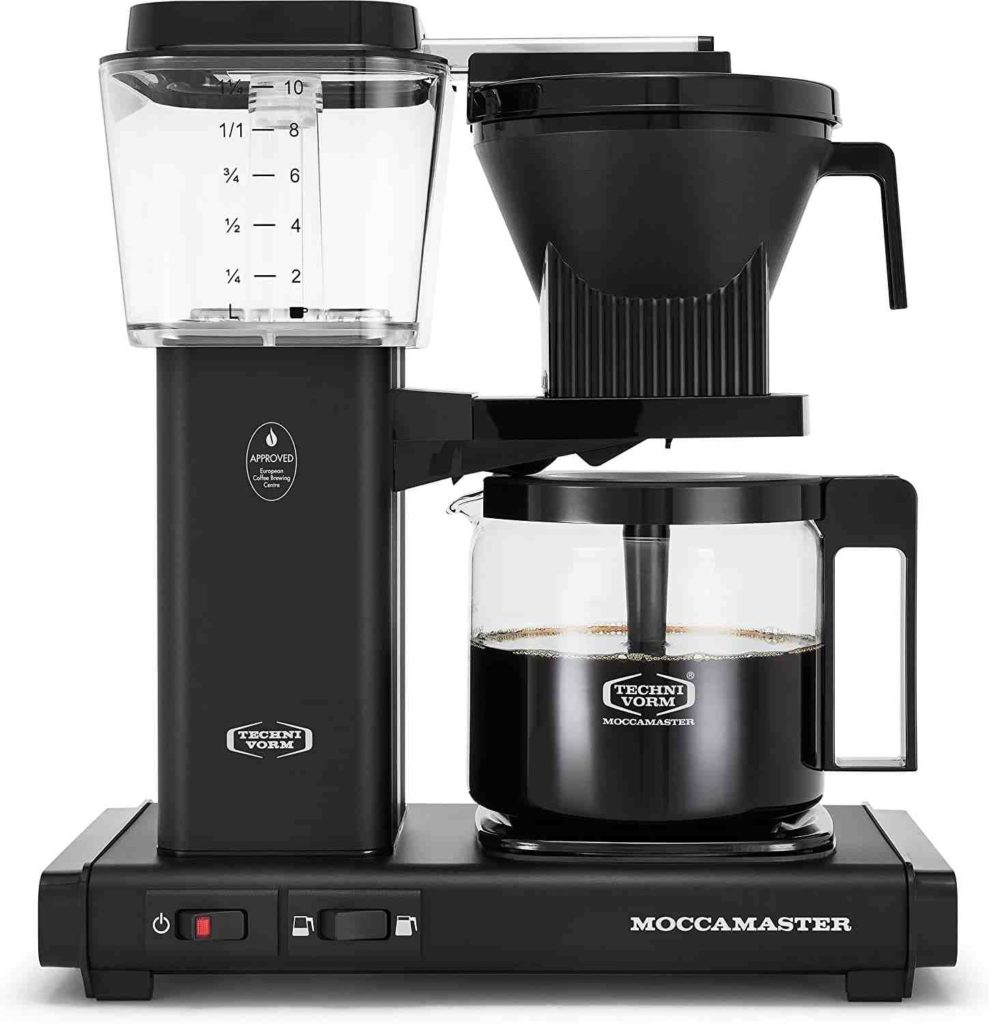 Pump-free coffee maker
Heats to perfect temperature
Can brew half or full carafes
Brews a full 40 oz pot of coffee in 4-6 minutes
Quiet and safe
Upgrade your brewing experience with the new pump-free coffeemaker which heats water to the optimal temperature thanks to the copper boiling element which rapidly boils the water up to 205°F. Choose to brew either half or full carafes using the Brew-Volume Selector button.
The Technivorm Moccamaster is guaranteed to keep your brewing experience safe and quiet. It's energy-efficient with its automatic shut-off after 100 minutes of being idle.
---
8. Nespresso Creatista Plus Espresso Machine by Breville – $599.95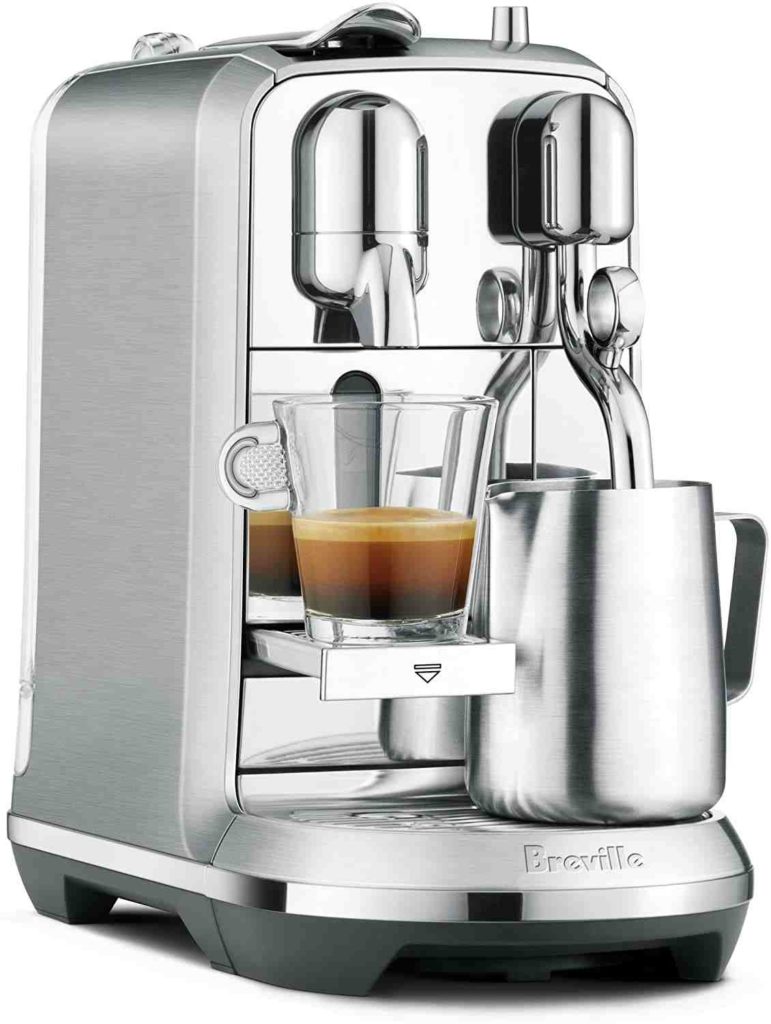 Makes freshly brewed coffee as well as delicious authentic espresso
Attached milk frother for lattes and latte art
Multiple brew options and complex coffees
LCD touch display
Heats up in less than 3 seconds
Do you love making lattes at home but can't seem to get that perfect espresso kick with your coffee maker? With the Nespresso Creatista Plus Espresso Machine by Breville, you can now brew a barista-grade latte and other specialty coffees at the comforts of your home. The machine comes with a milk frother that allows you to create quality latte art.
The Nespresso Creatista Plus includes a removable 1.5L water reservoir, a steam wand, and a stainless milk jug. Enjoy an energy-efficient machine with its automatic off mode after just 9 minutes of being idle.
---
9. Miele CM5300 Coffee Maker – $1,299.24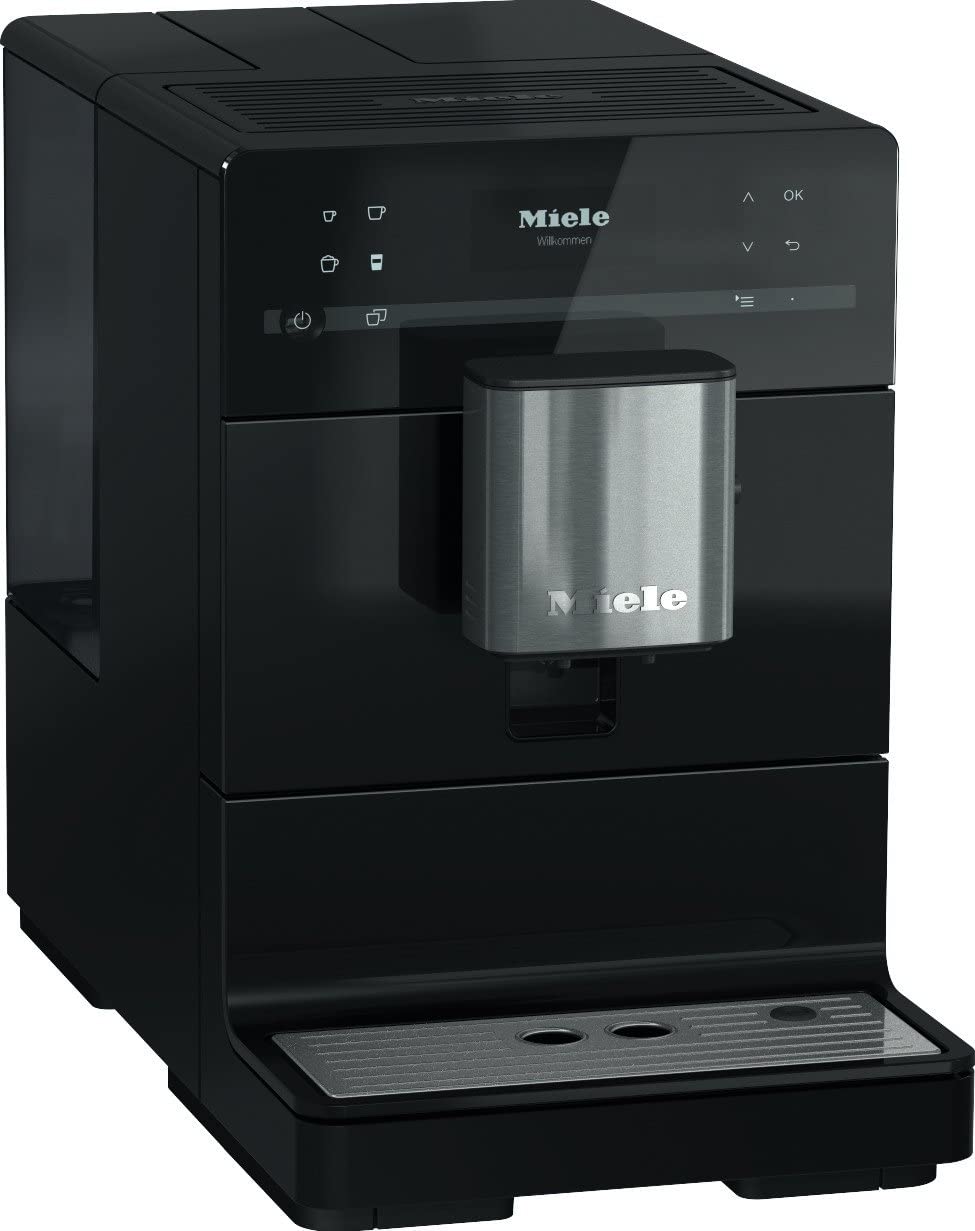 One Touch coffee maker
Make up to 8 cups of coffee at a time
Control panel with 4 row text display
Brew espresso, coffee, long coffee, Ristretto, cappuccino, latté macchiato & Cafe latté
Easy cleaning
The Miele coffeemaker is capable of brewing specialty coffees like espresso, ristretto, cappuccino, latte, macchiato, and long coffee with just a simple touch of a button. It allows you to brew up to 8 cups of coffee in one go.
The coffeemaker is simple to use and it has a DirectSensor Control Panel for easy coffee selection. It has removable parts for easy cleaning and the components are all dishwasher safe.
---
10. Breville Dual Boiler Espresso Machine – $2,499.95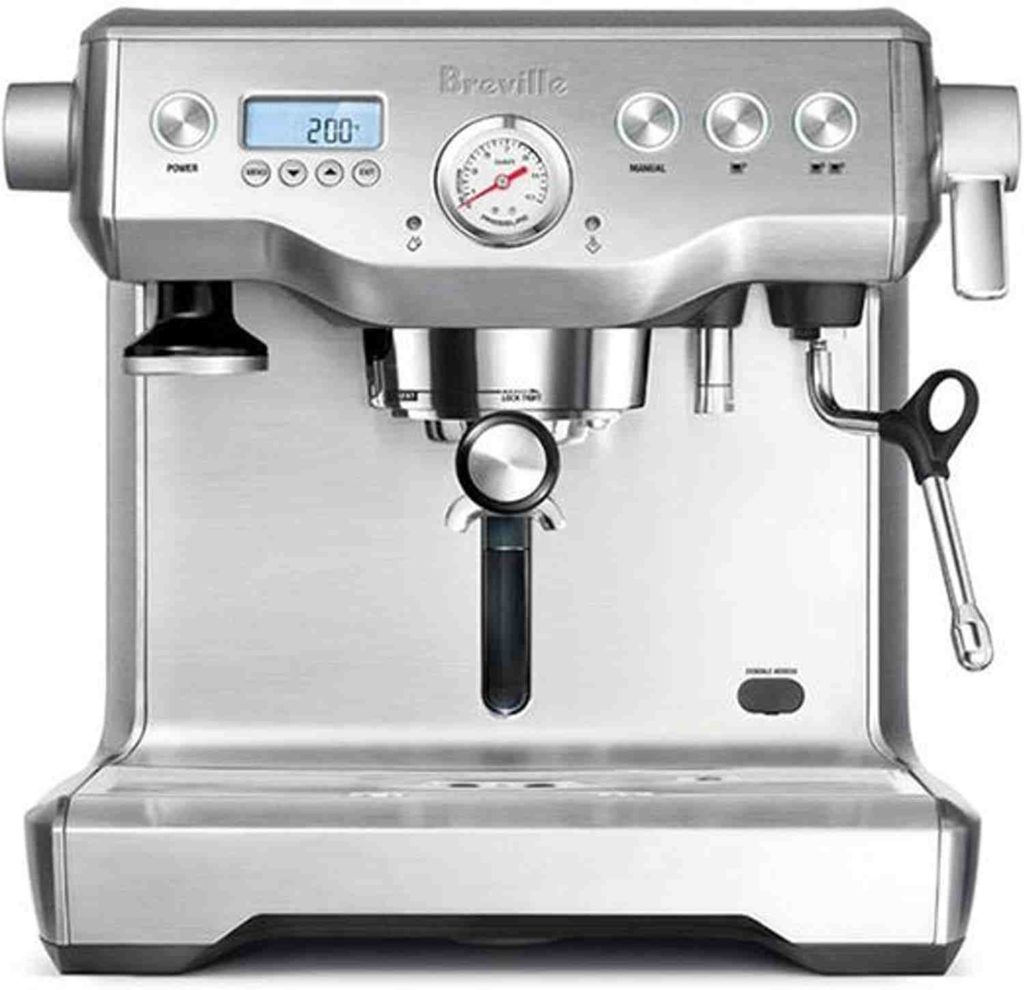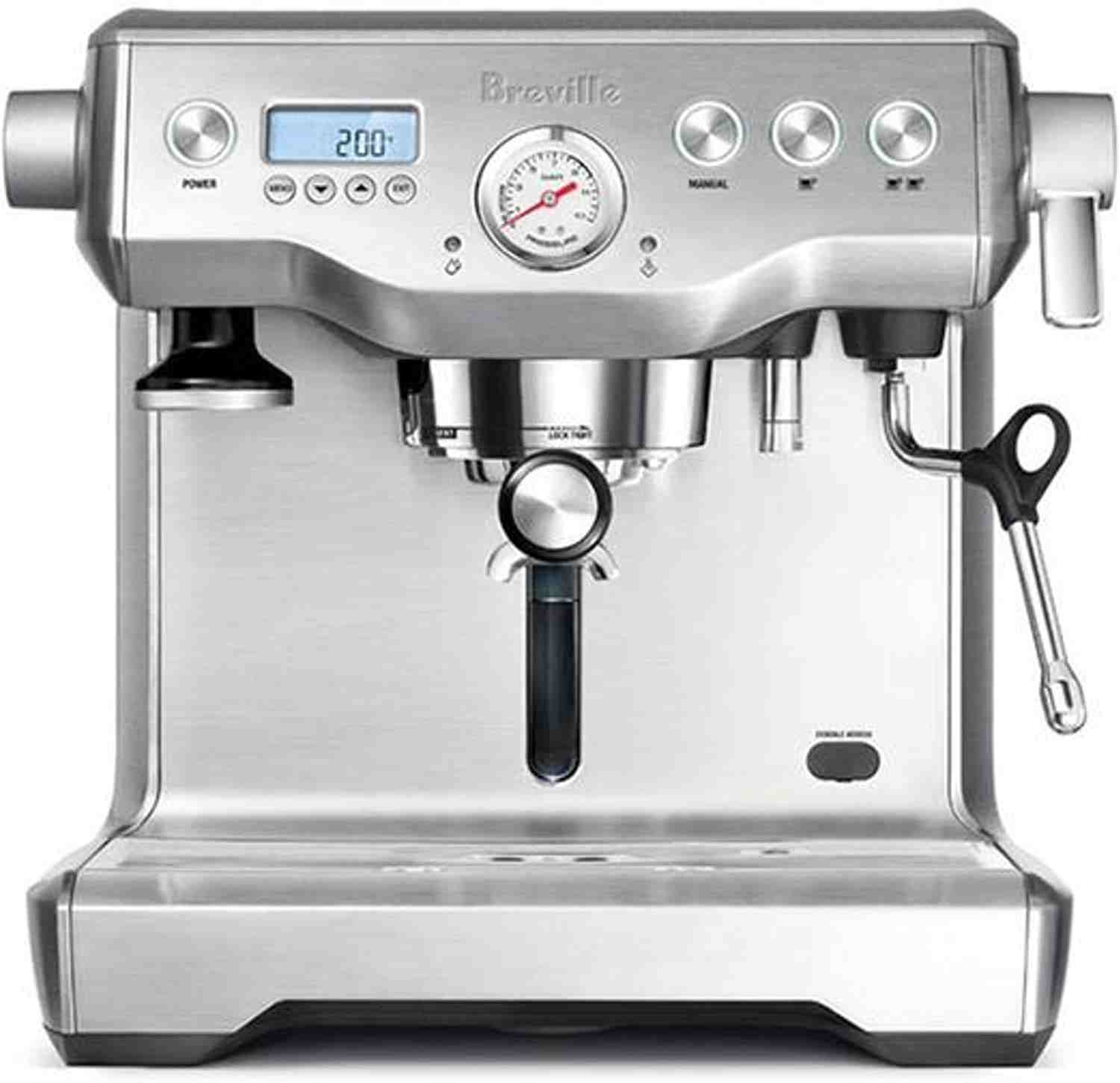 Dual Boiler construction for temperature control and simultaneous extraction and steaming
Does control grinding
Optimal water pressure
Digital temperature control
LCD Display
Steam wand for lattes and milk frothing
Enjoy a balanced and perfectly consistent espresso shot with the Breville Dual Boiler Espresso Machine. This espresso machine is designed to provide optimal water pressure which prevents bitter flavors. The espresso extraction is controlled using a digital temperature control which boils the water at the optimal flavor extraction temperature.
The Breville Dual Boiler has an LCD Display which allows for easy programming and an Espresso Shot Clock which shows the shot duration for consistent extraction. Every purchase of the Breville Dual Boiler comes with a 2-Year Limited Product Warranty, 58mm Razor Dosing Tool, Stainless Steel Portafilter, Single and Dual Wall Filter Basket, Integrated Tamper, Stainless Steel Milk Jug, and a Cleaning Kit. 
The Final Sip
That's the end of the best high-end coffee makers for this list. Do you have any more that you think belong on this list? Let us know in the comments below and note that we will be updating this list and adding more.