If you want a higher-quality and better-tasting coffee, you need to use whole beans that are fresh and ground just before brewing. Unfortunately, with many coffee makers, mainly pod machines, the coffee is pre-ground and not as fresh. So this list of the best coffee machines with grinder, gives you the option to purchase a machine with grinders already built in.
Most of the machines that have a grinder built in, have the option to turn it off so you can use pre-ground coffee too, if you prefer. To use these coffee makers, you will generally add whole beans to the hopper compartment, then once you select a drink, the mechanism will take the right amount of coffee beans and grind them for brewing.
Some of these machines have the option to adjust grind size but some have a standard grind setting, this will be pre-selected to match the coffee type; such as the coffee pots, as they make the same drink every time, so don't need an adjustable grind. Whereas a machine that creates different drink types, should have a grind size option.
Related articles:
Best Coffee Machines with Grinder
1. De'Longhi Dinamica Automatic Coffee & Espresso Machine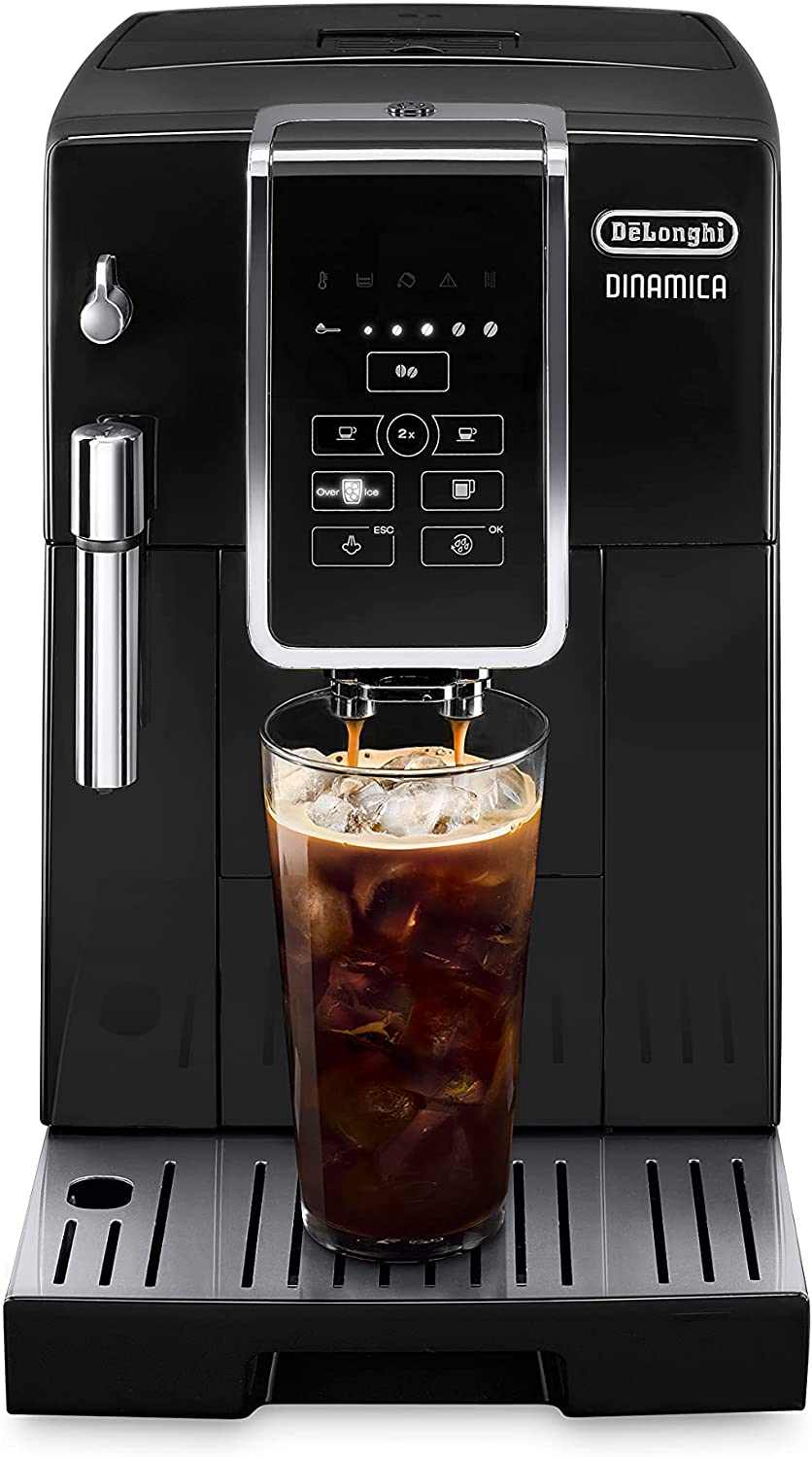 Heat-up time in less than 40 second
Italian 15 bar high performance pump
Built-in steel burr grinder
Integrated adjustable manual frothier
Up to 3 years warranty
Looking for a great cup of iced coffee? Look no further than the De'Longhi Dinamica Automatic Coffee & Espresso Machine TrueBrew. This machine uses a special TrueBrew process to deliver smooth, full-bodied iced coffee that's never watered down. Plus, with a heat-up time of less than 40 seconds, it's ready to go when you are.
This machine also features a bean-to-cup brewing system, making sure you get the freshest cup of coffee every time. Get a 3 year warranty when you register your machine and enjoy the workings of the built-in steel burr grinder.
Reasons to Buy
Produces great coffee
Has a built-in grinder
Makes iced coffee and is a reputable brand
Reasons Not to Buy
Expensive
Said to be loud
Can take some adjusting to perfect the brew
---
2. Black+Decker 12-Cup Mill and Brew Coffeemaker – $95.96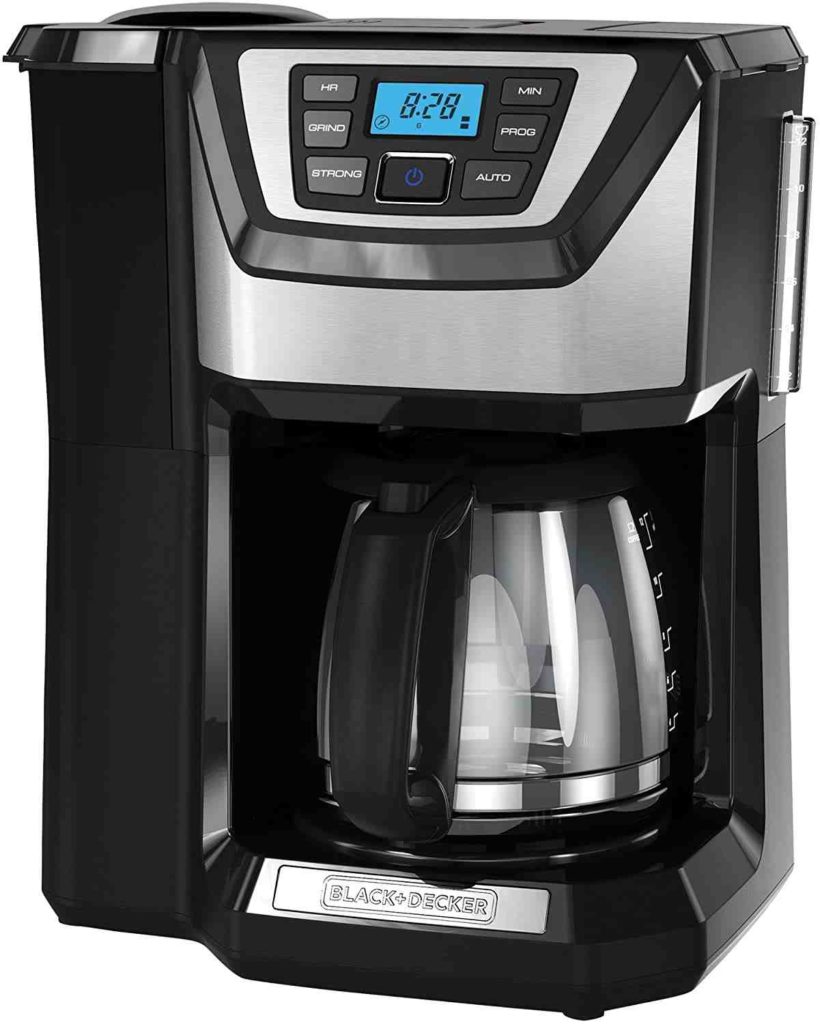 Use Whole Beans or Grounds
Brew strength selector for regular, bold, and strong
24-hour auto brew feature
Capacity 12 cups
Bronze Tone permanent filter
Brew the freshest cup of coffee with the Black+Decker's Mill and Brew coffeemaker. It offers streamlined grinding and brewing to ensure you get a full-flavored cup. You can choose to brew pre-ground coffee by turning off the grinder or you can use whole beans, offering you more of a selection when it comes to coffee.
With its custom brewing option, you can choose how strong your coffee will be from regular, bold, and strong, giving you full control over you coffee taste. Wake up to a fresh cup with Black-Decker's QuickTouch Programming system where you can program your coffeemaker for up to 24-hours in advance.
Reasons to Buy
Options for beans and ground coffee
Auto program feature is useful
Good value for money
Reasons Not to Buy
Has some known leaking issues
No drink variety
---
3. Cuisinart Grind & Brew Automatic Coffee Maker – $99.95
12-cup glass carafe
24-Hour Programmability
Grinds whole beans with option for ground coffee too
Brew-pause feature
Gold tone commercial filter and charcoal water filter
Cuisinart is one of the best brands when it comes to finding a coffee maker with a grinder. This machine is listed as one of Amazon's Choice items too. It has the capability of brewing up to 12 cups of coffee and you can set the coffee maker up for when you'd like a fresh brew with its 24-hour programmability feature.
The grinder chamber and filter are separate to make cleaning easy. You're sure to get the freshest coffee without any impurities, as it comes with a charcoal water filter and gold-tone commercial filter.
Reasons to Buy
Large capacity
Options for whole bean and ground coffee
Built in filters
Reasons Not to Buy
Not a great design
Feels cheap and 'plasticy'
---
4. Gevi 10-Cup Grind and Brew Coffee Maker – $159.49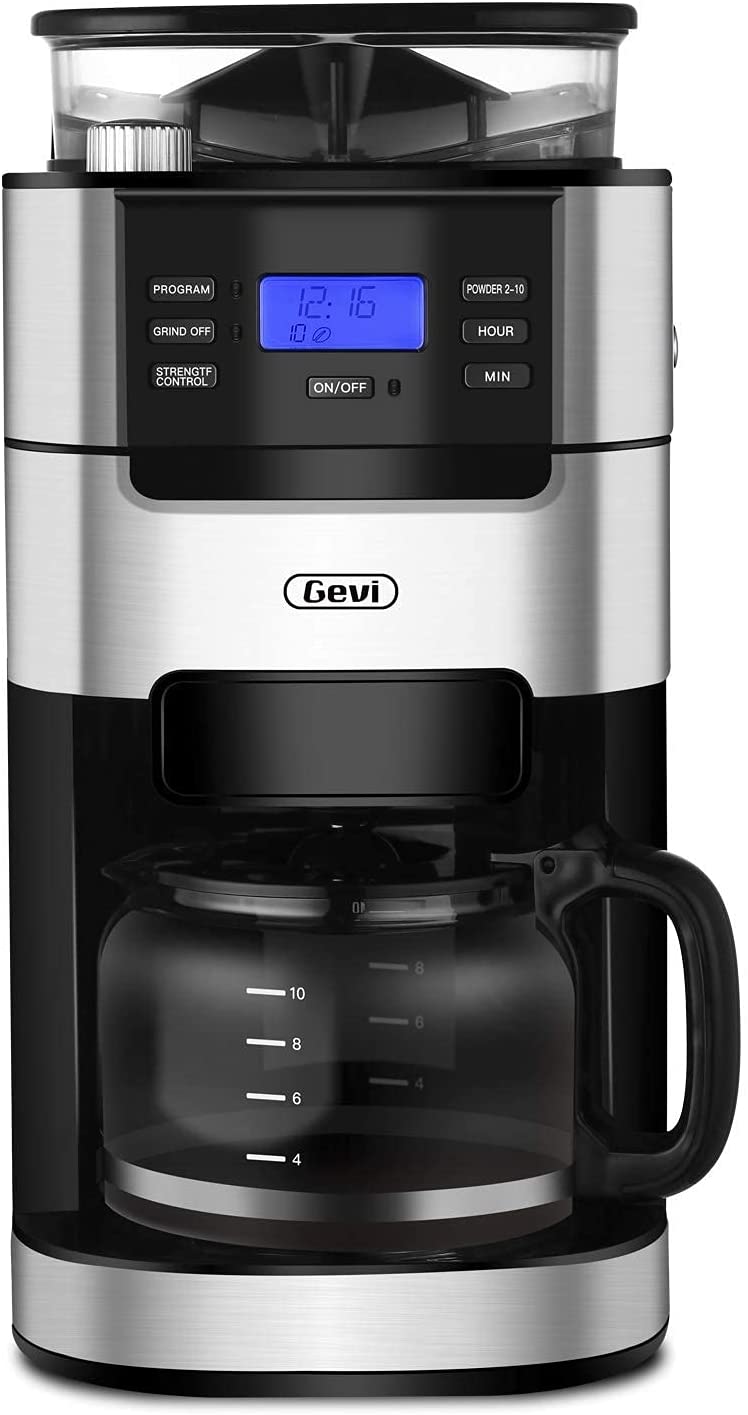 Brew 10-Cups
Stainless steel with high quality anti-slip silicon
Dishwasher safe
Double wall vacuum (Keeps hot, hot, and cold, cold)
Suitable for K-cup pods and all coffee types
The Gevi Grind and Brew coffee maker is another great addition to the best coffee makers with grinder list. It is equipped with a burr grinder that has the option to turn it on or off depending on whether you use coffee beans or pre-ground coffee. The Automatic Start function allows you to set the time when you'd want your coffee.
This coffee maker can brew up to 10 cups of coffee and allows you to choose the brew strength from mild, medium, and strong. The conical burr grinder lets you select your preferred grind size from coarse to fine.
Reasons to Buy
High-quality machine for a low price
Grind size options
Can keep coffee pot warm/hot
Reasons Not to Buy
No variety in drink options
There are better models for a lower price
---
5. Cuisinart Fully Automatic Burr Grind & Brew – $199.95
Fully automatic
Grinds coffee beans immediately before brewing
Height adjustable drip tray
Each cup is individually prepared
Grind off option allows pre-ground beans to be used
Listed as one of Amazon's choices, The Cuisinart DGB-800 has a built-in grinder that grinds your coffee beans before brewing to ensure that you get the freshest cup with maximum flavor. The grinder is designed to grind your beans evenly with its professional-style burr grinder and also has the option to be shut-off, so you can use ground coffee.
Choose the brew strength with regular, bold, and extra-bold from just a press of a button. The LCD interface makes brewing your coffee simple and modern.
Reasons to Buy
Simple design with high-quality coffee
Options for whole bean and ground coffee
Has a useful LCD display
Reasons Not to Buy
Is a bit expensive when comparing with other models
---
6. Capresso Team Pro Plus Coffee Maker – $258.63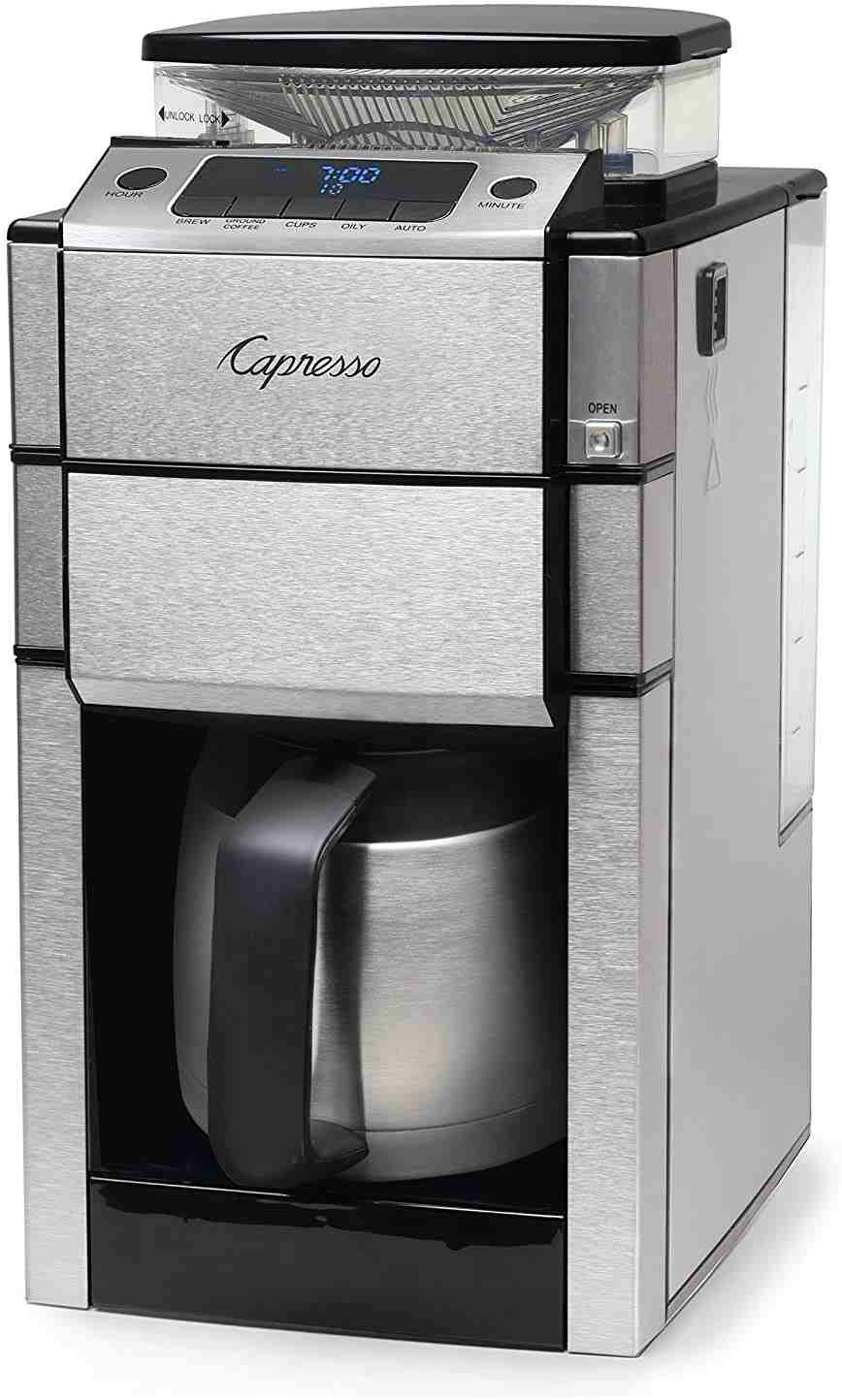 Automatically brews up to 10 cups of coffee
Permanent Gold Tone Filter
24-hour programmable timer
LCD Display
Integrated, professional, steel conical burr grinder with removable upper burr
As one of our best coffee makers with grinder, the Capresso 488.05 is designed to brew up to 10 cups of coffee with its thermal carafe. It features an integrated with a Conical Burr Grinder and a 7 0z. removable ground container, so you want to have to think about removing the used coffee grounds every single brew.
Capresso's exclusive technology offers a two-step grind and clean compartment. The conical steel burrs are specifically designed to slow down the grinding process to ensure that there is less heat produced to make an aromatic and flavorful coffee. It also has a useful LCD display that makes your brewing process simple.
Be sure to take advantage of the 24-hour timer so you can get your coffee on-time, whenever you prefer.
Reasons to Buy
Has a programmable 24-hour timer
Easy to clean and use
Grinder is automatically cleaned
Reasons Not to Buy
No coffee grounds option
Expensive
---
7. Cuisinart Grind & Brew Thermal 12-Cup Coffee Maker – $279.99
24-hour fully programmable
Double-wall insulated stainless steel thermal carafe
Built-in automatic burr grinder and 8-ounce bean hopper
Charcoal water filter and permanent gold tone filter
Strength selector and grind control
Do you want your coffee to be ready when you wake up? The Cuisinart DGB-900BC makes it possible with its 24-hour programmable option. You don't have to worry about manually grinding your beans as it has an automatic burr grinder built-in. You can even customize the grind size and volume of beans.
The Cuisinart offers a brew-pause feature so you can enjoy a cup of joy before the brewing process ends. This coffee maker comes with a double-walled insulated stainless steel thermal carafe that can handle up to 12 cups of coffee.
Reasons to Buy
24-Hour timer option to schedule your coffee
Built in filters for water and coffee
Large bean hopper
Reasons Not to Buy
Highly expensive
Issues with clogging
---
8. Breville Grind Control Coffee Maker – $299.95
Steep and Release technology
Programmable auto-start
Integrated and adjustable grinder
Clear and concise LCD screen
2lb Bean Hopper & 12 Cup Capacity
Breville's Steep and Release Technology grinds your beans before brewing to ensure that your cup of coffee is at its freshest state and has the most flavorful taste. This coffee maker offers a Programmable Auto-Start feature so you can set the time when you'd like your cup of coffee to brew. With this feature, the Grind Control will automatically start for you to get the right water brewing temperature from start to finish.
Worried about not being able to get the right grind size? With this Breville coffee maker, you can adjust the grind size with its Integrated and Adjustable Grinder. You will also find a clear LCD to ensure that you can easily see the grind setting, grind time, and the number of cups or shots you've chosen.
Reasons to Buy
Another auto-start and programmable brew function
Large capacity for beans and water
Easy-to-view LCD screen
Reasons Not to Buy
Requires regular cleaning
Has issues with breaking within first 6 months
---
9. Krups Grind and Brew Coffee Maker – $369.99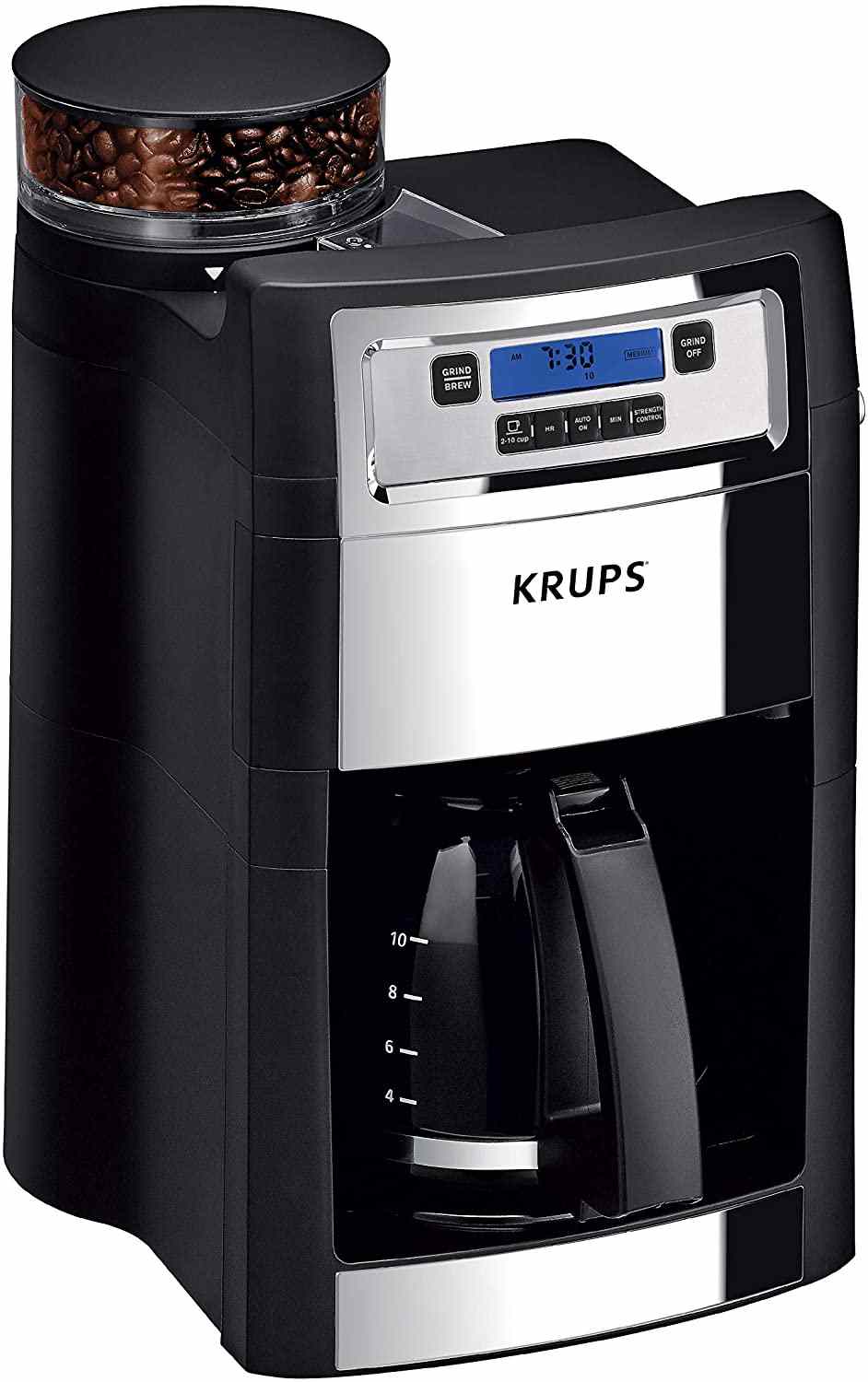 Built in conical burr grinder
10-cup capacity
2 to 10 cup grinder setting
5 grind settings (coarse to fine)
Brew strength options
The Krups Grind and Brew offers 3 coffee strengths between mild, medium, and strong and it offers a customized grind setting from coarse to fine. The built in grinder can actually be adjusted based on the amount of cups you are brewing, this ensures you get the best flavor every time.
Keep your coffee warm for 2 hours and take advantage of the auto-start option where you can schedule the brewing process on your time. With its crystal clear LCD screen for easy monitoring of the brewing process. If you can't wait for the brewing process to end to satisfy your coffee cravings, then enjoy Krups Brew Pause & Precise Pouring option.
Reasons to Buy
Has multiple grind settings
Adjustable grind for different brew sizes
Has different strength options
Reasons Not to Buy
Fairly expensive
No drink variations
---
10. De'Longhi Dinamica Automatic Espresso Machine – $1,399.00
One-Touch coffee
Built-in conical burr grinder with 13 settings
Automatic and adjustable milk frothing
Dual Heating System
LCD Display
Imagine creating your latte masterpiece in the comforts of your own home. With De'Longhi Dinamica, you can brew your specialty coffee with just a touch of a button. This coffeemaker allows you to create 18 espresso and specialty coffee options.
This coffeemaker is integrated with a Milk Frother and a built-in Conical Burr Grinder. Krups Dinamica offers a dual heating system so you won't have to take too long in making lattes and cappuccinos at the same time.
Reasons to Buy
Multiple drink varieties with automatic milk frothing
Easy to clean and maintain

No messing around with the one-touch option
Reasons Not to Buy
Milk-based drinks aren't "hot"
Very expensive
---
The Final Sip
That's all for the best coffee machines with grinder in 2022. Do you have any suggestions of coffee makers that should be added to this list? Let us know in the comments.