Manual coffee grinders have been slowly growing in popularity in recent years. Some of the best manual coffee grinders are even becoming collector's items, and it's easy to see why with their unique designs. But it's not just the design that appeals to people, it's the portability and grind satisfaction.
These coffee grinders are often small, slim, and compact, meaning you take them camping or on your travels. The higher-quality models have different grind setting options so you can get the right grind size for your cup and achieve perfect consistency every time. Finally, manually grinding your own coffee is extremely satisfying when you sit down and enjoy the hard-earned cup of Joe.
Related article: Best coffee grinders.
Note from the editor: This article contains affiliate links. This means we may earn a small commission on purchases made through these links. It helps support us in making content!
Here's a quick look at some of the best:
---
Our Top Pick
1Zpresso K-Max Manual Coffee Grinder
Although it's quite expensive, this is the best manual coffee grinder in our opinion. It has over 90 clicks on an external dial for precise control over your grind and is a high-quality build overall. The burr is uniquely shaped to achieve a perfect grind and the catch cup attaches via magnets. Not to mention it's portable and comes with a little carry case.
---
Best Manual Coffee Grinders in 2022
1. Comandante Nitro Blade American Cherry – $60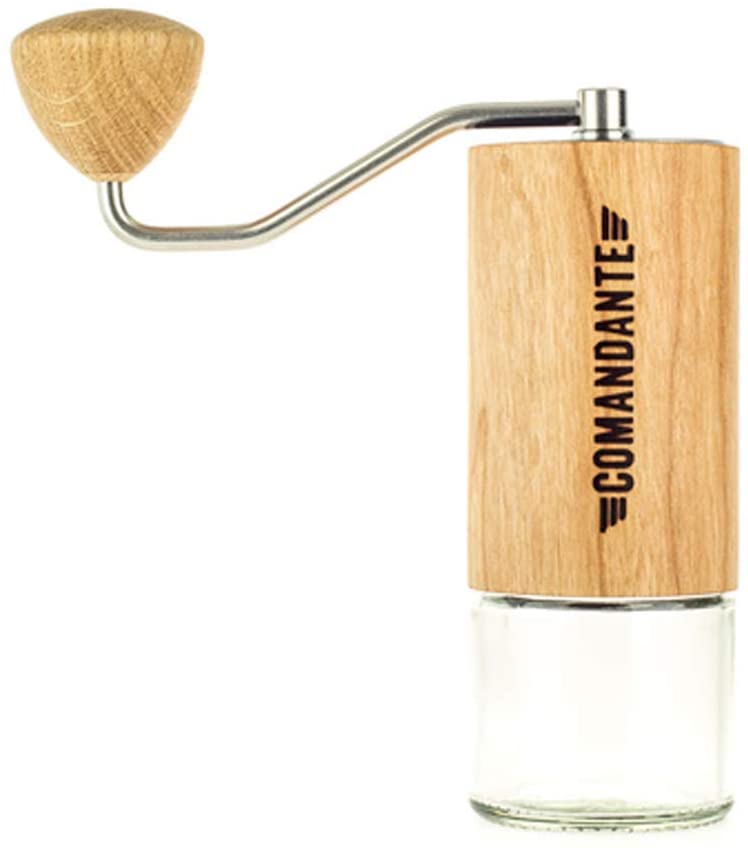 100% stainless steel
Ultra Durable Materials
Sharpened Grinding Edges
58 Rockwell hardness
High Edge Retention
Speed 1 bean/turn
This 100% stainless steel grinder is built to last with ultra-durable materials and sharpened grinding edges. Plus, it features a 58 Rockwell hardness rating and high edge retention to ensure your coffee beans are ground evenly every time. Speed 1 bean/turn makes this grinder perfect for any level of coffee lover. Our favorite feature of this manual coffee grinder is the seethrough container.
Why We Like It
It looks rustic and unique
Has a see-through container at the bottom
High-quality materials
---
2. Zassenhaus Santiago Coffee Mill Grinder – $104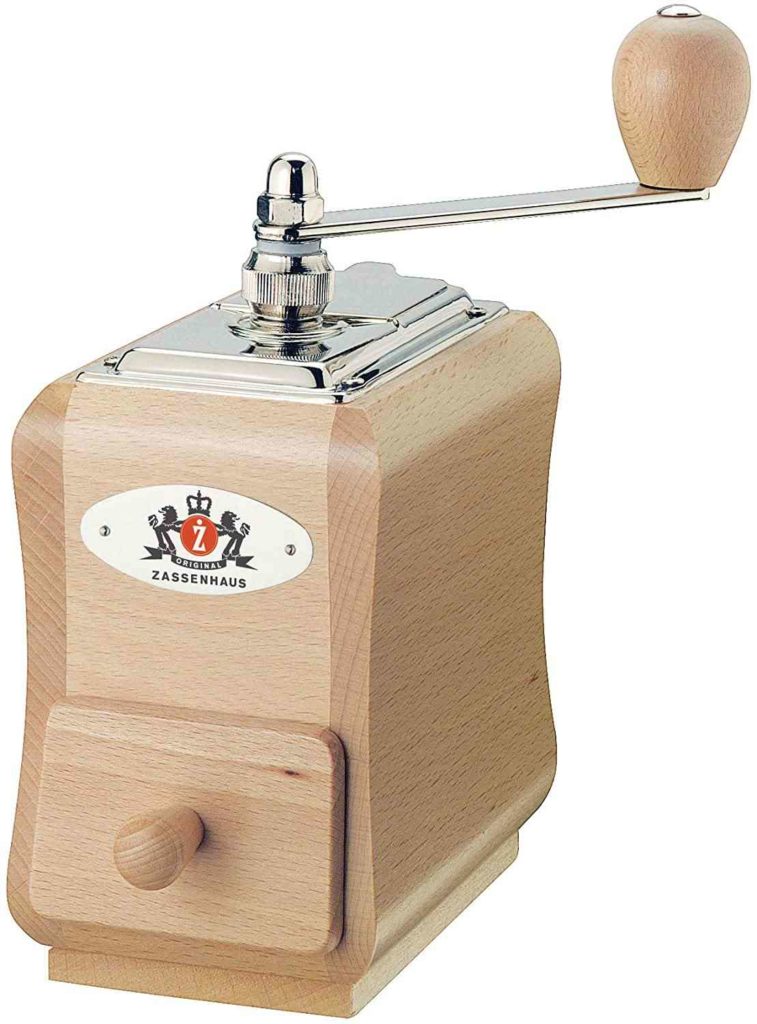 Carbon Steel Grinder
German Made Conical Burr
Traditional Lap Mill
Grind Size Adjustment
Beechwood Design
Drawer Collection 8.25" x 3.5" x 8"
This high-quality coffee mill from Zassenhaus is made of durable carbon steel and comes with German-made conical burrs for a superior grind. It has a traditional lap mill design and can be adjusted to produce the perfect grind size. The beautiful beechwood design is not only aesthetically pleasing but also incredibly sturdy, while the drawer collection provides an easy way to collect your ground coffee.
Why We Like It
Very well made and designed
High-quality grinder
Has adjustable settings
Why We Don't
Slightly unstable
Can accumulate coffee
---
3. Hario Mini-Slim Plus Ceramic Manual Coffee Grinder – $40
This Hario Mini-Slim Plus Ceramic Manual Coffee Grinder is the perfect grinder for coffee aficionados who want a high-quality, durable grinder that can produce uniform grinds. The ceramic mill ensures long-lasting use and its slim, compact design makes it easy to store.
The adjustable grind size allows you to customize your grinds to suit your taste, while the ergonomic crank handle makes grinding a breeze. With its stylish Japanese design, this grinder is sure to elevate your coffee-drinking experience. It has a capacity of 24g, so you can make enough coffee for yourself or for a small group.
Why We Like It
Easy to travel with
Top coffee brand
Stylish and sleek design
Why We Don't
Grind adjustment is confusing
---
4. Hario Skerton Plus Manual Coffee Grinder – $39.97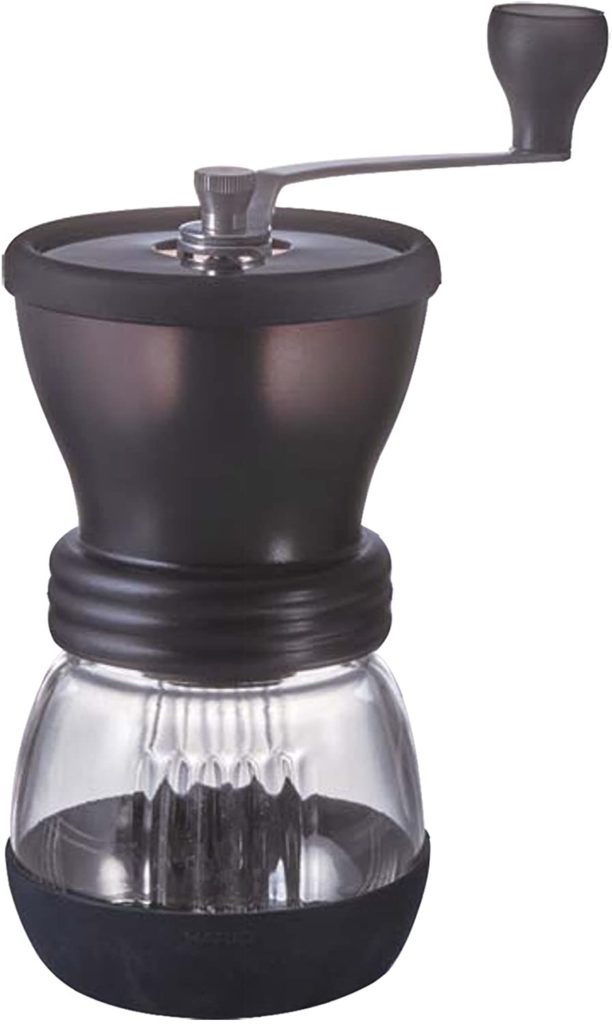 Compact Size
Multiple Grind Sizes
Burr stabilization
Strong Grind Shaft
Japanese Design
100g Coffee Grounds Capacity
Serious coffee enthusiasts know that a manual grinder is key to unlocking the perfect cup of joe. The Hario Skerton Plus is that key. A compact manual grinder with multiple grind sizes and Burr stabilization to ensure a consistent grind every time. Plus, with a 100g coffee grounds capacity, this little powerhouse can handle even the most demanding brews. So if you're serious about your coffee, this is the best manual coffee grinder for you.
Why We Like It
Sturdy and well-made
Large capacity
Can travel with it
Why We Don't
Can be complicated to use
---
5. JavaPresse Manual Coffee Bean Grinder with Adjustable Settings – $39.98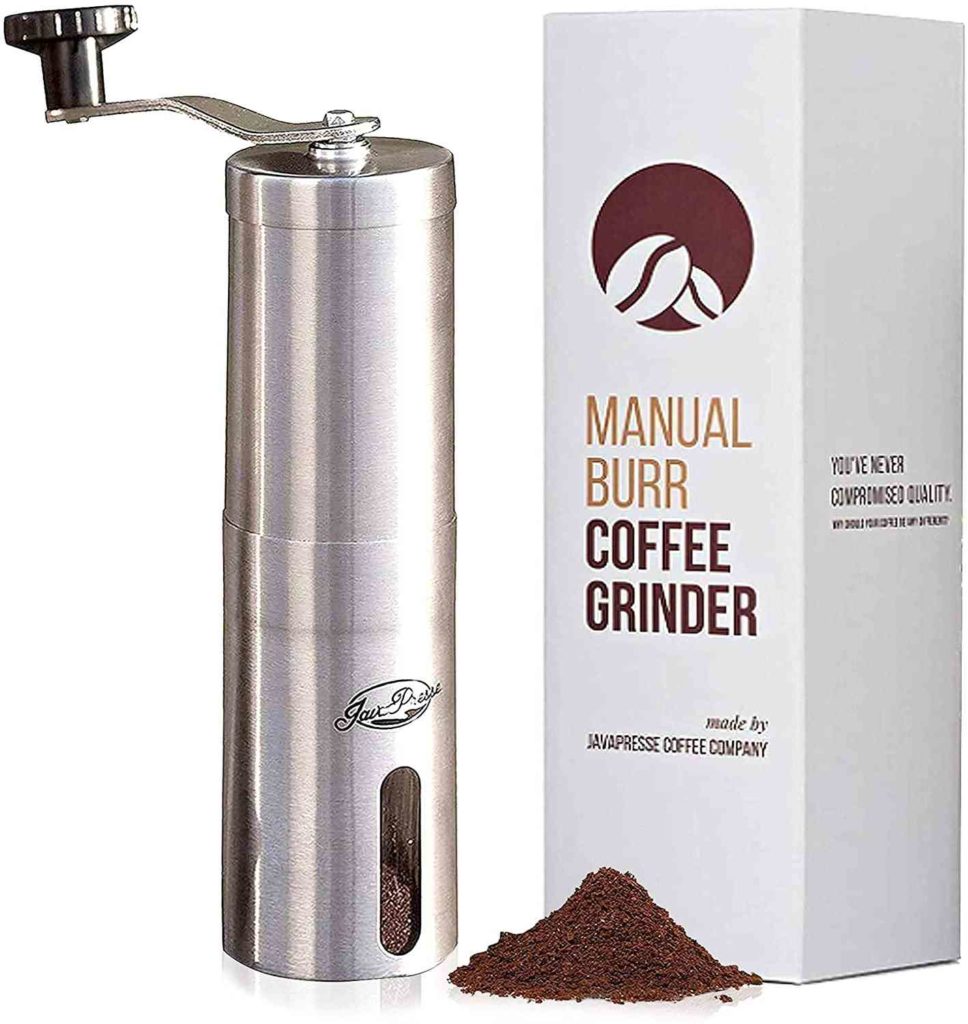 18 Click Settings
Low Noise
Adjustable Grind Setting
Mesh Filter Included
Stainless Steel Design
Slim and Portable
JavaPresse Manual Coffee Grinde is perfect for those who want more control over their brewing process. With 18 different click settings, you can customize your grind according to your specific tastes. Low noise design means you can easily grind beans without waking up the whole house, and an adjustable grind setting means you're guaranteed a perfect cup of coffee, every time.
The included mesh filter also helps reduce sediment in your cup. The sleek stainless steel design and slim and portable size make it easy to take with you on the go.
Why We Like It
Easy and Simple
Inexpensive
---
6. Timemore C2 Manual Coffee Grinder – $52.60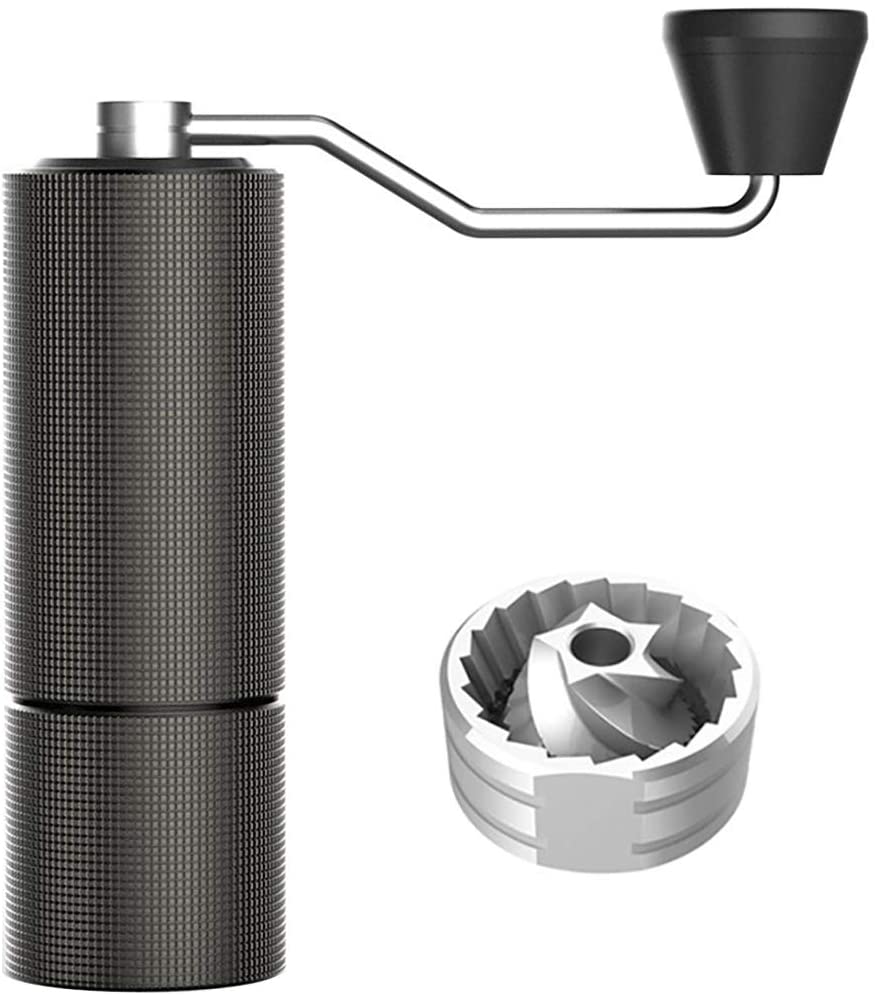 Stainless Steel Burr
Double Bearing Central Axis
Adjustable In 36 Steps
Hardness in 5-Axis
Checkered Pattern Design
25g Capacity
This is one of the best manual coffee grinders and is made with stainless steel burrs, double bearing central axis, and hardness in 5-axis to ensure superior performance. Plus, it has an adjustable grind size that can be customized in 36 steps to get just the right grind for your needs. The checkered pattern design also makes this grinder stylish and eye-catching.
Why We Like It
Stylish design
Adjustable
High-quality
Why We Don't
Expensive
Grind size has inaccuracies
---
7. Porlex Mini Stainless Steel Coffee Grinder – $64
Ceramic conical burrs
Different Grind Size Options
20g Capacity
47 mm Diameter
Made in Japan
Stainless Steel Body
This grinder features ceramic conical burrs for precise grinding and offers different grind size options so you can tailor your grind to your coffee beans. With a 20g capacity, it's perfect for smaller batches of coffee, and the stainless steel body ensures durability and lasting good looks. Plus, it's made in Japan for quality you can trust.
Why We Like It
High-quality made in Japan
Portable
Consistent grind
Why We Don't
Low capacity
Not the best looking
---
8. 1Zpresso JX Manual Coffee Grinder – $129
Durable 48mm Conical Burr
40 Clicks Range of Grind Settings
Easy to Clean
1 Year Warranty
Aluminum
Impressive Consistency
The 1Zpresso JX Manual Coffee Grinder is the perfect addition to your coffee routine. It's durable 48mm Conical Burr, 40 Clicks Range of Grind Settings, easy to clean, and comes with a 1-year warranty. With its impressive consistency, this grinder is a must-have for all coffee lovers. Made from aluminum, it's both lightweight and durable.
Why We Like It
A range of grind settings
Good design and functionality
---
9. 1Zpresso K-Max Manual Coffee Grinder – $239
Over 90 Clicks
Heptagonal Conical Burr,
Quick Release Magnet Cup
Stainless Steel Material
35-40g Capacity
22 Microns Per Click
The 1Zpresso K-Max is one of our top picks for the best manual coffee grinder. With over 90 clicks, the heptagonal conical burr grinds your coffee beans quickly and evenly, allowing you to enjoy a rich and full-flavored cup of coffee. The quick-release magnet cup makes it easy to remove your grounds, and the stainless steel material ensures that your grinder will last for years to come.
Why We Like It
Nicely designed
Has a good adjustment level for a better grind
Magnet cup is easy to use
---
The Final Sip
That's our list of best manual coffee grinders in 2022. If you are struggling to find the best manual grinder for coffee, leave us a question in the comments or reach out to us via email. You can also check out this article on the best budget coffee grinders.