If you can't function or survive without coffee, then it can be a real struggle if you go camping, hiking, on boat trips, or anywhere that doesn't have access to coffee. It's always wise to bring a backup and instant coffee powder just doesn't cut it. Thankfully, with new innovations and technology, there are travel espresso makers that you can take with you. We prepared a list of the best portable espresso makers for 2022.
There are some portable espresso makers that run from a battery and require charging, then there are basic ones that require manual brewing and pressure. Every person is different and will prefer different methods due to the flavors and quality of coffee produced.
Related: What exactly is espresso?
Note from the editor: This article contains affiliate links. This means we may earn a small commission on purchases made through these links. It helps support us in making content!
How to Choose a Portable Espresso Maker
There are some things you need to consider when you purchase a travel espresso maker, which we will briefly cover below:
Size – This depends on the reason you are buying a portable espresso maker in the first place. If it's to use for the commute, you can get a slightly bigger one. If you are trying to travel with it or hike, then you want to keep it as small as possible so it's convenient.
Weight – You don't want to add extra weight to the bag on your back or your case. Try to find one that's lightweight and won't cause you more hassle than it's worth.
Brewing Type – Do you want a manual operation brewer or an automatic battery-powered brewer? You might get different results from using either. But just because it's manual, it doesn't mean it requires physical energy or produces a lesser quality coffee.
Pod Usage – Some portable espresso makers use coffee grounds and some use coffee pods, keep in mind which one you would prefer. Also, whether you would rather carry grounds or a pod.
Grinder – The majority of portable coffee makers don't grind beans for you. So if you only use beans, keep in mind you will either need to grind them before you travel or purchase ground coffee.
Durability – If you pack things into your bag tightly, you want to go for a durable espresso maker. If you choose a plastic design, you might end up breaking it by accident.
Price – You can pick up a travel coffee maker for under $30 or you can spend between $100-$200, it depends on the features and type you want.
Heat Source – If you use a Moka Pot, you will need a heat source to brew the coffee. Others will require boiling water but could be prepared in advance and kept warm.
Related article: Best moka pots
---
10 Best Portable Espresso Makers for 2022
1. WACACO Picopresso Portable Espresso Maker – $150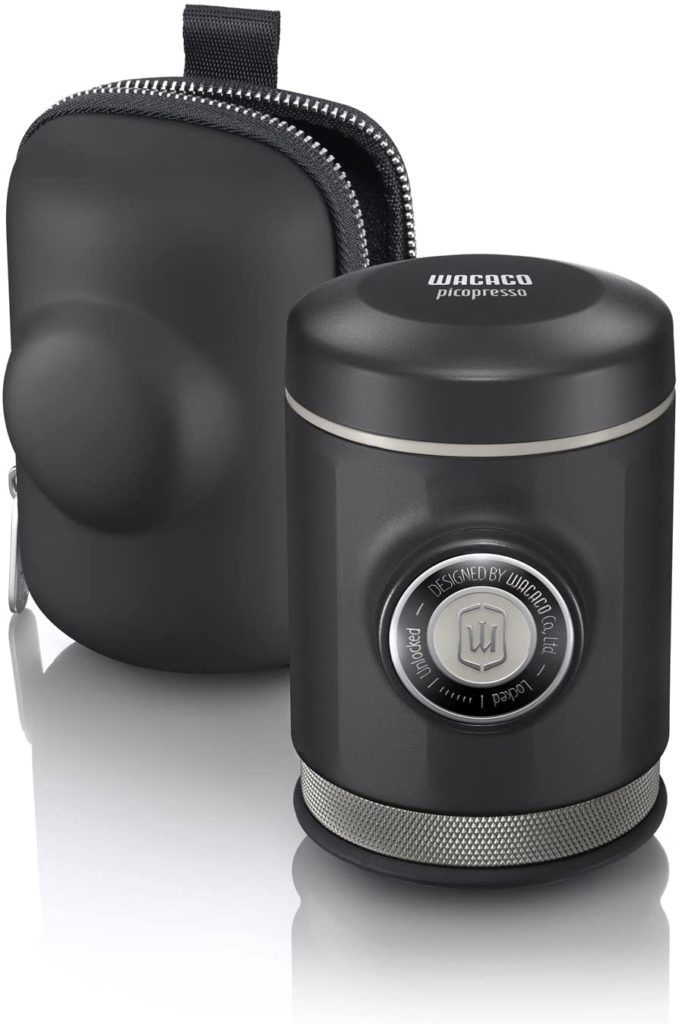 Wide commercial coffee basket
Naked portafilter
Manual operation
Made from metals and robust materials
Compact and portable
The WACACO Picopresso Portable Espresso Maker is the perfect portable espresso machine for coffee lovers who want professional quality espresso without any of the hassles. This compact and easy-to-use machine produces rich, flavorful shots of espresso with a thick crema that rivals any expensive cafe machine. Thanks to the included commercial coffee basket and super-fine coffee grounds, you can enjoy an authentic cafe experience wherever you go.
Reasons to Buy
High-quality build
Produces really nice coffee
Reasons Not to Buy
Must use fine grind only
Expensive
---
2. Aeropress Go – $39.95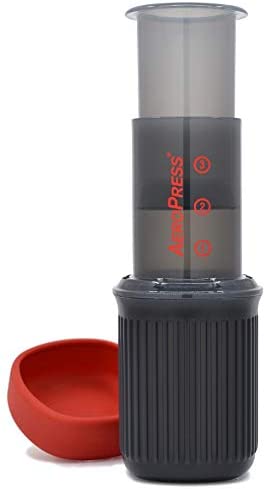 Manual operation
1-3 cups per press
Features a mug and lid that double as a traveling case
Brews hot coffee in a minute & cold brew coffee in two.
350 micro filters included
The AeroPress Go travel coffee press is the perfect way to make smooth, delicious coffee without bitterness on the go. This small and portable press can make 1-3 cups per press and is perfect for traveling, camping, boating, and more! The rapid, total immersion brewing process brews hot coffee or espresso in a minute and cold brew coffee in two minutes. Plus, it's easy to use and clean – perfect for any coffee lover on the go.
The Aeropress Go does actually make espresso too, in case you were wondering why we added it to the best portable espresso maker list.
Reasons to Buy
You get 350 filters included
It's affordable
Easy to clean and fast to use
---
3. Staresso Portable Espresso Machine – $64.99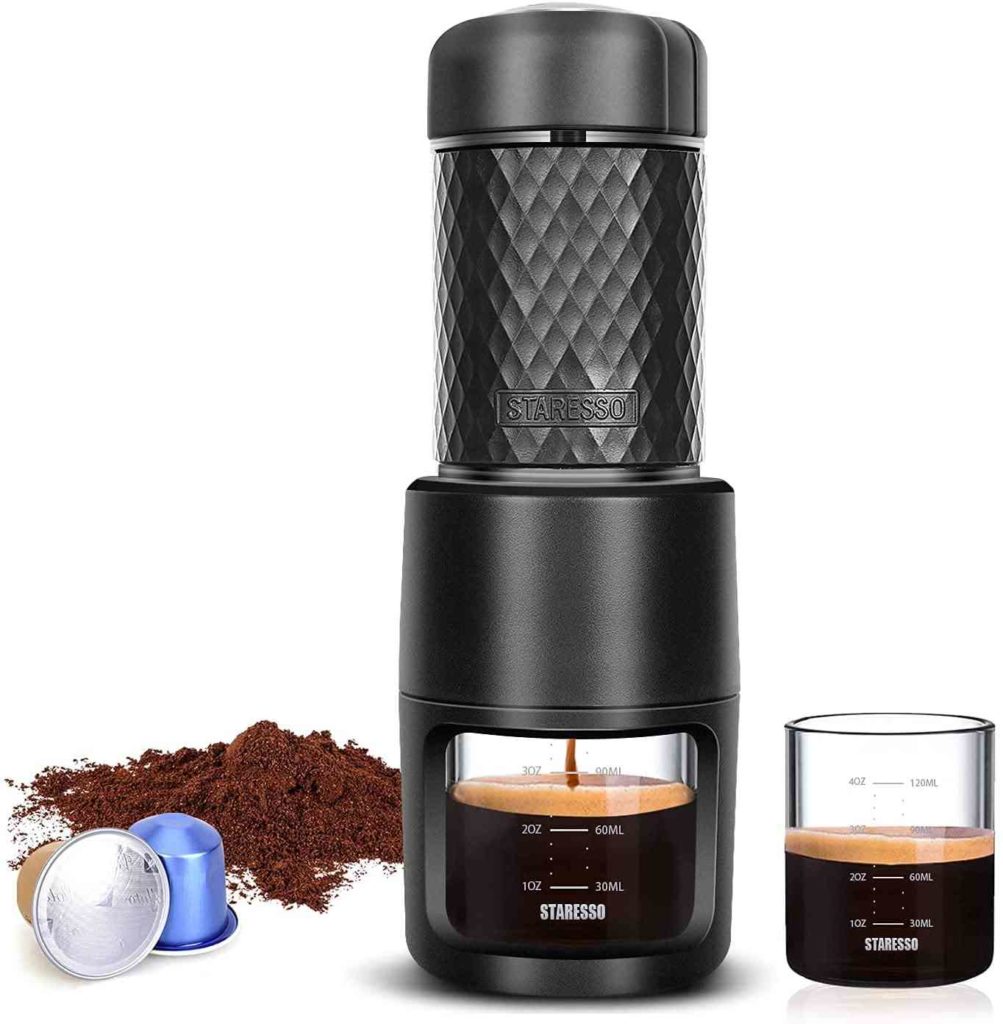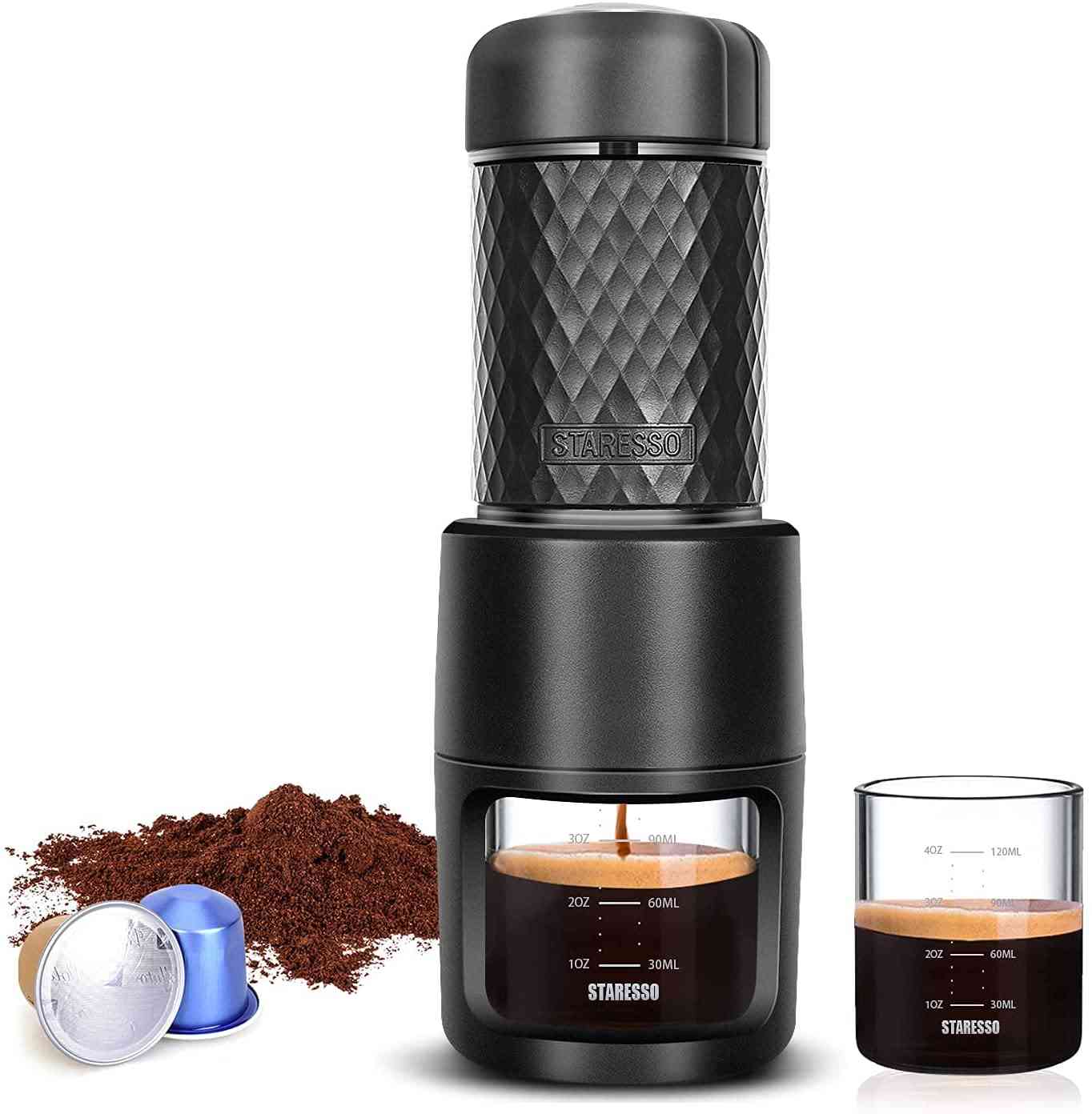 Manual operation
Compatible with coffee pods
Weighs 1.1 pounds
Holds 11g of ground coffee
Pressure of 15-18 bar
If you're looking for an authentic espresso experience, then the STARESSO Portable Espresso Machine is the one for you. This manual espresso maker produces rich, thick crema that will transport you to a cafe on the streets of Italy. Plus, it's compatible with coffee capsules from many different brands, making it a versatile and convenient choice for any coffee lover. Plus a great addition to this best portable espresso makers list.
Reasons to Buy
Lightweight
You can use coffee pods with it
---
4. Stanley French Press 48oz – $69.95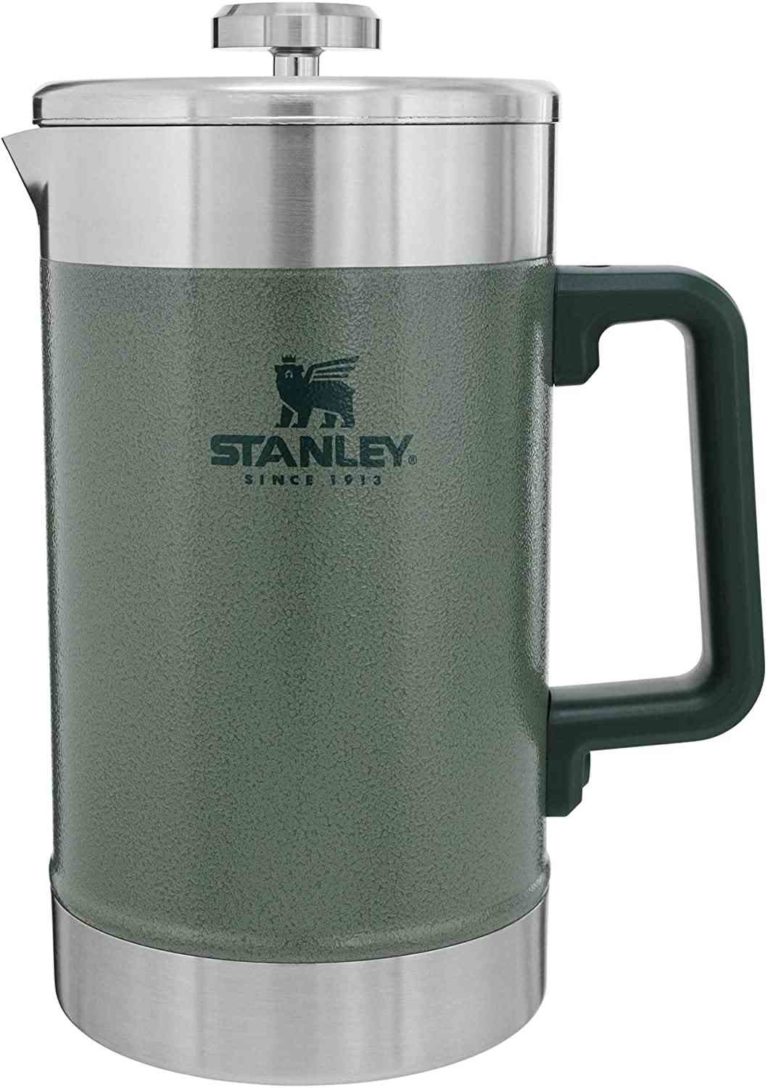 Double vacuum insulation
BPA-free 18/8 stainless steel walls
Dishwasher Safe
Easy to clean
Mesh Filter
Yes, we know this isn't for espresso, but it's an awesome coffee maker to travel with. Whether you are going camping or out on the lake, the Stanley French Press is perfect for those who want a bit more than an espresso kick. This durable and well-insulated press makes up to 48 ounces of coffee, and stays hot for up to four hours. The BPA-free construction is top quality, and the included mesh plunger ensures your coffee is smooth every time.
Reasons to Buy
It's a French press and an insulated travel container
Rugged and durable
Reasons Not to Buy
It's not actually for espresso making but for coffee
It's expensive for a French press
---
5. Bialetti Express Moka Pot – $39.99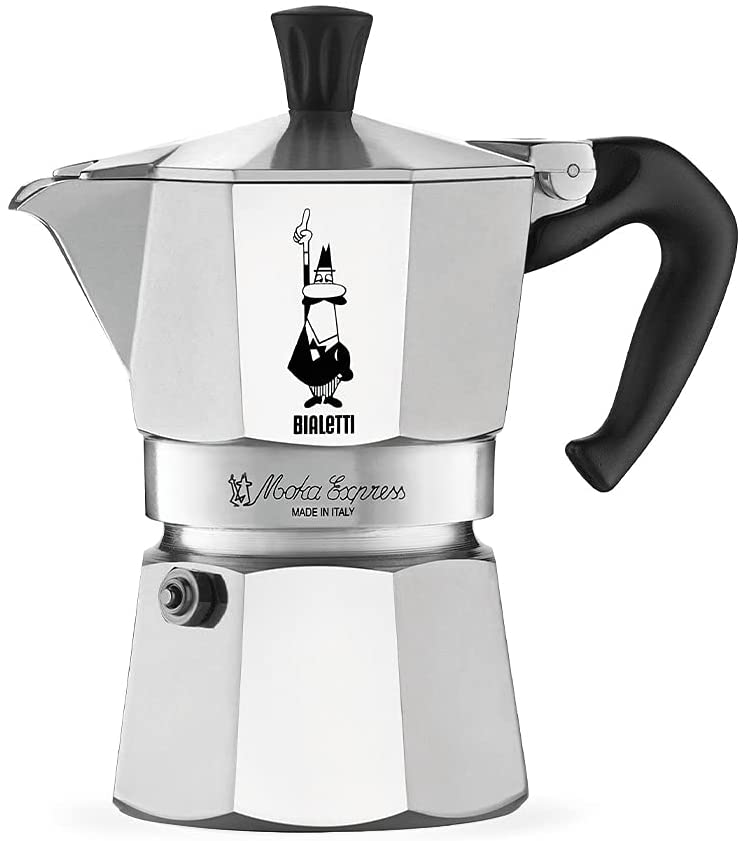 Made in Italy
100% sustainable
Easy to clean
Different cup options
Stainless steel design
We couldn't make the best portable espresso makers list without including the Bialetti Express Moka Pot! Made from durable aluminum and sporting a patented safety valve, this pot is easy to clean and perfect for use on gas, electric, or induction stovetops. Plus, it comes in an array of sizes to suit your specific needs. It's easy to travel with and produces great-tasting coffee for you to enjoy, especially around the campfire.
Reasons to Buy
Well-known and reliable brand
Cheap and easy to travel with
Durable
Reasons Not to Buy
Needs a heat source
Not as simple as making an espresso with other manual makers
---
6. WACACO Minipresso GR Portable Espresso Maker – $54.90
Manual operation
Compact, lightweight, and durable
Simple to use
Semi-automatic piston
Only 0.8lb
If you need a convenient and affordable way to enjoy espresso on the go, the WACACO Minipresso is perfect. This portable espresso machine is easy to operate and requires no batteries or electricity – simply add ground coffee, hot water, and pump away to get that perfect shot of espresso. Plus, thanks to its compact and lightweight design, the Minipresso GR is perfect for taking with you wherever you go.
Reasons to Buy
Cool design
Easy to operate and lightweight
Reasons Not to Buy
Problems with devices breaking/leaking
---
7. Cafflano Kompreso Portable Espresso Maker – $69.95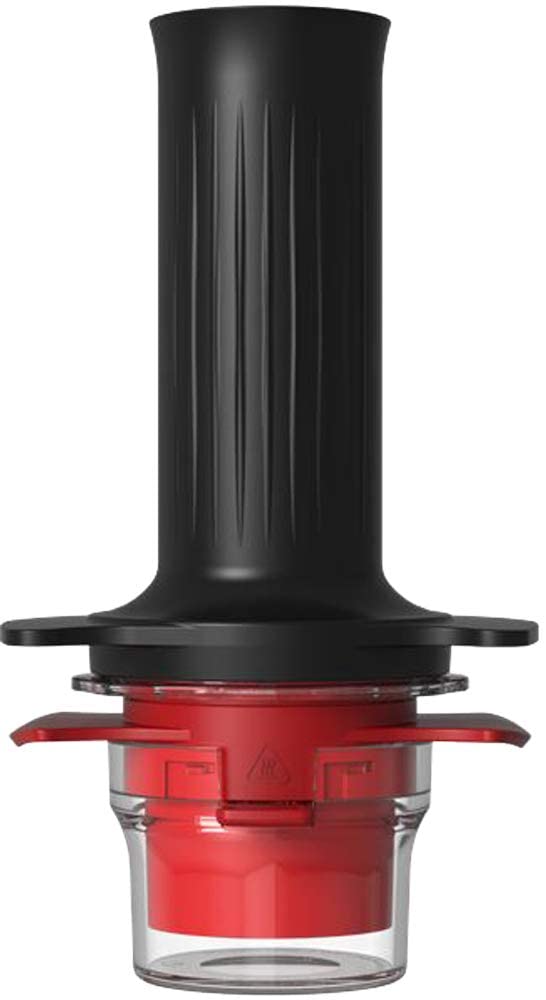 Hydraulic water compression 
Consistent high pressure over 9 bars
Easy to use
Easy to clean
Compact, durable, and under 0.44lb
The Cafflano Kompresso is a hand-carry coffee maker that delivers an impressively rich cup of Joe. This innovative new hydraulic compression design makes it easy to achieve high pressure and create a delicious, aromatic cup of coffee with minimal effort. Plus, the all-in-one design is compact and lightweight, making it easy to take with you on the go. So if you're looking for a convenient way to get your caffeine fix, the Cafflano Kompresso is definitely worth checking out!
Reasons to Buy
Very light
Similar to the Aeropress
Reasons Not to Buy
Known issues with breaking
Coffee quality not great
---
8. WACACO Nanopresso Portable Espresso Maker – $84.90
Manual operation
Includes protective case
Easy to clean
Durable
80ml Capacity
The WACACO brand is perfect for the best portable espresso makers list. This Nanopresso Portable Espresso Maker is the perfect way to enjoy a delicious cup of espresso anywhere, anytime. With its innovative construction and easy operation, the Nanopresso brews perfect cups with a rich crema layer every time.
No battery or electricity is needed, just ground coffee, hot water, and the Nanopresso machine, so you can enjoy a great cup of espresso wherever you are. Plus, the included protective case ensures your Nanopresso stays safe and sound when you're on the go.
Reasons to Buy
Handy travel case is nice to have
Produces good coffee
Reasons Not to Buy
Very expensive
Some models stop working after time
---
9. CONQUECO Portable Espresso Maker – $104.99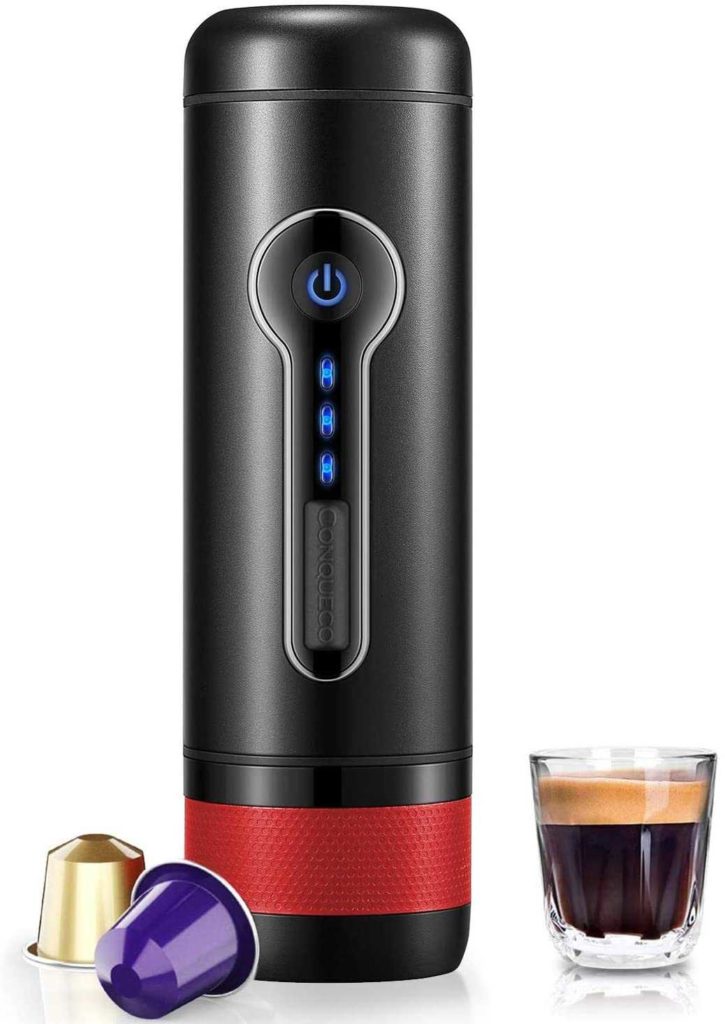 Electric brewing
15 bar high-pressure
45ml/1.5oz per cup
Has a car charger & home charger
Easy to use and clean
With the CONQUECO Portable Espresso Maker Travel Coffee Maker Portable Electric Espresso, you can have your barista-style coffee wherever you go. This portable espresso maker features a high-pressure pump that unlocks the delicate flavor and premium aromas of coffee capsules, ensuring a delicious cup every time.
Plus, it's easy to use, just press a button and let the machine do its thing. Whether you're traveling for work or pleasure, this handy little machine is sure to make your day a little brighter.
Reasons to Buy
Doesn't require manual brewing like the others
Comes with a car charger
Easy to use
Reasons Not to Buy
Expensive
Coffee tase/quality can be unreliable
---
10. CERA+ Portable Espresso Maker – $129
Electric espresso machine
Guarantees HOT(80℃/176℉)
Takes 3-4 mins
USB type-c cable and 12/24V car charger included
Protective case included
The CERA+ portable espresso maker is the perfect solution for anyone who loves coffee on the go. With its patented ceramic heating system, it can make a hot shot of espresso in just 3-4 minutes and will keep your coffee hot for up to 2 hours. The stainless steel water tank holds 50-80ml of water, making it easy to make 1-2 ounces of espresso or coffee. The CERA+ is also compatible with NS capsules and ground coffee.
Reasons to Buy
Used USB-C which is faster to charge
Is electric so no manual control required
Has a protective case included
---
The Final Sip
That concludes the list of the best portable espresso makers for 2022. We hope this information has helped you find the perfect coffee maker to take on your travels. Please let us know in the comments if you think we missed any.
---