Cold brew coffee is becoming increasingly popular every day, with brands releasing new flavors every month and people making simple cold brew coffees at home. As store-bought bottles are expensive, more people are turning to the home brewing method. Unfortunately, they are making the brew in Tupperware containers and not in a reliable cold brew coffee maker.
A cold brew coffee maker will have a container and a filter built-in, this means you can make the perfect amount of coffee, prevent any sediments from entering your cup, and avoid spilling coffee everywhere.
For the record, cold brew coffee is NOT the same as iced coffee. Cold Brew Coffee is made by steeping coffee grounds for at least 12 hours in a container, and it uses time to extract the coffee contrite instead of heat. This results in a smooth, rich flavor with less acidity. You can find out more with this article on Cold Brew vs Iced Coffee.
The best cold brew coffee depends on the kind of coffee maker you use. Sometimes, the best-looking design will still give you a weak cup of coffee. If you want to grind beans fresh at home, then check out the best budget coffee grinders. Here are the top 10 best cold brew makers in the market that will help you make a perfect cup of cold brew coffee. 
10 Best Cold Brew Coffee Makers for 2021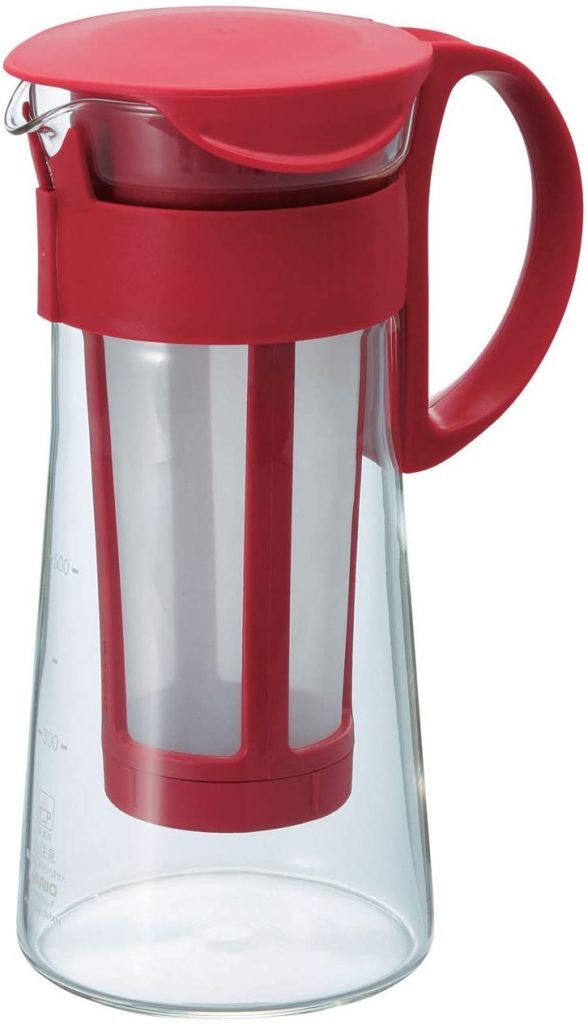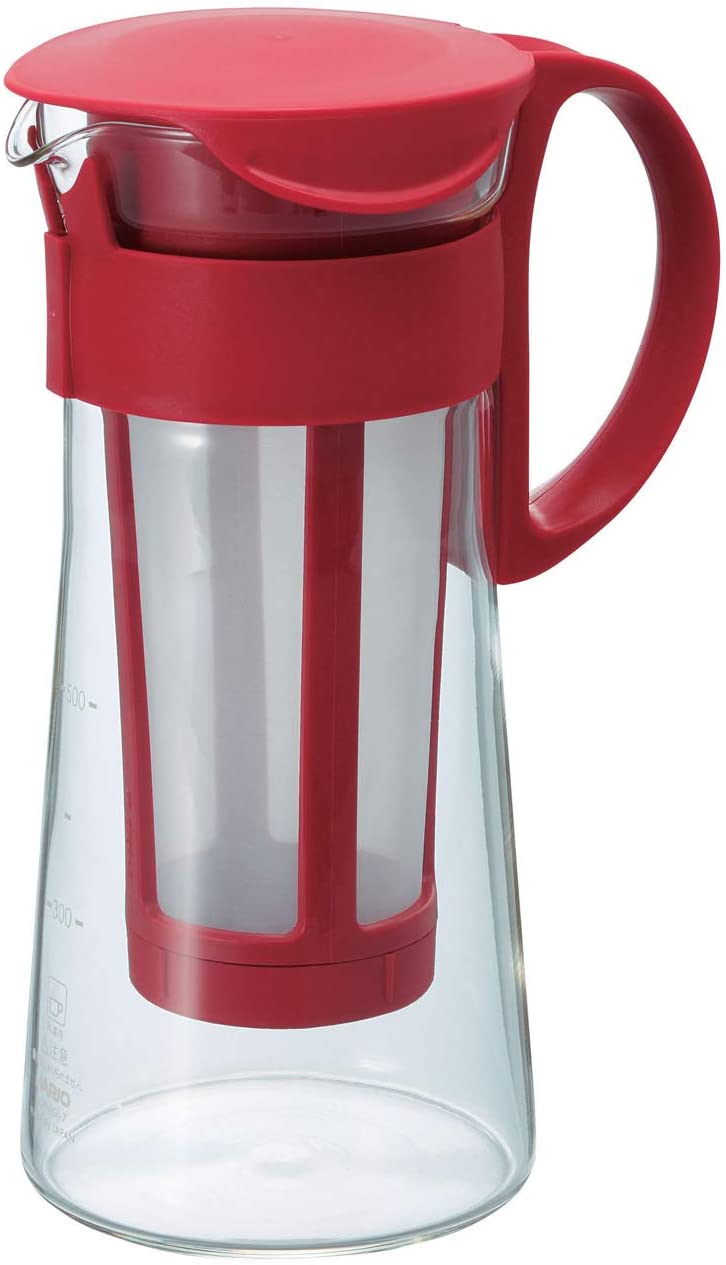 The Hario Mizudashi Cold Brew Coffee Maker comes in two sizes, and the largest size can brew up to 4 cups of coffee. What's great about Hario Mizudashi is that it has a glass carafe that removes any kind of old stale flavor absorptions you would get if you used a plastic cold brew maker. 
The Hario Mizudashi comes with a metal mesh filter that can be reused or replaced with a paper filter if you're not fond of metal mesh filters. Because Mizudashi's design combines both the brewer and serving carafe, you don't have to worry about storing it. It's very simple to use.
Takeya Patented Deluxe Cold Brew is a long-lasting BPA-free pitcher that comes with a vacuum-sealed lid. It uses a stainless steel filter that is designed to be used only for cold brew coffee. It's very easy to use, you just have to pour the coffee grounds into the container, fill it with water, and just wait for the rest of the coffee to be extracted. 
Listed as one of Amazon's Choice, County Line Cold Brew Coffee Maker is an easy-to-use, dishwasher-safe mason jar. It comes with a stainless steel filter that prevents any coffee ground from escaping through the mesh. Aside from coffee, you can also use this as a diffuser or tea making. 
With its very simple design, you just need to pour up to 64 ounces of cold water into it and let it steep for 24 hours. It makes a very smooth cold brew coffee. The best grind size for this coffee maker is coarse. Because Country Line is a mason jar container, it makes it easier to store.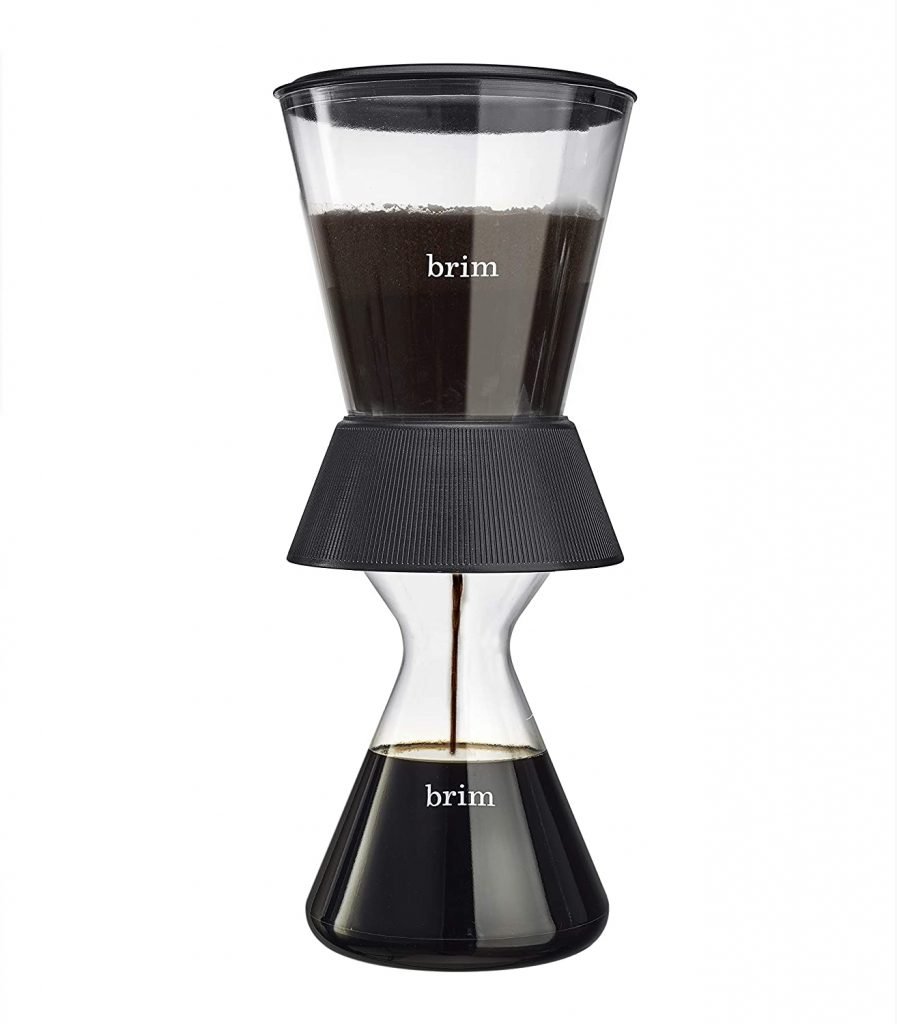 Brim Smart Valve Cold Brew Maker makes up to 32 cups of coffee. This means that if you have a big household, or you always have events in your house that cater to a large group, then Brim Smart Valve is perfect for you.
The smart valve design produces a less acidic brew than most traditional coffee. With a very functional design, you're sure to have a fresh cup every time. You can even store the cold brew coffee for up to 2 weeks with its airtight-seal lid. To get the best results, Brim Smart Valve comes with a simple but detailed guide for brewing coffee.
Brim Smart Valve comes with w reusable felt filters with an easy grab tab. You can always use any filter of choice, but most people prefer to use what Brim sells as replacements.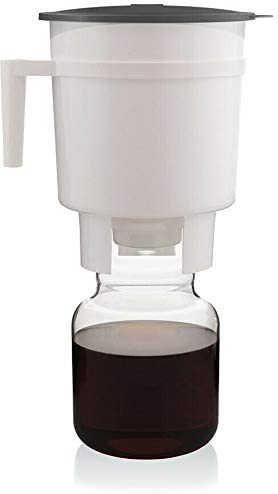 The Toddy Cold Brew Is somewhat similar to that of OXO's Brewing system, but it takes a lot more effort to do the brewing process. Although the process may seem complex, the coffee you get after is worth every effort. Every cup from a Toddy makes a rich, full-bodied strong coffee. 
To make a very rich, silky smooth coffee concentrate, you need to follow their coffee-to-water ratio which you can find in the instructions manual. The Toddy is a cold brew coffee maker that is worth every penny. It uses a paper filter which is great for absorbing oils for that smoother brew.   
You can store the brew for up to 2 weeks and still get a fresh cup without changing the flavor.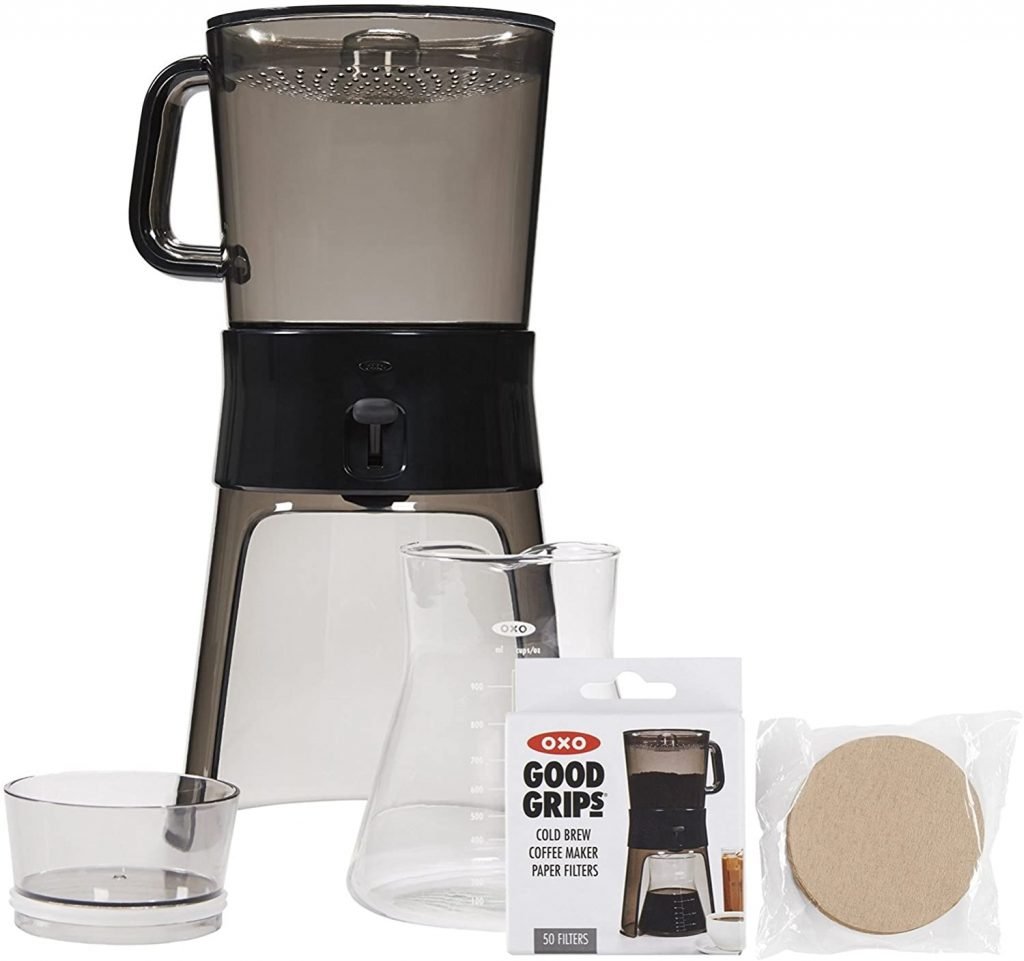 The OXO Good Grips Cold Brew Coffee Maker is a cold brew connoisseur's dream device that is designed to be displayed on your kitchen counter. OXO cold brew maker creates up to 32 ounces of smooth, delicious, low-acid coffee concentrate. 
The OXO design includes a perforated rainmaker that evenly distributes water for a beautiful coffee bloom and an even coffee extraction. It also has an easy-to-access switch that activates the filtration process. You can brew from 12 up to 24 hours, depending on how strong you want the coffee to be. The OXO coffee maker comes with an ultra-fine, stainless steel mesh that is easy to use and reusable.
Listed as Amazon's Choice, the Cuisinart is a 7-cup glass carafe with a removable stainless steel filter. If you want to produce a cold brew in just under an hour, then Cuisinart is perfect for you. You can easily make a cold brew coffee in just 25 to 45 minutes. You can choose from the three modes: 25 minutes (for a mild brew), 35 minutes (for a medium brew), and 45 minutes (for a bolder brew). The glass carafe can be used to store the rest of the brew for up to 2 weeks. 
The Bruer cold drip system is different from the rest of the cold brew devices. Instead of immersing the coffee grounds with water and letting it sit for hours, the Bruer cold drip lets the water drip through the grounds with the use of gravity. You might need a lot of patience to enjoy the process, but that's the same for all cold brew coffees. The only difference with the Bruer is that you get a unique extraction. 
Every cup you make from the Bruer is virtually grit-free cold brew coffee. The great thing about this coffee maker is the absence of over-extraction. The design comes with a glass carafe that stores your coffee. The cold brew coffee made from the Bruer can last up to two weeks in the fridge.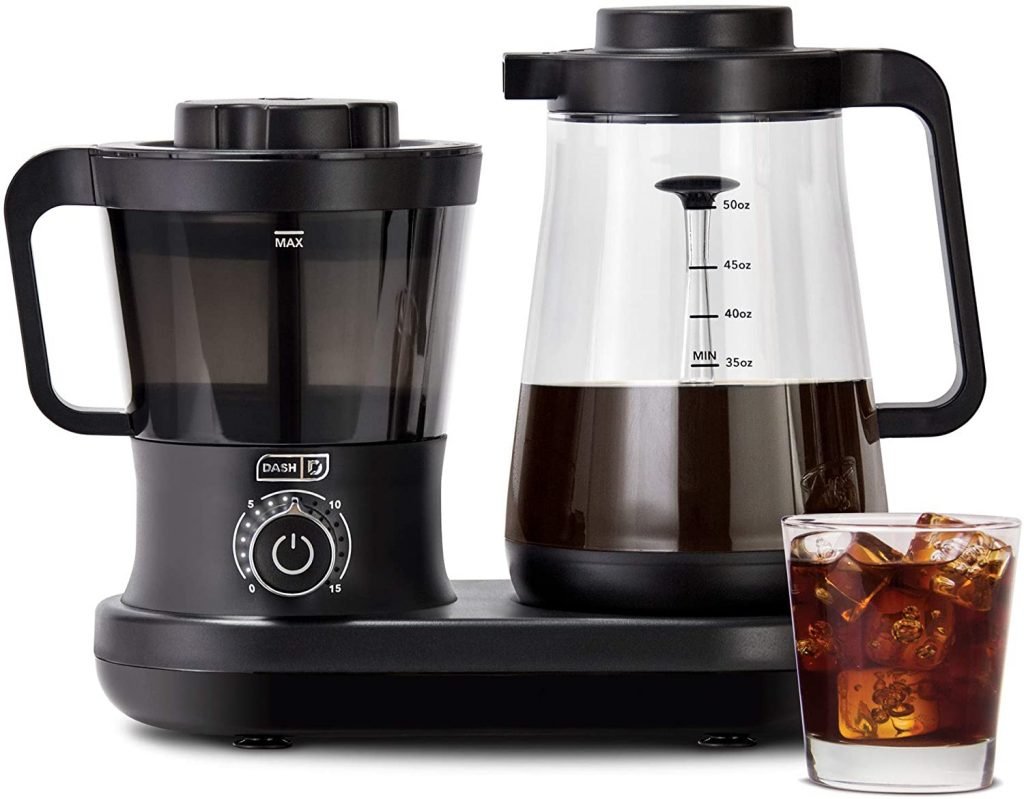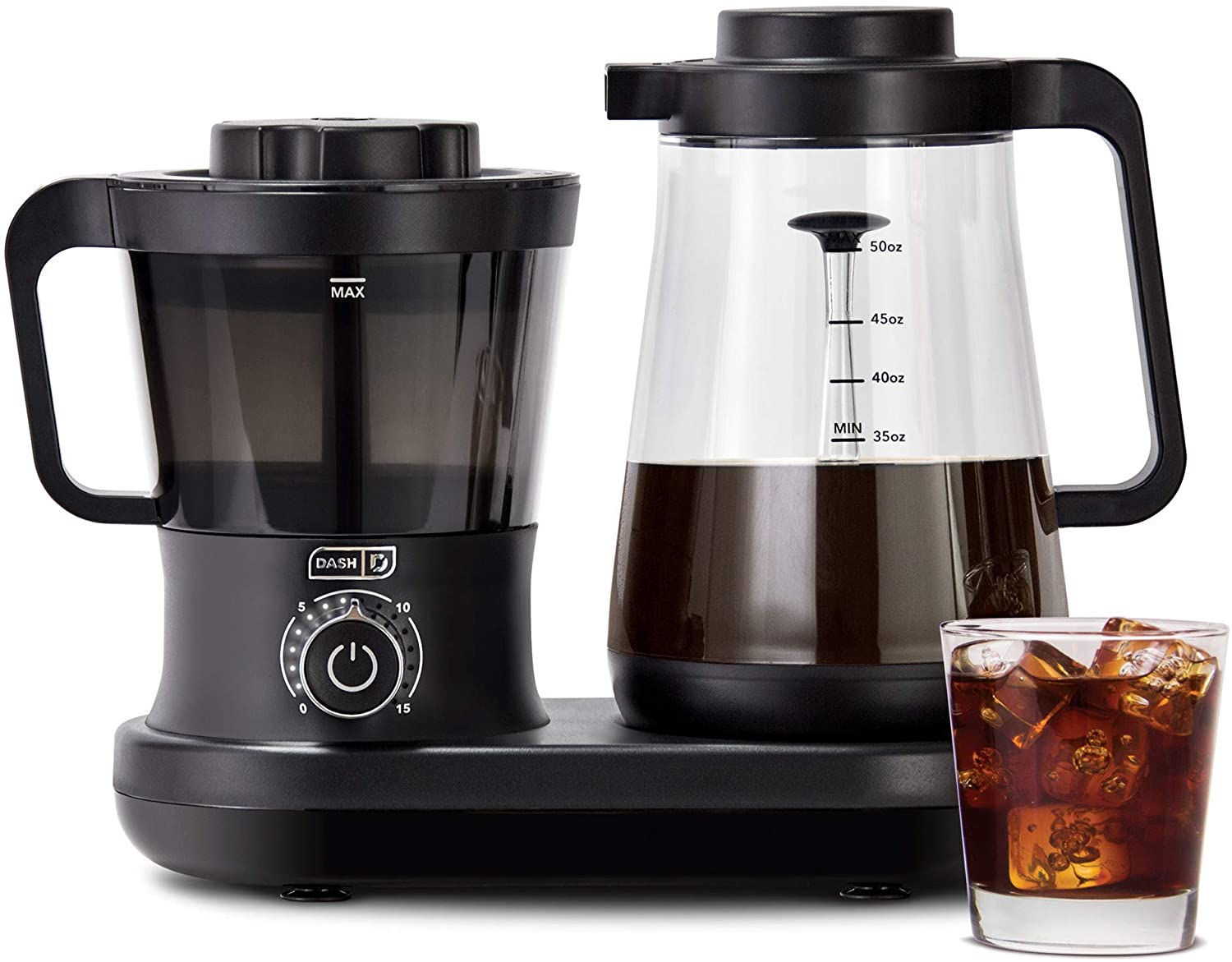 Don't have the luxury of time but still want to get that perfect cold brew coffee? Then Dash Cold Brew Coffee Maker is perfect for you! This machine uses a pressurized system that will give you a perfect concentrate in as little as five minutes. Although this coffee maker might seem intimidating, it's fairly easy to use.
It comes with a power button and easy to turn dial wherein you can choose to set the best flavor intensity for you.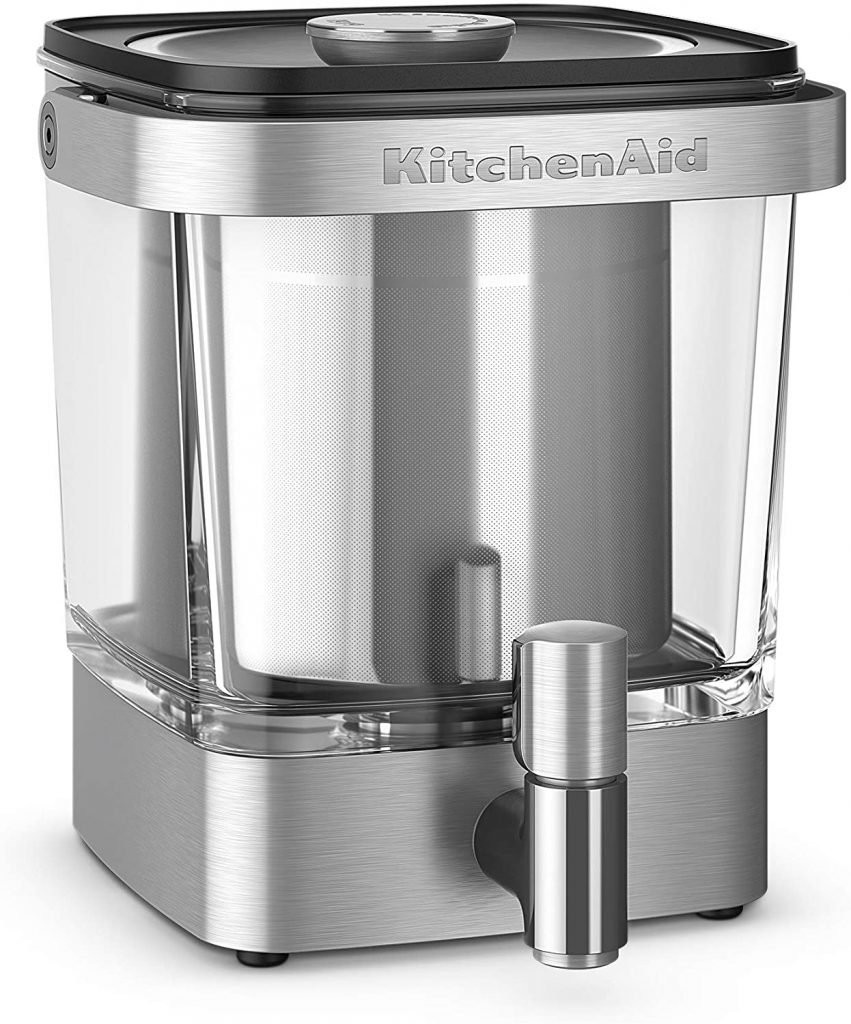 The KitchenAid Cold Brew Coffee Maker Is made out of steel and thick glass. It can make up to 19 cups of coffee, and it's very simple and easy to use. The ideal brewing time is at least 12 hours, but you can always brew it up to 24 hours for a stronger brew.