Imagine combining a retro diner with a drive-through coffee kiosk… That's our best way of describing 7 Brew Coffee. No more than 5 years old, 7 Brew Coffee is becoming all the rage in the coffee world, and there's a good reason. Whether it's the unique drive-through concept or the coffee they sell, we are going to take look at this new coffee brand, 7 Brew Coffee.
Related: Peet's Coffee
7 Brew Coffee – A Coffee Revolution
Back in the '90s, Ron Crume (an Oregon native), saw a thriving community in Northwest Arkansas, but for Crume, something was missing. The community lacked the aromatic, full-bodied flavor of coffee that he was used to on the West Coast.
Ron had the vision to open a drive-thru coffee shop that would offer not only hot and cold coffee but one that would also offer a variety of drinks. He wanted to create a coffee culture that is very welcoming, enthusiastic, and always upbeat. 
Unfortunately, Ron was preoccupied with work, and he had to set aside his vision of a drive-thru coffee shop. As the years passed, Ron still has not let go of his coffee shop dream. 
Related: Bulletproof Coffee
---
---
In 2015, a simple Crume family visit to Arkansas ignited Ron's coffee shop dream and in 2015, the 7 Brew Coffee story began. 7 Brew Coffee started with just one store in Roger, AR in February 2017, and now they have 15 branches all over Arkansas. 7 Brew Coffee has 3 franchisees that are planning to open several branches across the country.
The first franchisee, P2 Brew LLC is opening a branch in 2415 N.E. Vivion in early June, another branch in Lee's Summit location next to Whataburger, and another one on Highway 76 in Missouri. 
Mean Bean Development LLC, the second area franchisee, is planning on opening in 20 locations which include 15 areas in the metro. The third franchisee, EBS Investments LLC in Overland Park, owned by Benjamin Stites and an anonymous partner is planning to open 4 branches in Overland Park by 2024. 
What Exactly is 7 Brew Coffee and How Does It Work?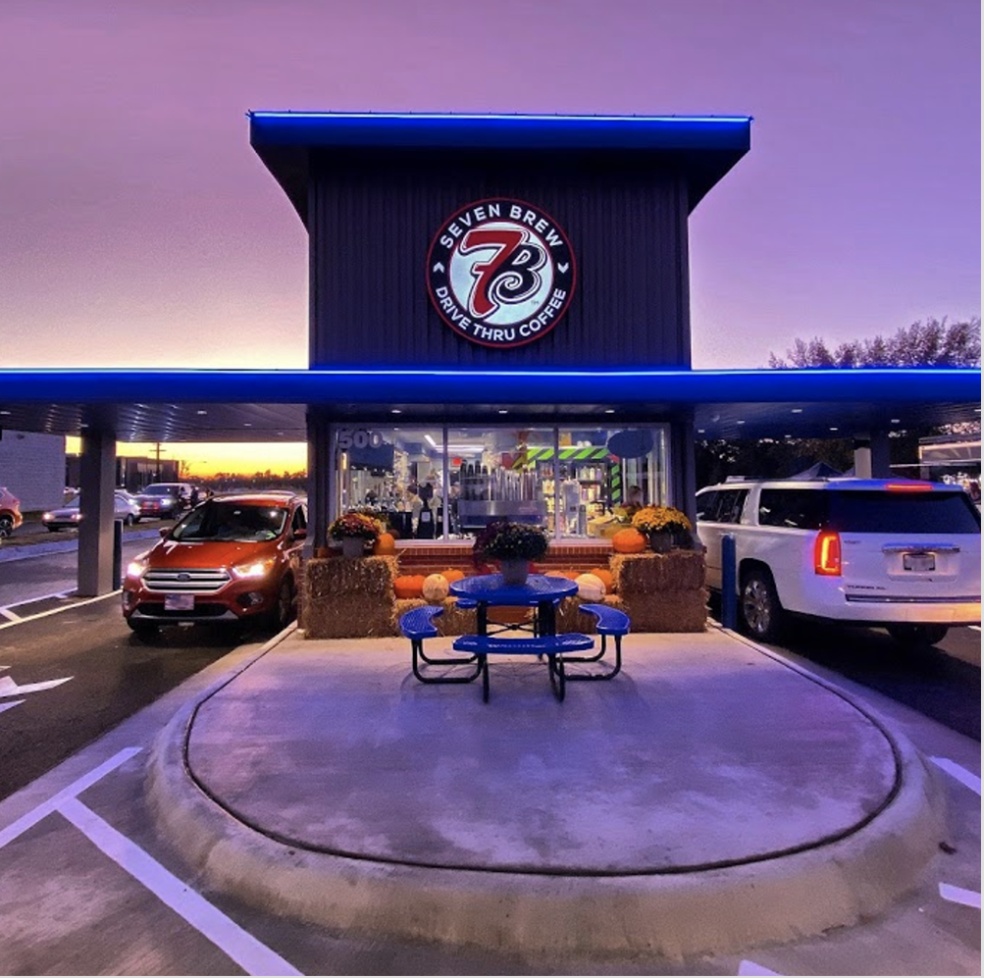 7 Brew Coffee is a drive-thru coffee shop that focuses on bringing high-quality, locally roasted, and fresh coffee beans to the market. They have a retro design that fits around a toll-booth style kiosk, serving modern and innovative coffee recipes.
The company is based in the Seattle area, and they are committed to sourcing beans from around the world. They bring in beans from some of the best producers around the world like Colombia, Costa Rica, Ethiopia, Jamaica, Kenya, and more.
There are a variety of different products available for every coffee enthusiast. These include coffee varieties, deliciously infused energy drinks, Italian sodas, smoothies, mocha chillers, Chai, teas, and shakes. 
The premise is simple, you drive up place your order, and leave with a great-tasting coffee. It's a little different from the traditional "coffee shop" vibe that people look for, but it works and it's unique.
Why Should You Drink 7 Brew Coffee?
7 Brew Coffee has a variety of flavors and tastes depending on what you add to it. There are also different types of coffee to choose from such as Americano, espresso, and cappuccino. 
The 7 Brew Coffee founder believed in perfection and the lucky number 7 which is how the name came to be. The goal of the company is to create the perfect drink, which can be completely personalized. 
7 Brew Coffee offers half off for first responders and a free drink for customers on their birthdays too. 
Not only should you try the coffee, but you should tip the staff well. We have noticed on 2 separate occasions plus from many reviews, that the staff are extremely friendly, accommodate every request, and give the brand a good reputation.
Does 7 Brew Coffee Taste Good?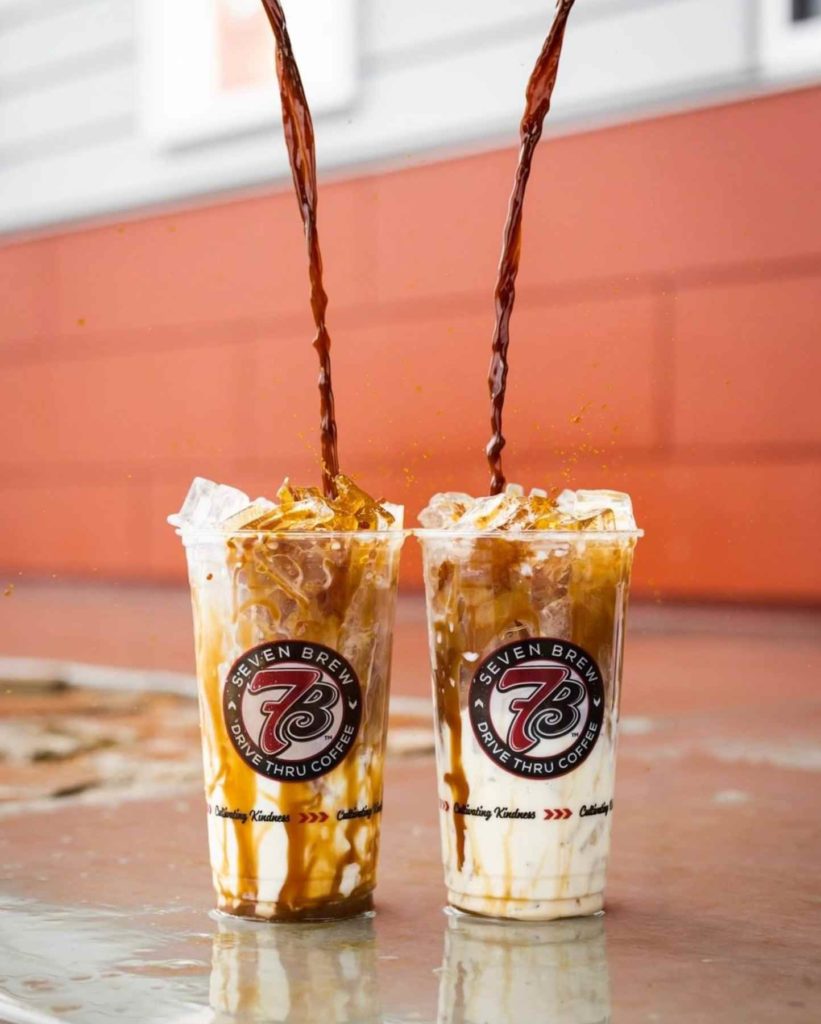 7 Brew Coffee creates high-quality and great-tasting coffee. We tried a slightly complex latte with vanilla and soy milk, the taste was great. Some popular reviews from other customers claim that 'it's better than Starbucks' and they will 'never get coffee anywhere else again'.
7 Brew Coffee Flavors and Their Unique Taste
7 Brew Coffee is a company that offers coffee lovers a wide variety of flavors to enjoy. They want you to explore the world of coffee and find your perfect flavor.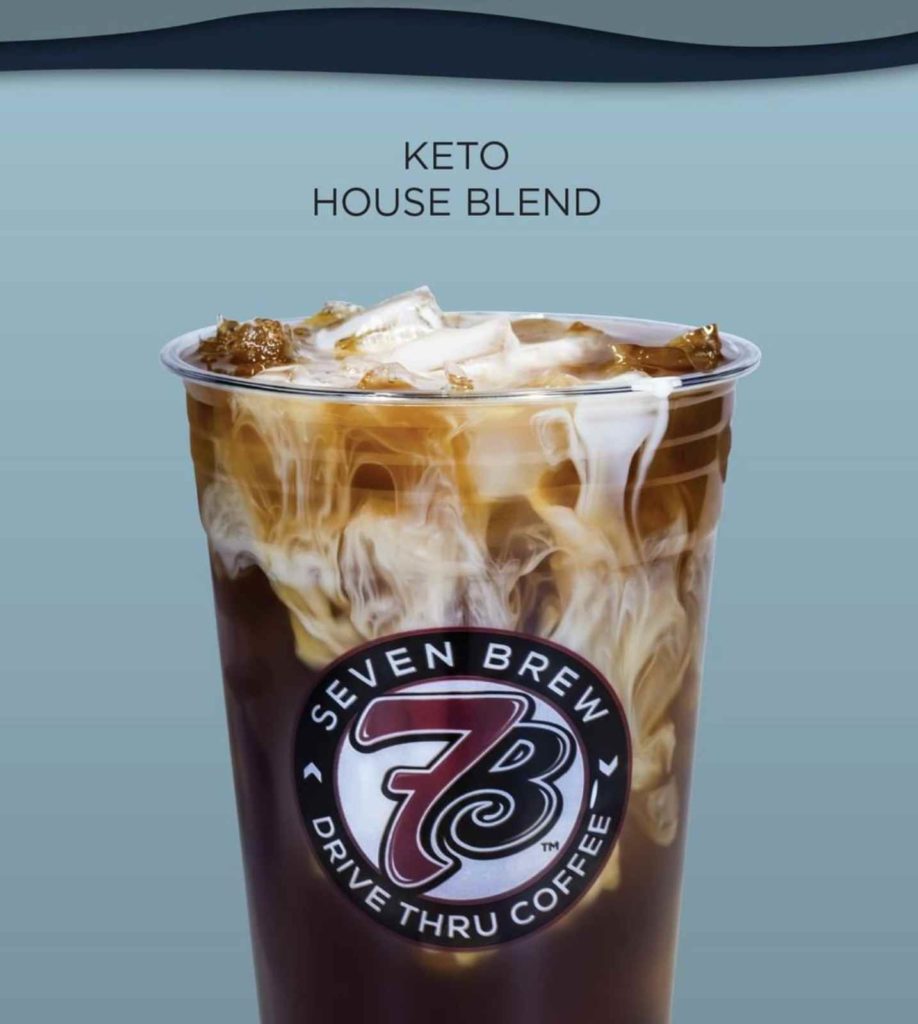 7 Brew Coffee offers seven different flavors called 'The Seven Originals'. These flavors are: 
Blondie (Caramel & Vanilla Brew)
Smooth 7 (Irish Cream & White Chocolate Brew)
Snickerz (Hazelnut & Caramel Mocha)
White Chocolate Mocha (White & Milk Chocolate Mocha)
German Chocolate (Coconut & Caramel Mocha)
White Mac (White Chocolate & Macadamia Nut Breeze
Triple 7 (Irish Cream & White Chocolate Breve).
Other Things To Know | 7 Brew Coffee
7 Brew Coffee offers pup cups. So if you want to take your furry little friend to get a coffee with you, they have you covered.
Drive-thru waiting times are usually around 2-4 minutes. Which is fast and you can end up waiting longer in certain coffee shops.
The Final Sip
7-Brew Coffee is a refreshing idea and also the coffee variations/flavors taste great. We highly recommend you try one of their drive-thrus at some point and let us know what you think of the coffee!
---
---