Bad Ass coffee has been around since the 1980s but has recently started trending and growing in popularity. As more people are looking for unique coffee flavors and brewing methods, there are plenty of gaps in the market for innovative coffee brands. Hawaii has a stellar reputation when it comes to high-quality and great-tasting coffee beans, so you can't really go wrong when it comes to Bad Ass Coffee.
The name alone should be the only reason you need to try this coffee but just in case, in this article, we are taking a look at what Bad Ass Coffee is and its uniqueness.
Related Article: Peets Coffee
What is Bad Ass Coffee of Hawaii?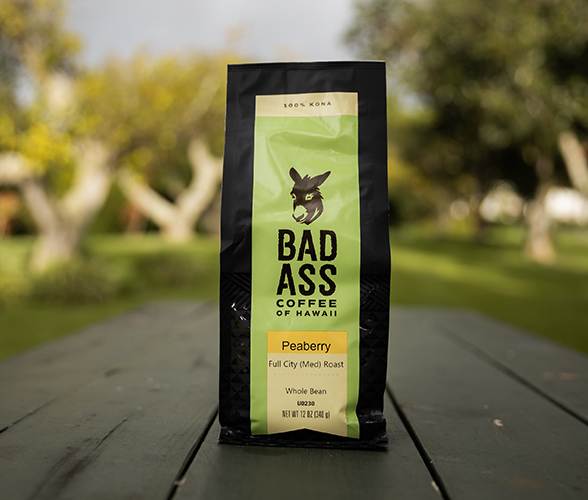 Bad Ass Coffee is made of 100% Kona beans. It is a medium roast coffee with a smooth taste. The coffee is grown in Hawaii and roasted in the U.S.
The Bad Ass Coffee Company was established in 1989 by friends, who wanted to offer an alternative to the popular and mass-produced coffees that dominated the market. They wanted to create a company that would be committed to quality, sustainability, and social responsibility from the beginning to the end of its supply chain. The company has since expanded its product line to include teas, chai, hot cocoa, and more.
The company offers franchising in a bid to expand its brand and has a number of locations already covering the USA. They also serve locations in Japan, where coffee is also growing in popularity.
They offer three different types of coffee beans, but their most popular one is Kona Coffee, also known as the King of Hawaiian Coffee. It is a rare and rich-tasting coffee that is grown on the terrains of Hawaii.
---
---
Background on the Coffee
Bad Ass Coffee is partnered with Greenwell Farms which has been growing Kona coffee since 1828 when the coffee plant was first brought to the region by Samuel Reverend Ruggles. It's the oldest coffee farm on the island.
The coffee itself is grown in the mountains of Hualalai and Mauna Loa volcanoes and it develops its unique flavors from the tropical climate, harvesting process, and unique soils. The coffee taste is delicate yet flavorful, medium-bodied, slightly acidic, and has a rich aroma. 
It is said to be one of the most popular coffee brands in the world.
Related Article: 7 Brew Coffee
The Story Behind the Legend
The story behind the legend is quite remarkable. It's about the hard-working donkeys of Kona, Hawaii. For generations, the native people of Kona would hear the reverberating heard going down the steep mountains of the Big Island while carrying heavy loads of precious coffee beans. 
The natives would call these hard-pressed donkeys "Bad Ass Ones" because of their strong but stubborn nature. The legend of those hardworking donkeys still lives on today with Bad Ass Coffee where employees are as stubborn as the donkeys when it comes to sourcing, roasting, and offering high-quality Kona coffee. 
Why You Should Be Drinking Bad Ass Coffee 
Bad Ass Coffee is high in antioxidants and has low levels of caffeine. It also contains high levels of potassium, magnesium, and vitamin C. Bad Ass coffee is great for those who want to stay healthy and live their best life.
Bad Ass Coffee was created by a family who wanted to create a healthier alternative to the standard coffee on the market. They wanted to provide people with a way to enjoy their favorite drink without sacrificing their health.
Aside from the actual coffee itself, Bad Ass Coffee has a strong focus on Hawaiin spirit so you can be sure to have a friendly and heartfelt experience every time, whether it's in-store or online.
Giving Back to Local Farmers 
The company sources its beans from local farmers, which ensures that the coffee is fresh and of high quality. It also helps that they have been around for over a decade and have built up their reputation in the industry. 
The company has also made it its mission to give back to local farmers through sustainable farming practices.
Bad Ass Coffee Subscription
Bad Ass Coffee has a coffee subscription service online so you can enjoy premium coffee at home. All you have to do is choose which coffee you want and the quantity. They also have an option to choose your coffee preferences and they will choose the coffee based on that. 
After selecting your coffee preference, you can then choose how frequently you want your subscription to be delivered straight to your doorstep. Choose between a 3-month or a 6-month prepaid subscription. 
What Do They Serve In-Store?
Aside from the regular coffee drinks that you can get everywhere (although not with Kona Coffee Beans), Bad Ass Coffee has a selection of signature lattes that offer different blends of frozen and hot coffee. These include:
Bad Ass Mocha – Dark & White Chocolate
Kreme De Kona – White & Dark Chocolate, Vanilla
Carmel Kreme De Kona – White & Dark Chocolate, Caramel
Caramel Wave – Caramel & Vanilla
Vanilla Latte – Vanilla
Monkey Mocha – Dark Chocolate & Banana
Almond Mocha – Almond, Coconut, & Dark Chocolate, White Chocolate & Tiramisu
Snickerlicious – Caramel, Dark Chocolate, Hazelnut, Dark Chocolate, Caramel & Hazelnut
You will also find a selection of different smoothies and teas available at in-store locations.
Bad Ass Coffee Locations
There are hundreds of Bad Ass Coffee locations across the US and even some in Japan. With new franchises opening up regularly, if there isn't one near you, there might well be very soon.
---
---
Popular Bad Ass Coffee Online
In addition to merchandise and bundles offered online, where you can get coffee with tumblers, there is a huge selection of popular coffee available to purchase. They have selections with the top picks for the month and many others. Some of the most notable include:
Thankfully, if you only have a coffee pod machine, they also sell a selection of coffee pods with the signature blend.
Cup O'Joe Donation Program
The Cup O'Joe program is an excellent program to support active military personnel and provide them with great-tasting coffee. You just simply donate to the program and your donation pays for coffee to be sent to active service personnel, with Bad Ass Coffee covering the shipping. They have already shipped over 14,500 bags of coffee, which is awesome. So you can show your support by donating to their program.
The Final Sip
Bad Ass Coffee is an online coffee store, and subscription service, and has multiple franchised and physical locations. They source coffee from the oldest farm in Hawaii and use the rare and popular Kona Coffee. The coffee is incredibly rich and flavorful, mid-priced to expensive, and is from Hawaii.
Enter Your Email & Never Miss a Post
P.S. We also run giveaways