Every year there are new and innovative methods of coffee making appearing – some are amazing and some are just a short-lived trend. Now we have a new development in single-serve coffee; Cometeer Coffee. Cometeer Coffee is much more than a trend or amazing, it's innovative, sparks curiosity, surprising, and genuinely incredible. It involves using dry ice and capsules that melt, much different from any other coffee brewing method, but we will get more into that throughout this article.
---
---
What Is Cometeer Coffee?
Cometeer Coffee is a coffee capsule that is freeze-dried, shipped in dry ice, and melts when you add boiling water. The company makes single-serve coffee pods and unlike other products that rely on a specific model of machine to brew the coffee pod, Cometeer Coffee does not require a machine or any other brewing equipment.
This coffee is packaged in aluminum pods and arrives to the customer frozen and packed on dry ice, like something you would expect in a sci-fi movie. The only necessary equipment for enjoying a cup of Cometeer Coffee is a cup and hot water or milk. It is an incredibly easy and flavorful product for anyone interested in quick, single-serve coffee.
How Is Cometeer Coffee Made?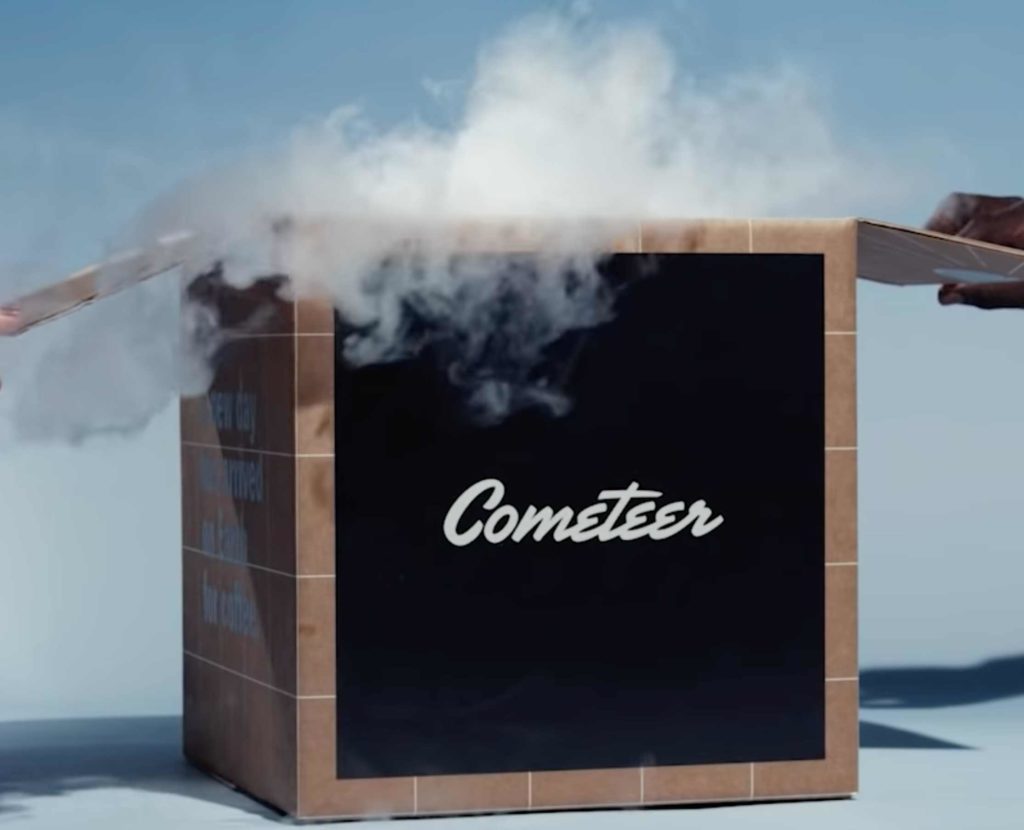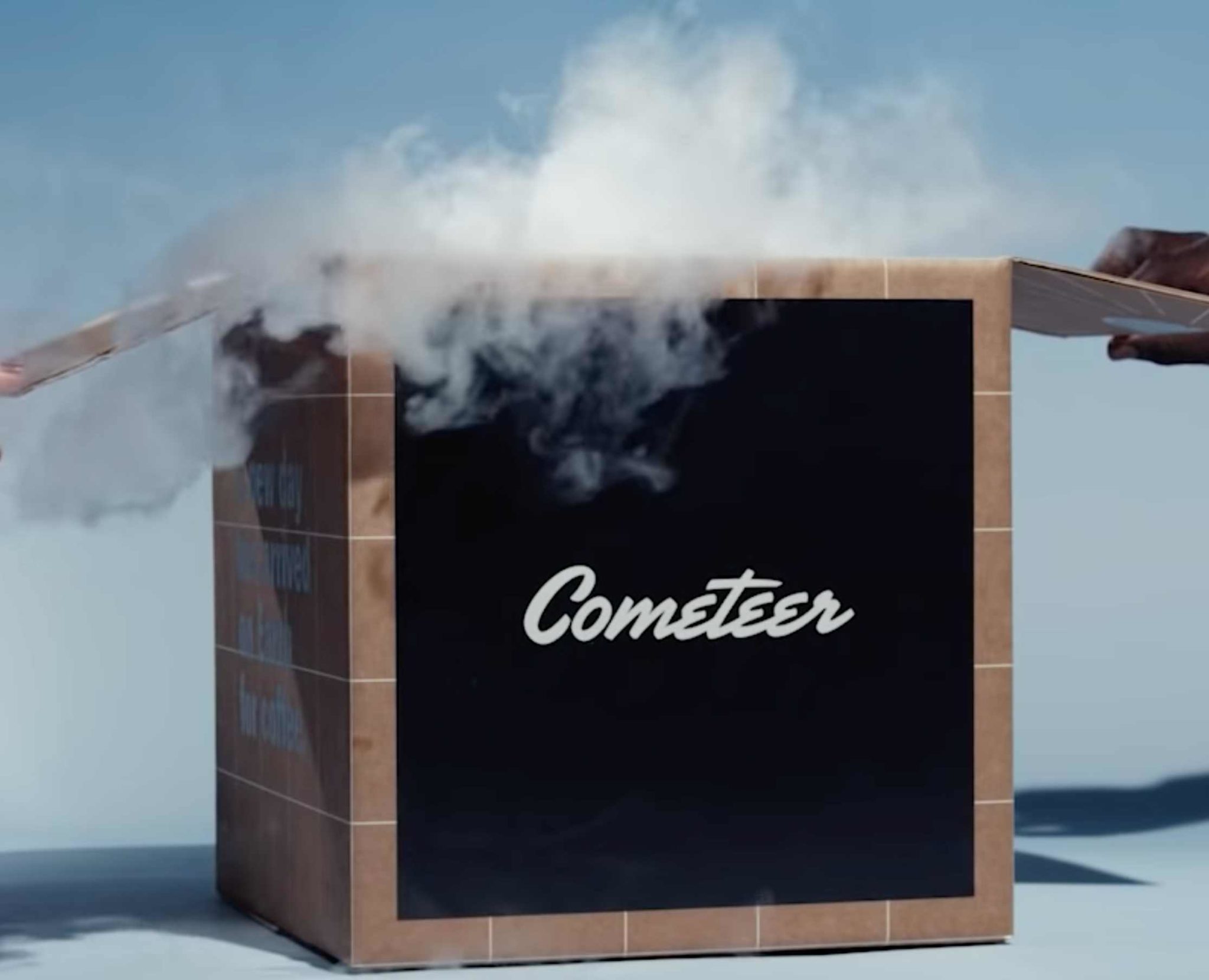 Cometeer Coffee is made with high-quality beans from roasters around the United States. Roasters such as Onyx, Equator, and Birch are nationally respected for their coffees, so Cometeer begins with a quality base product. They even offer single-origin options. While specifics are not disclosed, Cometeer uses proprietary brewing methods to extract the coffee in a way that produces a much higher strength and flavor compared to traditional brewing methods. Cometeer's website lists its products as being 10 times stronger than standard coffee.
The coffee is divided into single portions, and flash-frozen through a liquid nitrogen bath at -321°F​​. This instantly preserves the coffee and locks in the strength and flavor of the original brewed product. Cometeer is packaged and sent to customers in this frozen state, ensuring that it maintains its quality until melted into the desired beverage and enjoyed. 
How Do You Brew Cometeer Coffee?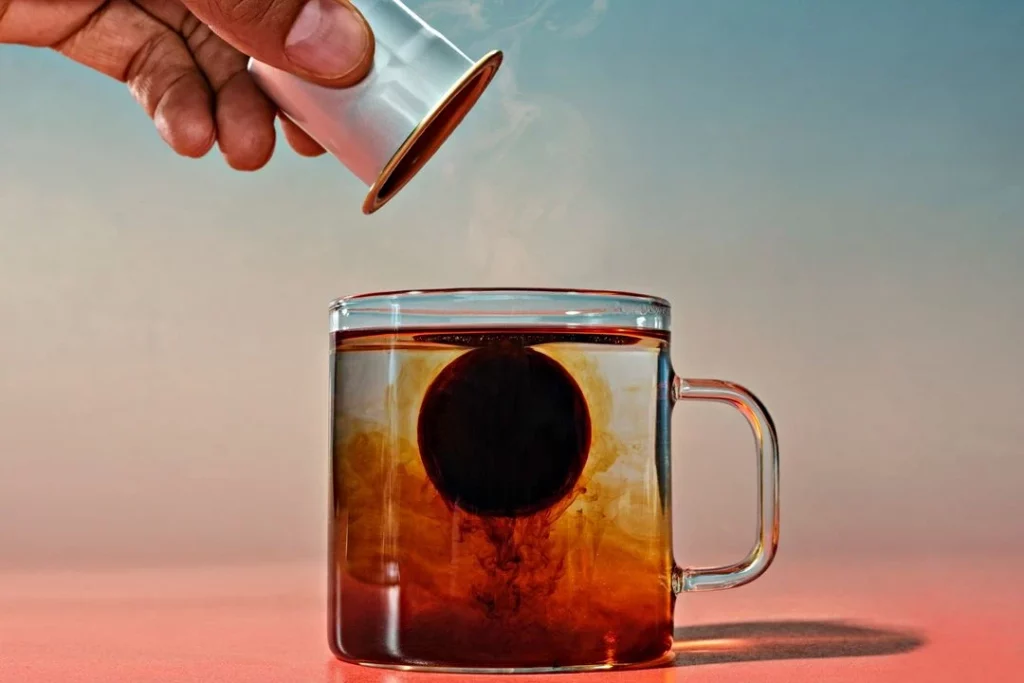 The method of "brewing" Cometeer Coffee is amazingly simple. Melt it. Yes, Cometeer Coffee pods are turned into a brewed coffee beverage by adding liquid and melting them. One of the best parts about Cometeer is how each consumer can decide what kind of coffee beverage they want and prepare it accordingly.
Cometeer Coffee can become any hot beverage by being melted into a warm liquid. For a standard coffee, it is recommended to add 6-8 ounces of hot water to each pod. Customers can even use their K-cup compatible machines, by adding a frozen pod and using 8-ounce settings for each pod. Drinkers craving a latte-style beverage can melt Cometeer pods directly in hot or steamed milk and milk alternatives.
Cometeer coffee pods can also become a coffee drinker's new favorite iced beverage. Similar to the hot methods, Cometeer coffee pods can be added to 6-8 ounces of a cold liquid. The only difference is that each pod must be melted prior to being added to liquid. Cometeer recommends doing this by running each sealed, frozen pod under hot water until thawed and melted. The frozen, sealed pods can also be submerged in a cup or bowl of warm water for a few minutes. Once the sealed pod is no longer frozen, it can be combined with ice and a cold liquid, such as water for standard iced coffee or dairy and dairy alternatives for iced latte-style beverages.
Cometeer coffee pods can even be used for desserts and adult beverages. Melted pods can be added to ice cream for an affogato-style beverage, or added to alcohol for martinis and other cocktails. The possibilities are nearly endless. Customers can play with coffee styles and melting methods until they find their perfect cup. 
Cometeer Coffee Drink Options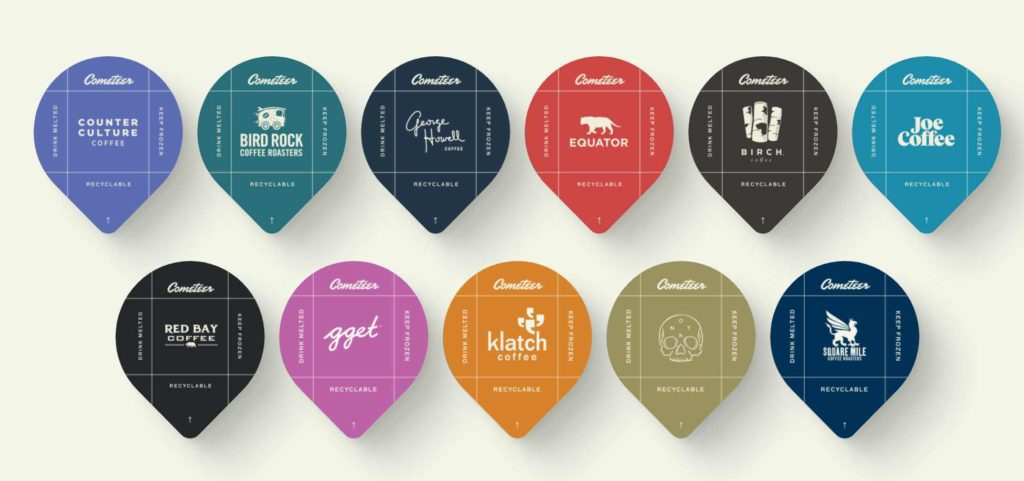 You might be wondering if Cometeer only offers a standard capsule of one coffee variety, in fact, they have a selection of different options available to purchase. When you go to purchase on their site, they will ask you how you like your coffee. Once selected, you get recommendations on the best box for you but you can also select from:
Light Roast Box
Medium Roast box
Dark Roast Box
Mixed Roast Box
Decaf Box
Light/Medium Roast Box
Medium/Dark Roast Box
Half-Caff Box
---
---
Commonly Asked Cometeer Coffee Questions
How much does Cometeer Coffee cost?
Cometeer Coffee costs around $2 per capsule. You receive 4 different roasts each containing 8 capsules, this gives you 32 cups of coffee and the price is $64. These are sold in larger batches to compensate for the dry ice and freeze-drying process.
Can you use Cometeer in Keurig?
Yes, a Cometeer coffee pod can be used in a Keurig and other coffee pod machines that allow it. It is designed to be used as a coffee pod and to be melted if preferred.
How much caffeine is in a Cometeer pod?
There is roughly 180mg of caffeine in a Cometeer Coffee pod. This is higher than a regular cup of coffee that can come in at around 95g of caffeine. This is what Cometeer states:
"Every bean is slightly different, but generally, all of our full caffeine capsules contain about 180mg of caffeine while our half-caff contains about 90mg and our decaf capsules have about 9 mg in each."
Is Cometeer coffee espresso?
No, Cometeer coffee is not espresso. It is a brewed coffee that produces a full cup and therefore shouldn't be used to make espresso-based coffee drinks.
Cometeer Coffee Review – The Finest Roast
To summarize the experience, Cometeer Coffee is a great, flavorful option for customers that prefer the convenience of single-serve coffee products. While every coffee drinker may have their own preferences for coffee styles and beverages, there is some universal appeal to Cometeer coffee. Not to mention the dry ice is awesome!
Before discussing the taste or quality, it is important to note how convenient and easy to use Cometeer coffee is. Fresh Cometeer coffee is shipped directly to the customer in frozen, single-serve pods to retain quality and flavor. There is no need for a trip to a physical store to enjoy this beverage. Cometeer offers multiple subscription options, so each customer can receive their pods according to their needs and schedule.
 Surprisingly, Cometeer coffee does not require any kind of brewing equipment other than a cup. Many coffee drinkers enjoy Keurig products due to the speed and convenience of their single-serve products. However, a Keurig machine is still required for brewing. Cometeer offers a great-tasting coffee beverage without needing additional equipment. Just because it is mixed directly with liquid for preparation, it is not to be confused with standard instant coffee. 
Unlike notoriously weak-tasting instant products, Cometeer offers the same speed and convenience, but with an intense flavor thanks to the proprietary brewing and freezing methods. Cometeer also starts with high-quality beans from respected roasters, so the end product is better tasting and higher in quality than other instant coffee products. 
Due to the concentrated strength of each pod, a melted pod (without adding additional water or dairy products) is similar to a shot of espresso in terms of intensity. It does not taste quite the same as fresh-brewed espresso, and more closely resembles concentrated cold brew products you can find at grocery stores and some coffee shops. Although not bad, it is definitely best to enjoy Cometeer after diluting with hot or cold water, milk, or dairy alternatives.
Thanks to partnerships with national roasters, Cometeer offers various light, medium, and dark roast options. The light and medium roasts have a sharper flavor, and might be best for more beverage-style coffee, such as a latte or sweetened beverage, since the additives may mellow the flavor.
Once diluted, the darker roasts more closely mirror standard brewed coffee and are better for enjoying black or with dairy and dairy alternative creamers. However, it is important to remember that each coffee drinker has their own taste preferences, and some customers may enjoy certain roasts for completely different reasons.
In terms of price, 32 Cometeer pods will cost $64, with an average price of $2 per cup. While that is cheaper than most coffee shops, it is pricier than other at-home options. It is important to remember that Cometeer products do not require machines or equipment, which helps balance the price differences. Another consideration is the environmental impact. Similar to concerns with Keurig, the aluminum cups that Cometeer uses for packaging produce more waste than standard at-home brewing methods. One benefit is that the aluminum cups are recyclable in many communities. 
---
---
The Final Sip
Like any other product, roast, or brew style, individual preference and taste determine whether or not a person will enjoy a cup of coffee. Therefore, there may be plenty of coffee drinkers that would prefer sticking with their local café, at-home French press, Keurig machine, or any other variety of coffee consumption.
However, the quality of Cometeer coffee, the convenience of the individual pods, and the massive variety of roasts and preparation styles, make Cometeer a great option for many coffee drinkers, especially those that gravitate toward single-serve options. Anyone unsure about purchasing Cometeer pods should watch for sales and promotions on certain roasts and products directly through Cometeer, for more cost-effective ways to try their products.
Also related: Check out Bulletproof Coffee.