Based in the US, Fire Dept. Coffee has taken the coffee universe by storm, not just for the great-tasting coffee they produce, but because it's roasted and created by a team of firefighters. They have a huge selection of coffee beans, grounds, and pods available, plus many other exciting coffee-related items. We are going to take a look at Fire Dept. Coffee and the different options they have.
You might also like: Lifeboost Coffee
What Is Fire Dept. Coffee?
Fire Dept. Coffee is a coffee company based out of Rockford, Illinois in the United States. It is a U.S. veteran-owned business founded in 2016 by U.S. Navy veteran and retired firefighter Luke Schneider. All Fire Dept. coffees are roasted by a team of firefighters, other first responders, and a variety of coffee specialists. 
The entire company, including executives and chief officers, is run by active and retired first responders. Outside of great coffee, Fire Dept. Coffee focuses on supporting first responders, by assisting those that have been injured on the job, face various health issues, or are in need of general life assistance. 
Beyond the structure and humanitarian mission of Fire Dept. Coffee, the company strives to produce high-quality coffees. Beans are sourced ethically from across the world, and quality tested before any roasting begins. All coffee styles, blends, and batches are roasted individually, with each style receiving its own unique care and technique.   
You might also like: Peet's Coffee
Fire Dept. Coffee Options
Fire Dept. Coffee offers a variety of coffee styles, roasts, and even flavors. No matter what a drinker's preference is, there are options for everyone's palette. The most standard, and most popular, coffee offered is the Original Medium Roast. This was the first coffee Fire Dept. Coffee developed, and it continues to thrive. It is a very mild and smooth coffee and great for everyday drinking. 
Another popular item is the Black Cherry Bourbon Infused Coffee. This coffee blend is infused with the flavors of bourbon and fresh cherries, for a dark and tart beverage. Additionally, Fire Dept. Coffee offers a variety of spirit-infused coffees, including Vanilla Bourbon, Irish Whiskey, Peach Bourbon, Rum, and more. For the indecisive fan of spirit-flavored coffees, there is a Spirit Infused Coffee Club where subscribers can try a new flavor every month. 
The flavors don't stop there, with Fire Dept. Coffee offering a variety of seasonal and year-round flavored coffees. These include a spicy Christmas Blend and the dessert-like Blueberry Cake Donut and Double Chocolate Donut flavors. So, coffee drinkers with a sweet tooth have a lot to choose from. 
For enthusiasts of single-origin coffees, there are plenty of those as well. Fire Dept. Coffee offers single-origin coffees from Brazil, Honduras, Nicaragua, and more. Other, popular staples include Dark Roast, Donut Shop Coffee, and Backdraft Espresso.
The Backdraft Espresso blend is especially popular for anyone looking for deep, espresso flavor when only brewing drip coffee. Keurig users also have access to Fire Dept. Coffee, as some of their popular blends are conveniently offered as K-Cups. 
You might also like: Zeke's Coffee
Spirit-Infused Coffee Options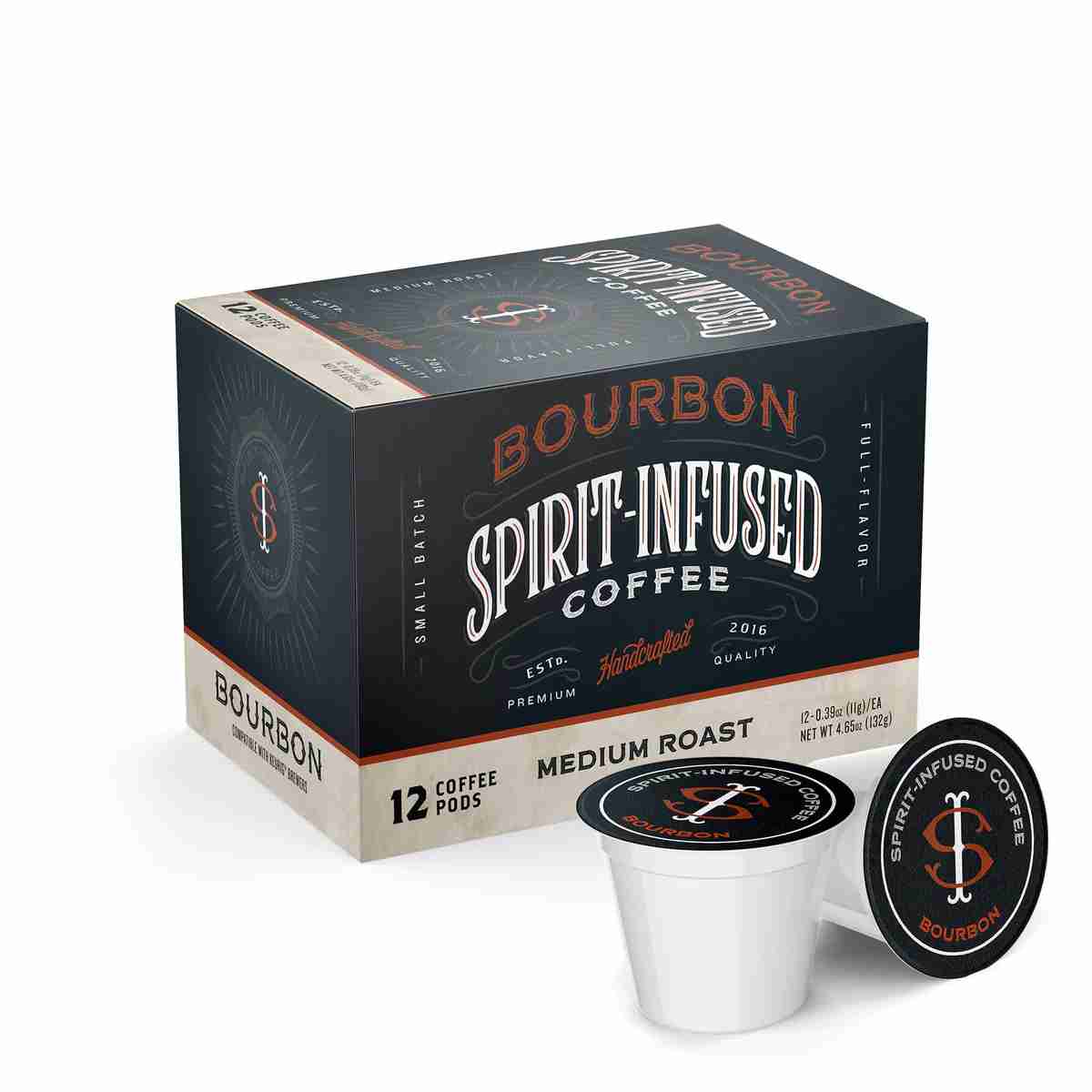 As mentioned previously, Fire Dept. Coffee has a huge selection of unique coffees available, and one of those selections includes spirit-infused coffee. This will of course come with an acquired taste and won't be for everyone, especially if you would rather enjoy the natural taste of coffee. Nevertheless, these are some of the more popular spirit-infused options:
Bourbon Infused Coffee
Whiskey Infused Coffee
Rum Infused Coffee
Tequila Infused Coffee
Coffee Club
Fire Dept. Coffee has what they call a 'coffee club' which is, in a nutshell, a subscription-based coffee service. However, this is broken down further into different subscription categories:
Coffee of The Month: Obviously, this is where you sign up to get their coffee of the month, every month. It costs $18.99 to sign up and the coffee will be shipped on a monthly basis. You also get the option to choose from 2 sizes and whole bean or ground coffee.
Spirit Infused Coffee Club: This one is exactly the same model as the coffee of the month but for spirit-infused coffees and costs $14.99/Mo.
Prepaid Subscription: This is more of a general coffee subscription option where you can choose the amount and frequency of the coffee you get shipped.
Where Is a Good Place to Start with Fire Dept. Coffees?
Like many coffee brands, when looking for a starting point, the Original Medium Roast has the best reputation and the most mellow flavor profile. It is a great, everyday coffee that can be brewed well with various techniques and equipment. 
For fans of darker roasts, the Dark Roast has a bold, but smooth, flavor for a deep cup of coffee. Fire Dept. Coffee also offers numerous espresso roasts for an even bolder flavor. Both the Skull-Crushing and Backdraft Espresso blends pack a dark punch of flavor, even when brewed on standard drip machines. 
The journey into the flavored Fire Dept. Coffees is a long one! There are options for fans of boozy flavor, or dessert-like coffees. If feeling overwhelmed, popular items like Black Cherry Bourbon or Vanilla Sprinkle Donut are great places to start. 
You might also like: Cometeer Coffee
Fire Dept. Coffee Review | Our Thoughts

First, the packaging for Fire Dept Coffee is simple, yet eye-catching, Other than the Skull-Crushing Espresso, the packages do not feature any striking graphics, but the simple red bags are still nice. 
In terms of the coffee, the biggest advantage that Fire Dept. Coffee has is a diverse range of products. With everything from single-origin coffees to unique, alcohol-flavored blends, there are coffees for every coffee drinker and every palette. While there are plenty of coffee companies and roasters out there these days, not all of them offer such a variety of coffees. Also, Fire Dept. Coffee roasts coffee to order, so customers can be sure that they are receiving the freshest beans possible. 
The signature, Original Medium Blend is a great coffee. The flavors and notes are nothing extravagant, but the beans brew a really nice and balanced cup of coffee. The espresso blends, such as Skull-Crushing and Backdraft, are a pleasant surprise.
While dark and espresso roasts are nothing new, not many actually mimic the espresso flavor without appropriate equipment. Using any drip or manual brewing method, Fire Dept. 
Espresso blends provide a bold and deep flavor similar to espresso, without any lingering bitterness. Dark coffee fans should definitely give one of these blends a try. The espresso and dark roasts also pair well with a flavorful and spicy breakfast meal.
While flavored coffees are not for everyone, the variety of spirit-infused and flavored coffees, like the various donut-flavored blends, is impressive. While many flavored coffees can be overwhelmingly sweet, the various bourbon, rum, and tequila flavored coffees pack a flavorful punch, without any intense dessert flavors. 
For coffee drinkers that are always trying new coffees, there are subscription options from Fire Dept. Coffee. Subscribers can receive monthly special roasts and blends, as well as monthly spirit-flavored subscriptions for more adventurous drinkers. While many companies offer subscriptions, the price and variety of Fire Dept. Coffee makes this a great value. 
Just as important as the coffee is the mission of Fire Dept. Coffee. While most companies have a singular mission to deliver high-quality coffee to consumers, this company uses this platform to help their community.
As a company founded and run by veterans and first responders, Fire Dept. Coffee uses 10% of profits and their Fire Dept. Coffee Foundation to help fellow first responders suffering from health issues and other difficulties. So, a coffee purchase doesn't just end with a good cup of coffee, but also assistance to someone in need. 
The Final Sip
Overall, we think that Fire Dept. Coffee is one of the top coffee companies out there. Especially because of their background, mission, and the fact that it's done by firefighters! The coffee isn't very expensive so you should consider giving one of their more popular blends a try!