One of the biggest (and best) problems about coffee is that there are so many varieties of coffee and countless coffee companies. It can be quite difficult to choose, if not overwhelming. For anyone looking for a single company with a wide selection of roasts and blends, Kicking Horse Coffee may be a good option. Kicking Horse Coffee is a Canadian company that sells premium organic coffee. They are well-known for their Fairtrade and Rainforest Alliance-certified coffees, so let's take more of an in-depth look at this Kicking Horse Coffee review.
You might also like: 7 Brew Coffee review.
What Is Kicking Horse Coffee?
Kicking Horse Coffee is a coffee company that originally started in British Columbia, Canada. Since its opening in 1996, Kicking Horse has steadily grown into a large, international coffee company thanks to attention, internet sales, and great coffee. The company has fully committed to buying, roasting, and selling only organic, Fair Trade Certified coffee beans. 
Since 2008, Kicking Horse has been named the #1 seller of fair trade coffee in Canada every year. So, they are completely dedicated to both quality and sustainability. As stated by Kicking Horse Coffee: "Our coffee is pure, pesticide-free, full of flavor, and guaranteed to be good, because it's organic."
Kicking Horse specializes in coffee blends, with a range of light, medium, and dark roast blends. They source their coffee from many different locations around the world including Nicaragua, Ethiopia, Sumatra, Honduras, and many more. These are all certified Fairtrade and organic farms. The coffee is roasted in the Rocky Mountains and then shipped to customers.
Whilst you can only order directly to the US and Canada online from Kicking Horse, their partner sites do ship internationally, so you can get your hands on their coffee from different locations around the world.
You might also like: Black Rifle Coffee review.
Kicking Horse Coffee Options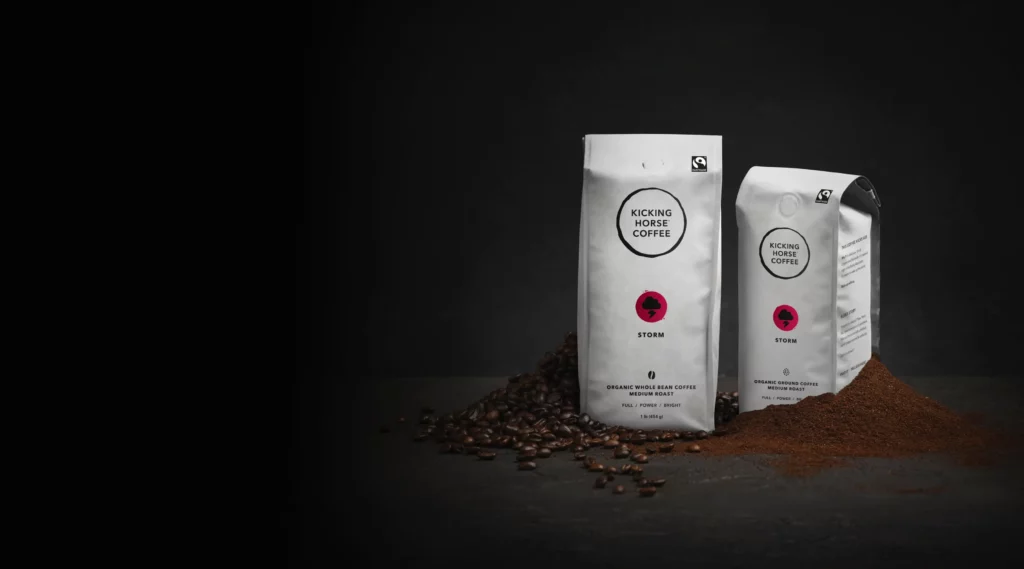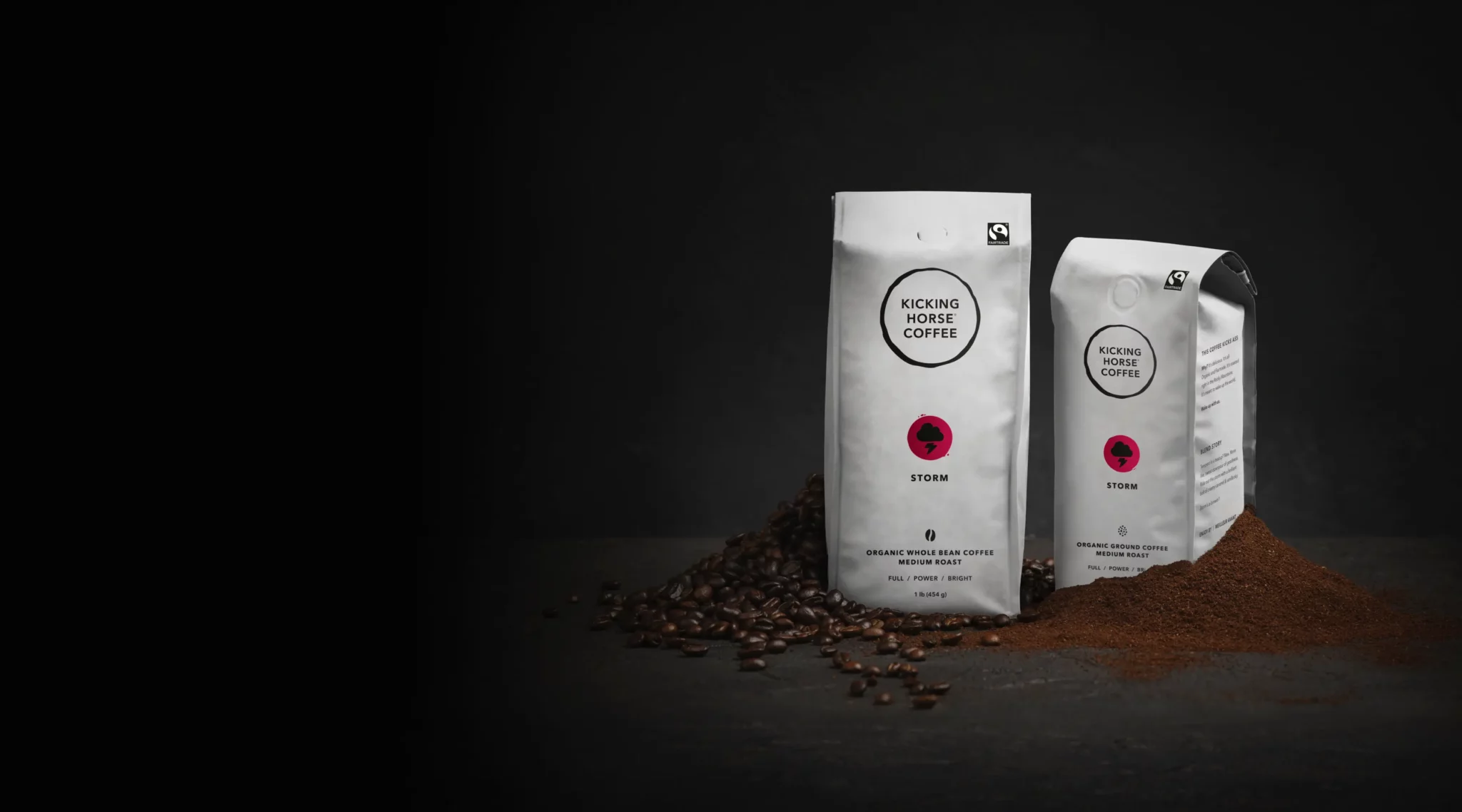 One of the appealing things about Kicking Horse is the wide range of coffee they offer. With various options of light, medium, and dark roasts, there is likely a coffee blend for everyone. One thing to keep in mind is that all Kicking Horse coffees are blends. So, if you are looking for a specific type of bean, or a single-origin bean, you will not find that here.
However, every Kicking Horse blend features high-quality, organic, fair-trade coffee. Even though the blends feature multiple origins, Kicking Horse ensures that they do not include lower-quality beans in their blends.  
Light roasts are popular for their bright flavors and higher caffeine levels. Kicking Horse Coffee features its Hola light roast, which has pronounced fruitiness and acidity. 
For fans of more balanced medium roasts, Kicking Horse Coffee has ample options. The Smart Ass blend is probably the most popular medium roast by Kicking Horse. The Smart Ass blend features notes of bright fruits and currants but has more sweetness and creaminess to balance out the flavors and acidity. Other popular medium roasts are the Three Sisters and Happy Camper blends. 
Drinkers that love the robust character of dark roasts also have great options from Kicking Horse. Most popular among the dark roasts is the Kick Ass blend. A smokey, chocolatey blend with an earthy finish, the Kick Ass blend is smooth and bold. For a dark roast with sweeter and nuttier notes, the Grizzly Claw blend is another popular option. 
In addition to the main roast types, Kicking Horse offers a decaf option and the Cliff Hanger Espresso blend. Kicking Horse also rotates special, limited-release blends along with their staples. So, no matter what type of roast or blend someone is looking for, it is likely that Kicking Horse has a coffee that fits each need.
You might also like: Cometeer Coffee review.
Where Is a Good Place to Start with Kicking Horse Coffees?
A proper starting point for Kicking Horse Coffee depends on preference. The most popular Kicking Horse Blends include the Kick Ass (dark roast), Three Sisters (medium roast), and Smart Ass (medium roast) blends, so it is probably wise to start with those customer favorites. However, there are plenty of other options for the adventurous coffee drinker. Check out our Kicking Horse Coffee review below for more details.
Kicking Horse Coffee Review | Our Thoughts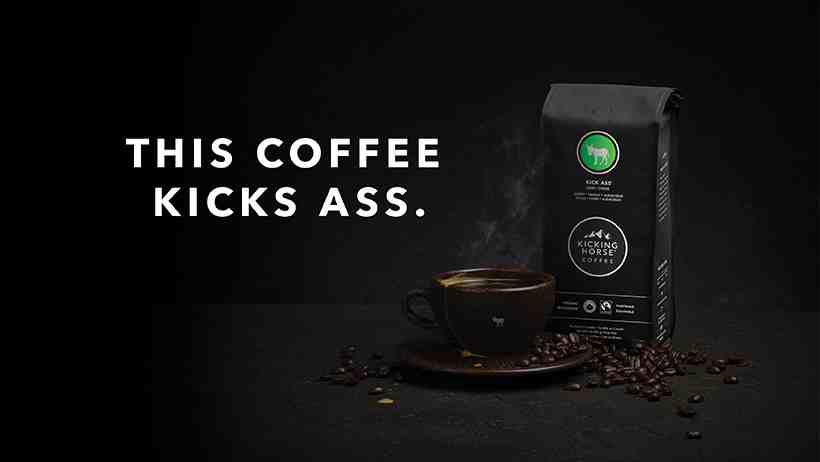 While every coffee drinker may have varying opinions on what makes coffee good, Kicking Horse Coffee covers all the bases. Every blend starts with organic, fair trade, sustainably grown Arabica coffee beans. The coffee is then roasted and mixed with care to create each unique Kicking Horse blend. So, the product is high-quality and responsibly produced. For coffee drinkers without home grinders, many blends are offered pre-ground, in addition to whole bean.
In terms of taste, each Kicking Horse blend offers its own signature taste. While every blend features excellent coffee, it is important for everyone to find a blend that fits their preferences. Along with the different roasts, each blend includes aromas and tasting notes on the packaging and on the Kicking Horse website. So, it is easy for anyone to find the coffee they are looking for. Kicking Horse Coffee even provides brewing recommendations for each blend, such as French Press or pour over. 
It is important to note that Kicking Horse Coffee is a Canadian brand. While they do ship throughout the United States, Kicking Horse Coffee may not be available in other international locations.
You might also like: Coffee for Wellness review.
The Final Sip
Kicking Horse Coffee is an awesome coffee brand offering a range of different coffee blends that are organic, Fairtrade, and Rainforest Alliance-certified. There are many different roast options and limited specials that become available. Get your hands on some today and let us know what you think!