Peet's Coffee is a coffee company that has been around since 1966. They have a wide range of products from ground coffee to espresso beans and even cold brews. Serving in a number of physical locations, selling coffee online, and offering a subscription service, Peet's is a well-established coffee company.
We are going to take a look at the company, the types of coffee you can buy, and give our verdict on this popular coffee brand.
Related: 7 Brew Coffee
Company
The company is based in San Francisco Bay Area and is owned by the JAB Holding Company. Alfred Peet, the creator of Peet's coffee is a Netherlands native. Alfred received his coffee training from his father at an early age and by the time Alfred reached 18, he moved to London to work for a coffee and tea company, the Twinings. 
Alfred went to San Francisco to work for a coffee and tea importer in 1955. By 1966, he opened his first shop in Berkeley, California on Vine street and named his coffee shop "Peet's Coffee, Tea & Spices". 
Related: Bulletproof Coffee
6 Reasons Why Peet's Coffee is so Special
Peet's Coffee is one of the most popular coffee shops in the world. They offer a wide range of different types of coffee, tea, and other beverages. But what makes them so great? Peet's Coffee also offers coffee subscription boxes for coffee enthusiasts.
The environment is always calm and welcoming.
The staff are always friendly and knowledgeable.
They have a variety of different drinks to choose from that are all delicious.
All their drinks are reasonably priced, even for specialty items like their Nitro Cold Brew which has an average price of $5-$6 for an 8oz cup.
You can get free refills on any drink if you buy it in a to-go cup or mug!
The coffee beans are hand-roasted in small batches to ensure optimal flavor and freshness. 
RELATED: 10 Best Coffee Subscription USA
Family-Owned & A Strong Commitment Towards Sustainability
Peet's Coffee & Tea is a family-owned coffee company that has been operating for over 100 years. It is a green company with a strong commitment to sustainability.
Peet's Coffee & Tea has been committed to sustainability since the early 1970s when it first became aware of the environmental impacts of its business practices. In the 1990s, Peet's began sourcing coffee from Rainforest Alliance Certified farms, and in 2010, it became one of the first companies to offer Fair Trade Certified whole bean coffees.
In 2006, Peet's committed to being carbon neutral by 2020 and announced that it had achieved its goal four years ahead of schedule in 2012. In 2015, Peet's launched an initiative called "Brewing Change" which aims to create more sustainable communities.
Customers and Employees!
Peets Coffee is a coffee company that has been around for over a century. They have the best coffee beans and the most delicious beverages.
Peets Coffee has been providing their customers with high-quality coffee beans and beverages. Peet's Coffee provides its customers with a variety of different drinks like espresso, iced coffee, hot chocolate, tea, and more! They also offer breakfast sandwiches, pastries, salads, soups, sandwiches, and more!
The employees at Peet's are always happy to help you find what you need or to answer any questions that you may have. 
---
---
Coffee
Sourcing and Roasting
The coffee you get from Peet's comes from some of the top coffee-growing regions in the world, so you can be sure you are getting the highest quality. 
We source the top 1% of coffee beans from the world's best growing regions.
All coffee is then hand-roasted by master roasters at Peet's. This is what truly defines the coffee and gives you the flavors you taste in your cup. It is a science to perfect coffee roasting and takes years of training, something that the expert roasters for Peet's Coffee have. 
It is also worth noting that they do not roast the beans until you place an order. Coffee is best enjoyed fresh, as soon as the roasting process begins the coffee starts to lose valuable oils and oxidization can start to turn coffee stale. The fresher the beans, the fresher the grind, the better taste of coffee you get. 
Peet's even has a team of expert coffee tasters that "taste the coffee 3 times before the beans even arrive at the roastery". Not only do you get the freshest cup, but you get a company that takes pride in serving the highest quality of coffee.
Related: Wandering Bear Coffee
What Does Peets Coffee Sell?
Peet's Coffee provides a range of great-tasting coffee (and teas). You will be spoiled for choice with the ranges available. You can select from:
Multiple roast types:
And even special ranges:
When you are looking for a coffee to purchase online at Peet's, you have the option to search by country origin so you can get the perfect coffee you want. In this selection, you will find coffees from:
Ethiopia
Sumatra
Kenya
Guatamala
There are of course many more… you can check out the selection of Peet's Coffees here.
Seasonal Coffees
If you decide to visit a physical Peet's location, you may get the chance to sample one of their popular seasonal beverages. Our favorite time is fall and winter when the cinnamon and pumpkin flavors start to come out!
Here are some of the popular seasonal beverages you can try:
Coffee Questionaire
One of the great things about ordering coffee online at Peet's, is the personalized questionnaire that helps you find the best coffee to match your preferences. You answer a series of questions that determines the best type of coffee you should order, at the end of the short survey, you will be recommended with those coffees. 
Is Peet's Coffee Good Quality?
Peet's coffee is high-quality. The coffee beans are sourced from the top growing regions in the world, are hand-roasted to order, and delivered fresh to give you the best possible flavor. 
When you order coffee from Peet's you can be sure it has been rigorously tested and comes from sustainable sources. As mentioned previously, they taste test the coffee 3 separate times before even roasting to ensure you get the best cup.
What is Peet's Most Popular Coffee?
There is a selection of popular coffees at Peet's, with the top choices being the Major Dickason blend, Italian Roast, and House Blend. 
Here are our top 5 Peet's Coffee choices:
1: Major Dickason Blend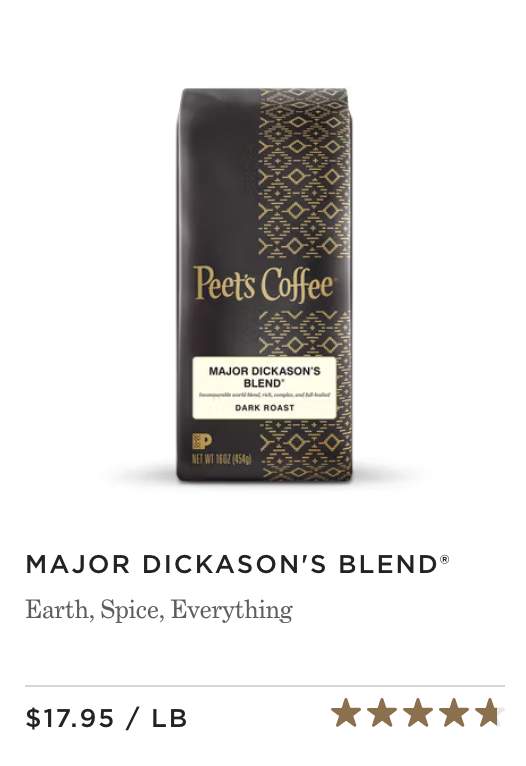 This is one of the best-sellers and there's a good reason why it's amazing! It's a medium-dark roast with a full body. You can subscribe for regular deliveries or purchase as a one-off, available in different grind types.
TYPE: Signature Blend
ORIGIN: Americas, Indo-Pacific
PROCESS: Washed and Wet-Hulled
2: Ristretto Espresso Capsules
These Ristretto capsules are a darker roast with an intensity scale of 10 You will enjoy crushed spice, rich fruit & chocolate smoothness flavors.
TYPE: Signature Blend
3: Ethiopian Super Natural
Another fuller-bodied dark roast coffee to include in our top 5. You will get a flavor profile of white flower, candied citron, and dried wild blueberries.
TYPE: Single Origin
ORIGIN: Guji Zone, Ethiopia
PROCESS: Natural process, raised drying beds
4: Italian Roast
The Italian roast is a full dark roast with a lighter body. You will enjoy Fumo, Biscotto, Caramello flavors in this coffee. 
TYPE: Signature Blend
ORIGIN: Americas, Indo-Pacific
PROCESS: Washed and Wet-Hulled
5: House Blend
The house blend is of Latin American origin with flavors of Spice, Citrus, and toast. It is a lighter roast than the others but still a dark-medium roast. 
TYPE: Signature Blend
ORIGIN: Americas
PROCESS: Washed
---
---
Other Peet's Information
Is Peet's Coffee Better Than Starbucks?
Peet's coffee has a better reputation amongst its customers, but Starbucks has a better business model/assets. However, in terms of coffee, it all comes down to preference. Peet's coffee is more natural and focused on the consumer.
That's not to say that either is better or worse. People have their preferences, whilst some enjoy the flavors or Starbucks coffees, others may not. The same goes with Peet's coffee. 
For us, we tried the Peet's House Blend compared with the Starbucks House Blend. Our preference was Peet's. 
Peets Locations
You will find a variety of Peet's Coffee Bar locations across the US. You can use their store locator to find the nearest one to you. If you are not near a physical location, don't worry, you can order your favorite selections online instead.
Peetnik Rewards
If you love your coffee and want to order regularly, then it is worthwhile joining Peetnik Rewards. Here you can earn rewards points that can save you money on future purchases. You will also be able to enjoy benefits such as:
1 point for every $1 you spend in-store
Enjoy 25 points on your birthday and any baked good or drink on your Peetnik Rewards Anniversary
Skip the link in-store
Exclusive member only secret rewards
The Final Sip
For us, Peet's Coffee has an amazing selection of coffees available, they cater to every type of coffee drinker and have a strong focus on being sustainable. They are passionate about providing high-quality, fresh coffee at an affordable price. We highly recommend you try Peet's Coffee for yourself!
Have you tried coffee from their website or in-store? Let us know what you think in the comments below. 
---