If you enjoy milk-based espresso drinks then a coffee machine with a milk frother is exactly what you need. When you have the ability to make cappuccino and late drinks from the comfort of your home, there is no need to go to a coffee shop anymore. You might be thinking a coffee machine with a milk frother is going to break the bank, but they are actually relatively affordable unless you opt for a barista-style machine.
One of the main downsides to making milk-based coffee drinks at home is the temperature. There are many machines out there that don't have the design or function to keep high temperatures to ensure your drink is as hot as it should be. So, if you are looking for the best coffee machine with milk frother, then this is the article for you. The options included have a range of functions, are top-rated, and are some of the best out there.
Related Article: Best Coffee Makers 2022
Note from the editor: This article contains affiliate links. This means we may earn a small commission on purchases made through these links. It helps support us in making content!
Milk Frother VS Milk Steamer – There's a Difference
A milk frother froths the milk using air. It makes it light and airy, like the layer you see on top of a cappuccino.
A milk steamer actually heats the milk itself and can add a light texture, with a tiny layer of foam.
The reason this is important is that a milk frother is generally only suited to cappuccino drinks. If you want to heat your milk and have all the capabilities to make milk-based coffee drinks, then a steamer is the option for you.
This is where we get into the different types of 'milk addons' for the coffee machines:
Barista style with a steam wand – This is capable of making every type of coffee drink. The steam wand heats the milk and can be used to froth a layer for the top.
Built in/on milk compartment – The machines that have milk compartments attached, steam the milk internally (not as good), then have a frothing system at the end to add a nice layer of foam.
Separate milk frother – Like the Aerocinno, this heats the milk and froths it at the same time
Most options come with the milk compartment attached to the front or side. You should decide which one benefits you for your coffee needs.
---
Best Coffee Machine with Milk Frother
1. Famiworths Single Serve Coffee Maker with Milk Frother – $49.99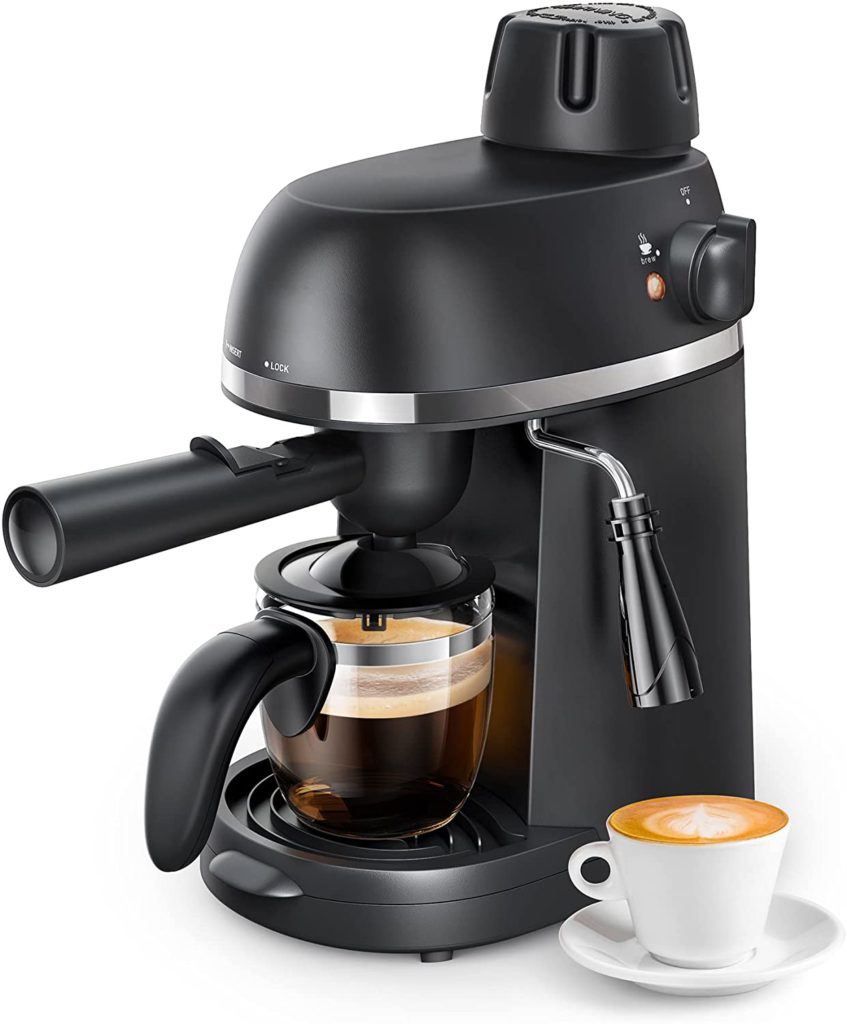 Coarse Ground Coffee Only
3.5 Bar Pressure
Brews 4 Espresso Shots at Once
Small Compact Design
Plastic | Glass | Stainless Steel
The Steam Espresso Machine rapidly and professionally extracts 4 shots of velvety smooth hot espresso (167F-199F) in 2 minutes, so you can enjoy your favorite coffee drinks anytime. It's easy to use too, just a single knob for all operations. Plus, the included milk frother lets you create rich, creamy lattes and cappuccinos. So go ahead and indulge in delicious coffee drinks made right at home – with the Steam Espresso Machine.
This coffeemaker offers a 3.5 bar pressure which is capable of brewing a strong cup of 8 oz. coffee in 2 minutes. It features a built-in milk frother that is capable of whipping milk into a rich, creamy foam. The Famiworth single-serve coffee maker is very compact and can fit in any kitchen space, big or small.
Reasons to Buy
The design is stylish and compact
It produces high-temperature coffee
It can brew 4 shots at once
Reasons Not to Buy
Only accepts coarse ground coffee
It involves manual milk frothing
---
2. De'Longhi Dinamica with LatteCrema Fully Automatic – $1,689.99
Fully Automatic & LCD Display
18 Espresso and Specialty Coffee Recipes
Built-In Conical Burr Grinder with 13 Settings
Automatic and Adjustable Milk Frothing From the Proprietary LatteCrema System
Dual Heating System
The DeLonghi Dinamica with LatteCrema Fully Automatic Espresso Machine is the perfect machine for anyone who wants to make café-quality drinks at home. It features 18 espresso and specialty coffee recipes, with a simple touch of a button, including lattes, cappuccinos, macchiatos, espressos, iced coffee, and more.
The built-in conical burr grinder with 13 settings ensures your drinks are always freshly ground, while the automatic and adjustable milk frothing from the proprietary LatteCrema System creates perfectly textured lattes and cappuccinos. The easiest machine to clean and maintain, just pop out the drip tray and milk carafe and put them in the dishwasher. A great number on the best coffee machine with milk frother list.
Related article: Best De'Longhi Cofee Machines
Reasons to Buy
Machine is fully automatic
Many drink options to choose from
It's an all-in-one coffee machine
Reasons Not to Buy
Very expensive for the average coffee maker
---
3. Gevi Expresso Coffee Machine with Milk Frother Steam Wand – $141.99
Semi-Automatic
15 Bar Professional Italian Pump
360 Degrees Rotating Milk Wand
Dual Temperature Control System
1.5L Removable Water Tank
The Gevi Espresso Machine is capable of creating a cappuccino, latte, or flat white in the comforts of your own home. It features a 360 degrees steam wand that is capable of creating a silky, smooth milk foam. This espresso machine comes with a portafilter, funnel, scoop/tamper, and a user manual.
With a 15 bar professional Italian pump, this machine is capable of extracting delicious coffee with ease. The professional milk frothing wand allows you to create beautiful cappuccinos and lattes. The dual temperature control system ensures that your drinks will be perfectly balanced every time. Finally, the removable drip tray makes cleaning a breeze.
Reasons to Buy
High pressure for optimal extraction
Easy to clean
Has a temperature dial on the front
Reasons Not to Buy
The temperature gauge can be inaccurate
Hard to learn how to use optimally
---
4. Ninja Specialty 10-Cup Coffee Maker – $169.99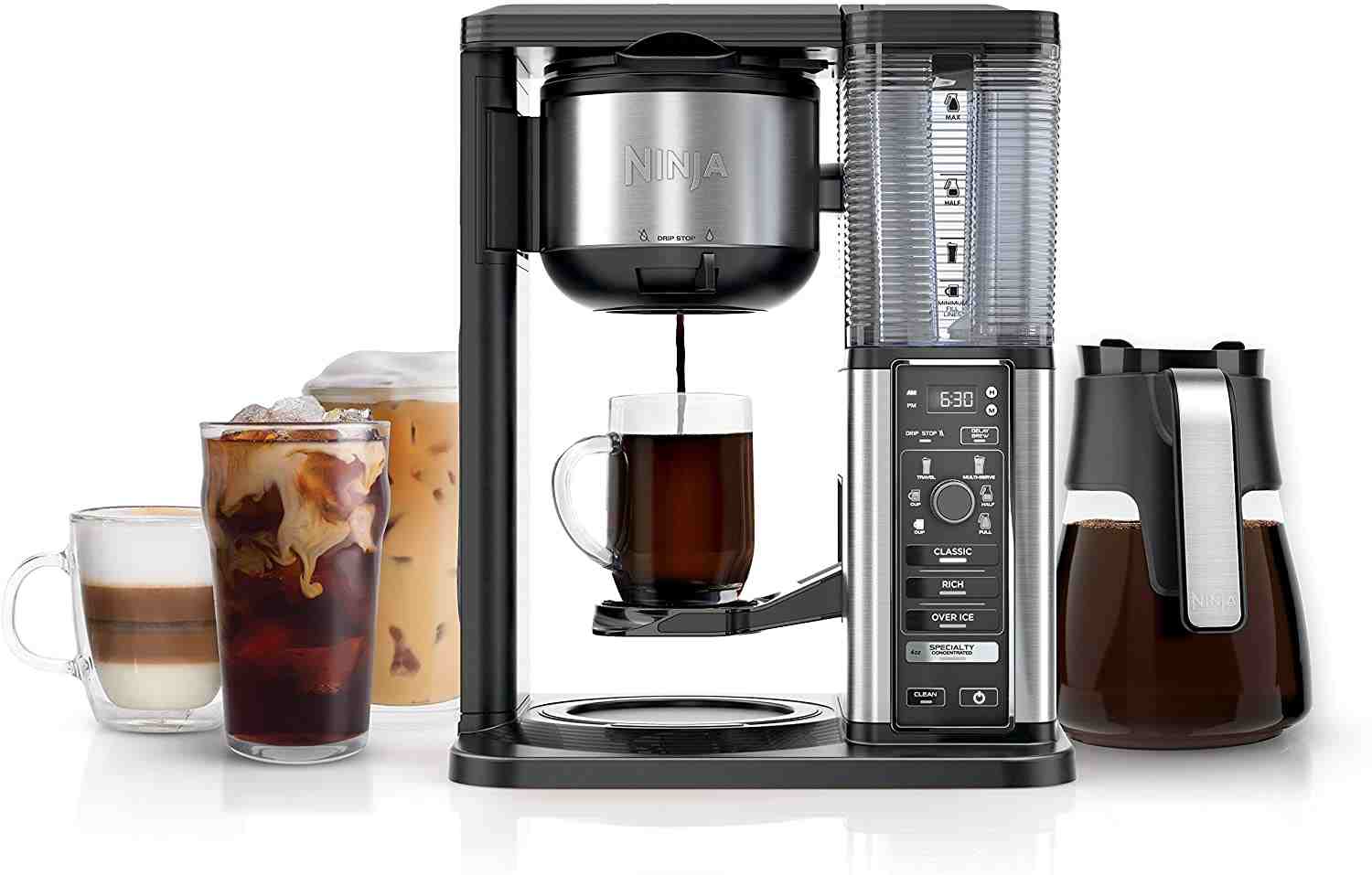 4 Brew Styles & Specialty Brews
6 Brew Sizes
Uses Coffee Grounds
Removable & Foldable Milk Frother
40-oz. Removable Water Reservoir
As far as the best coffee machine with milk frother goes, the Ninja CM401 Specialty Coffee Maker is one of the coolest looking. You can choose from one of four versatile brew styles to get your perfect cup of coffee. If you're in the mood for a classic brew, the Rich setting will give you a rich and full-bodied cup. If you want to make a super-rich coffee concentrate, the Specialty Brew setting is perfect. You can also use this machine to make iced coffee that's never watered down. With 6 brew sizes to choose from, you can make anything from a single cup or travel size to a half or full carafe. Plus, there's no need for pods – just use your favorite ground coffee!
Reasons to Buy
Milk frother is removable and easy to clean
Different drink sizes and options
Reliable brand
Reasons Not to Buy
Expensive
Not the most visually appealing
---
5. Keurig K-Café Single-Serve K-Cup Coffee Maker – $179.99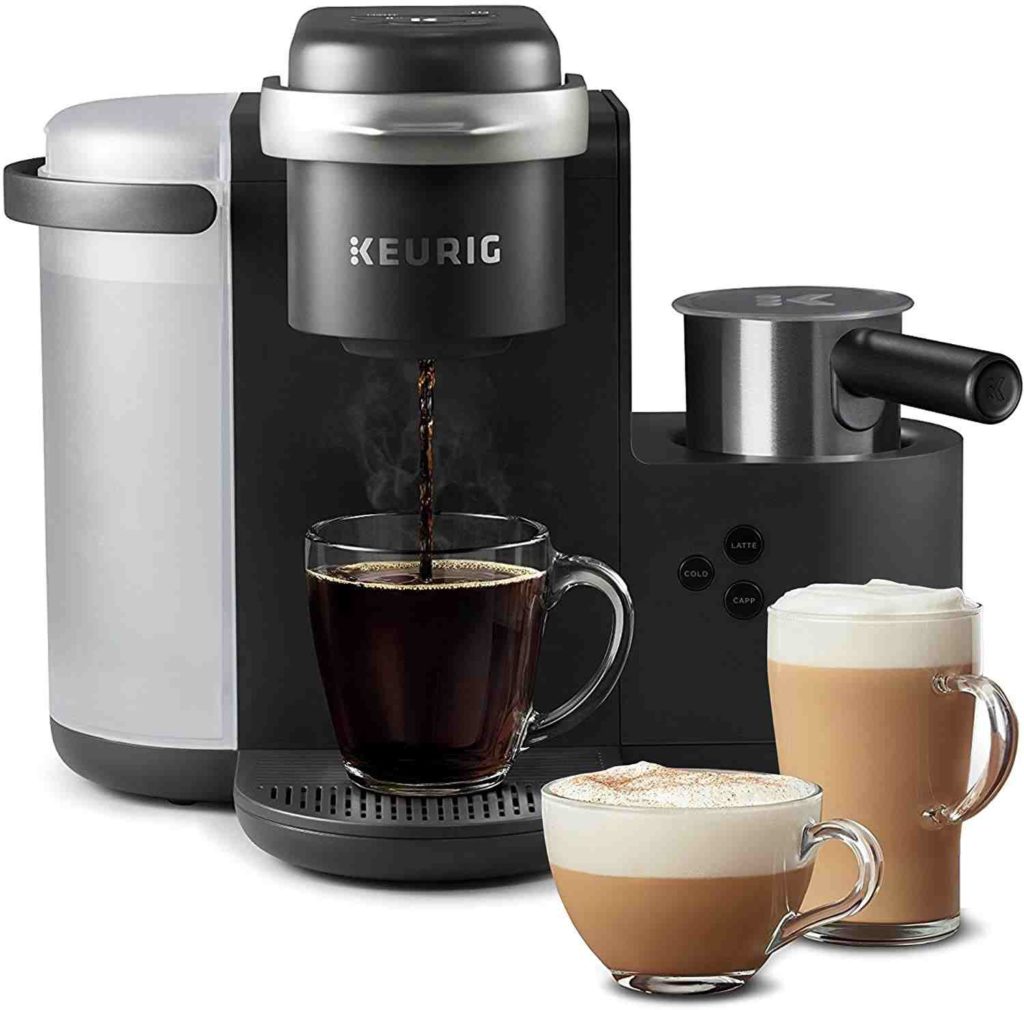 Uses K-Cup Pods
60z Water Reservoir to Make 6 Cups 
Smart Start Feature
Accommodates Travel Mugs Up to 7.2"
Dishwasher Safe
The Keurig K-Cafe Single Serve coffee maker is the perfect addition to any coffee lover's morning routine. This machine is easy to use and lets you make your favorite lattes, cappuccinos, and coffees with the simple touch of a button. The large 60oz reservoir means you can brew up to 6 cups before having to refill, and the smart start function ensures that your coffee maker heats and starts brewing in one simple process, so no waiting necessary! Plus, this machine is energy efficient so you can enjoy delicious coffee without worrying about your electric bill.
Reasons to Buy
Large water capacity
Good choice of drinks to make
Reasons Not to Buy
Only uses Kcup Pods
Expensive
---
6. Mr. Coffee One-Touch CoffeeHouse Espresso Maker – $299.99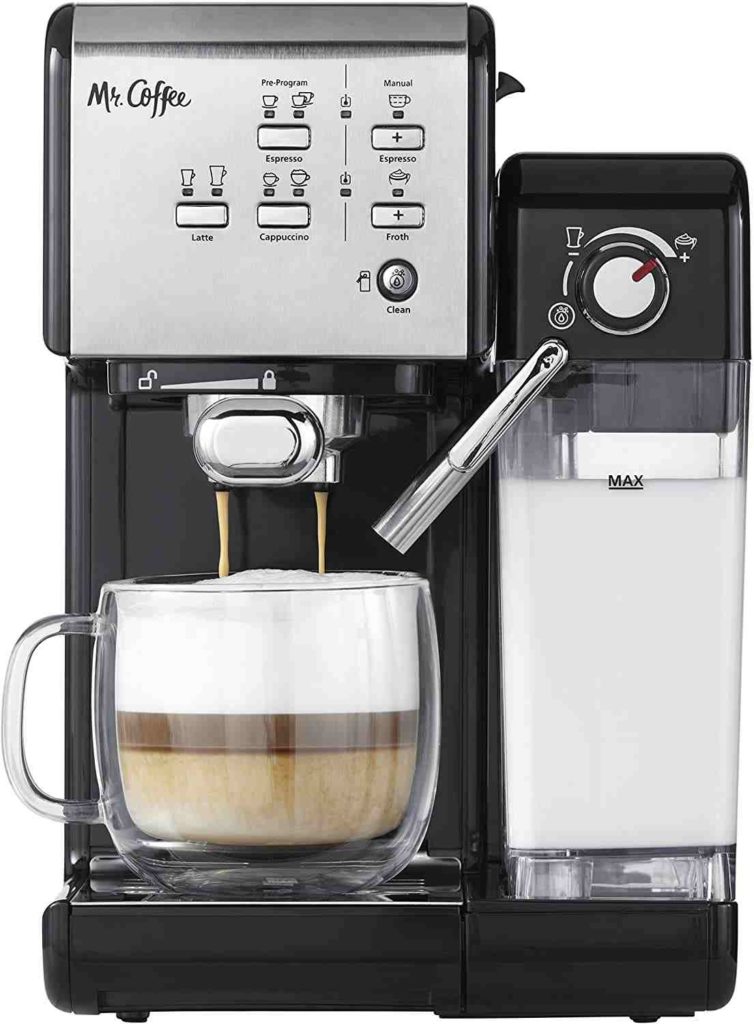 19 Bar Italian Pump 
Easy 1 Button Interface
Single or Double Shot Options
Automatic Milk Frother
Comes Apart for Easy Clean
The Mr. Coffee One-Touch CoffeeHouse Espresso Maker and Cappuccino Machine is the perfect appliance for coffee lovers who want to enjoy a barista-quality drink at home. It's a slightly more expensive option for the best coffee machine with milk frother, but with its 19-bar Italian pump, this machine delivers pressure that's just right for extracting rich flavors from your coffee grounds.
The easy 1-button interface makes it simple to select single or double shots of espresso, and the thermocouple heating system ensures that your drinks will be piping hot. For a creamy froth on top, the automatic milk frother does all the work for you, just add milk to the removable reservoir and let it do its thing.
Reasons to Buy
The built-in milk system makes it easy
High-pressure capabilities
Makes drinks that are hot
Reasons Not to Buy
Can be noisy
The amount of pressure is debatable
---
7. De'Longhi Lattissima Pro, Single Serve Capsule Coffee Machine – $595.00
Automatic Machine
One-Touch Digital Display
Auto Power Off – 9 Minutes
19 Bar Pressure
14 Capsules Included
The De'Longhi Lattissima Pro is a single-serve capsule coffee machine that delivers delicious espresso, lungo, cappuccino, and latte macchiato at the touch of a button. The digital display makes it easy to choose your beverage, and the auto power-off feature ensures that your coffee is always fresh. The 19 bar pressure pump creates rich, full-flavored coffee, and the included set of 14 capsules means that you can always enjoy your favorite brew.
Reasons to Buy
Simple and easy to use
High-pressure machine
Comes with some capsules included
Reasons Not to Buy
Very expensive
Milk drinks can go cold quickly
---
8. Breville Barista Pro Espresso Machine – $799.95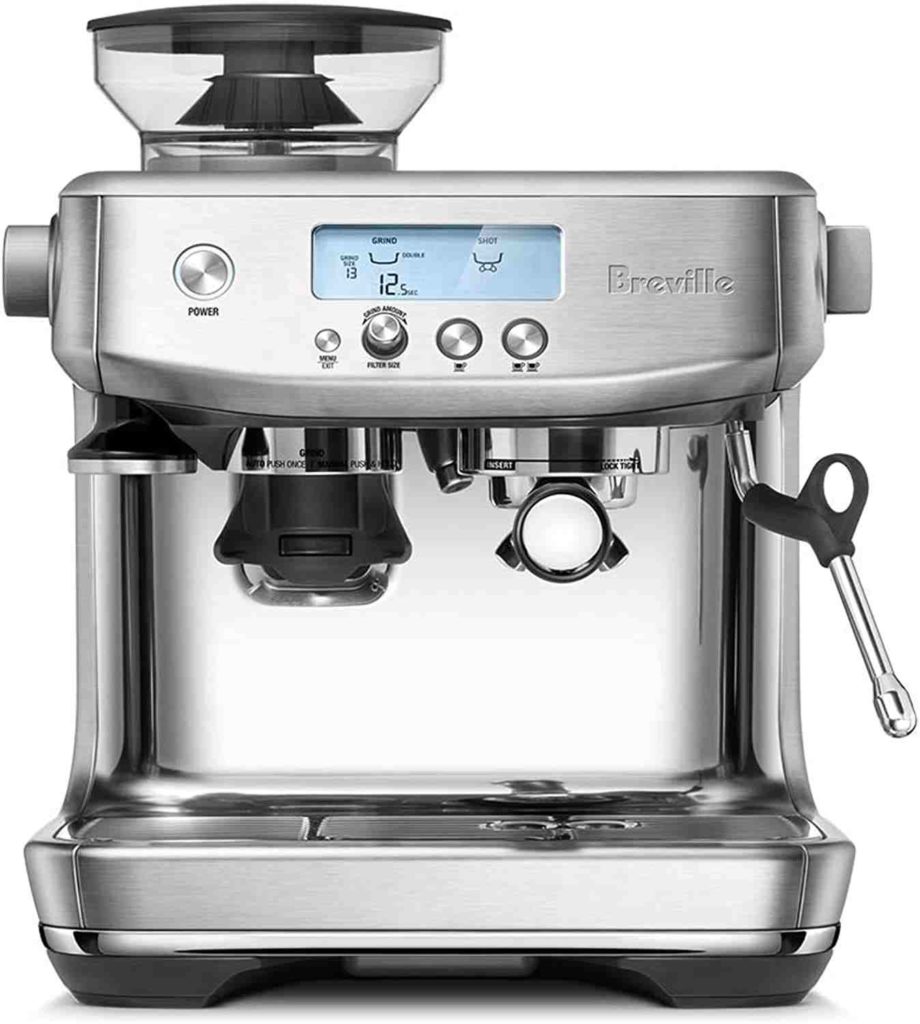 Third-Wave Specialty Coffee
Integrated Precision Conical Burr Grinder
Low Pressure Pre-Infusion
ThermoJet Heating System
Digital Temperature Control
The Breville Barista Pro is the perfect machine for anyone who wants to enjoy professional-grade espresso at home. This is our top pick for the best coffee machine with milk frother, but it's also the most expensive as it's a full barista-style machine.
With its intuitive dose control grinding system, you can easily create your favorite specialty coffee drinks with just the touch of a button. Plus, the low-pressure pre-infusion feature helps to ensure that all the flavors are drawn out evenly during the extraction process for a balanced and delicious cup of coffee. Thanks to its sleek brushed stainless steel finish, this machine will look great in any kitchen.
Reasons to Buy
A full on barista style machine
Does everything you need for coffee making
Sold and sturdy design
Reasons Not to Buy
High price tag
Only necessary for serious coffee drinkers
---
The Final Sip
If you are looking to create cafe-style milk-based coffee drinks at home, then purchasing a coffee machine with a milk frother is essential. We hope this list of the best coffee machines with milk frother has helped you find a machine. If you have any suggestions for other machines, let us know below!