Located in the Pacific Northwest, Seattle stands as an iconic city in the world of coffee. The city's rich caffeinated history, notably as the birthplace of Starbucks, has fueled its reputation as the go-to destination for coffee connoisseurs. The benefit of this reputation means that many new and unique coffee shops emerge regularly and contribute to Seattle's thriving coffee culture. So we are taking a look at the 10 best coffee shops in Seattle to help you find the perfect cup.
Be sure to check out the best coffee shops in Denver!
Exploring the Coffee Capital: Seattle's Unique Coffee Culture
Seattle's coffee culture bursts with history, innovation, and a shared passion for the art of brewing. Renowned as the birthplace of Starbucks, the city has more than earned its place on the global coffee map. Yet, Seattle's coffee culture transcends its iconic status; it's a living testament to the city's identity.
Seattle's coffee culture is a celebration of brewing techniques. From the intricacies of pour-overs to the delicate espresso extracting locally roasted coffee, the city's coffee artisans bring precision, expertise, and creativity to each cup. It's a place where baristas are skilled artists and locals and visitors can connect over great tasting coffee.
Caffe Vita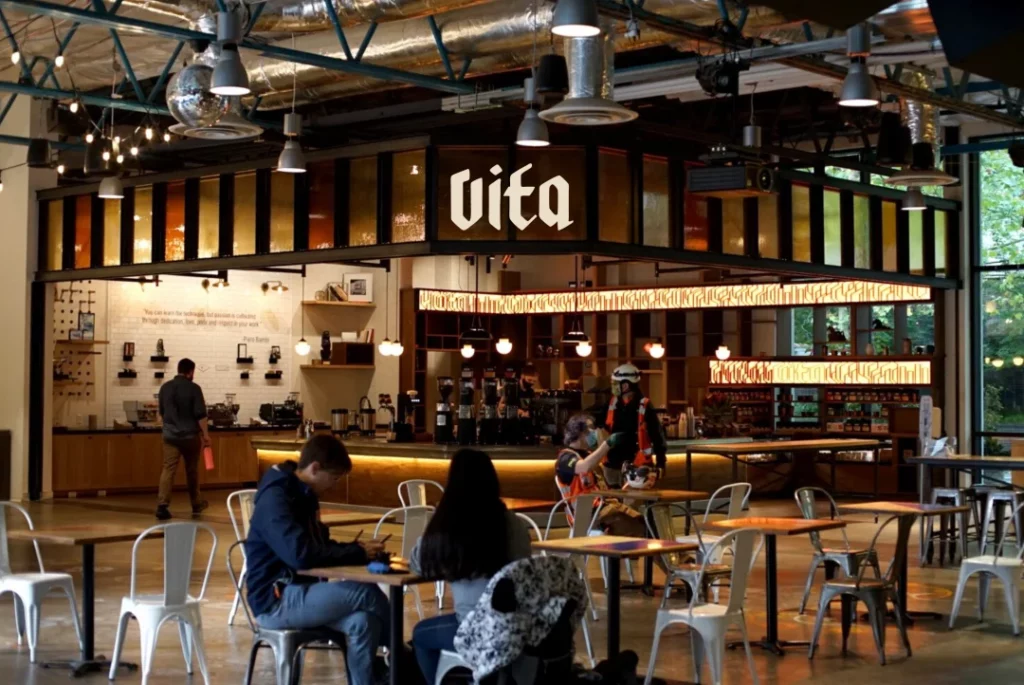 In the bustling coffee scene of Seattle, Caffe Vita stands as a testament to the transformative power of coffee. Established in 1995, this coffee roasting company believes that coffee has the ability to change lives, and they've been dedicated to this mission for decades.
Caffé Vita's commitment to quality is evident in their meticulous sourcing process. They work closely with coffee growers and millers around the world, ensuring that every bean is of the highest standard. Roasting on vintage German machines, they bring out the best in every batch. Their award-winning baristas then craft these beans into cups of coffee that are nothing short of exceptional.
The company's history is rich, with its roots in Seattle's Queen Anne neighborhood. Founded by Mike McConnell, Caffé Vita was an early advocate of the Farm Direct movement, emphasizing direct relationships with coffee farmers. This approach bypassed the traditional fair trade system, ensuring a more transparent and sustainable coffee supply chain.
In 2020, local restaurateur Deming Maclise took over ownership, bringing a renewed vision and commitment to the brand. Under his leadership, the company has continued to innovate, launching initiatives like the "Coffees for a Cause" line, which donates a portion of sales to various non-profits.
Caffé Vita's flagship cafe, roastery, and company offices are located at 1005 East Pike Street in Seattle. They operate several other cafes around the city and have expanded their presence to places like Phoenix, Arizona, and New York.
Caffé Vita has been deeply involved in community initiatives, from training homeless youth to become baristas to supporting various local events and festivals. Their commitment to sustainability and direct relationships with farmers sets them apart in the coffee industry.
Milstead & Co.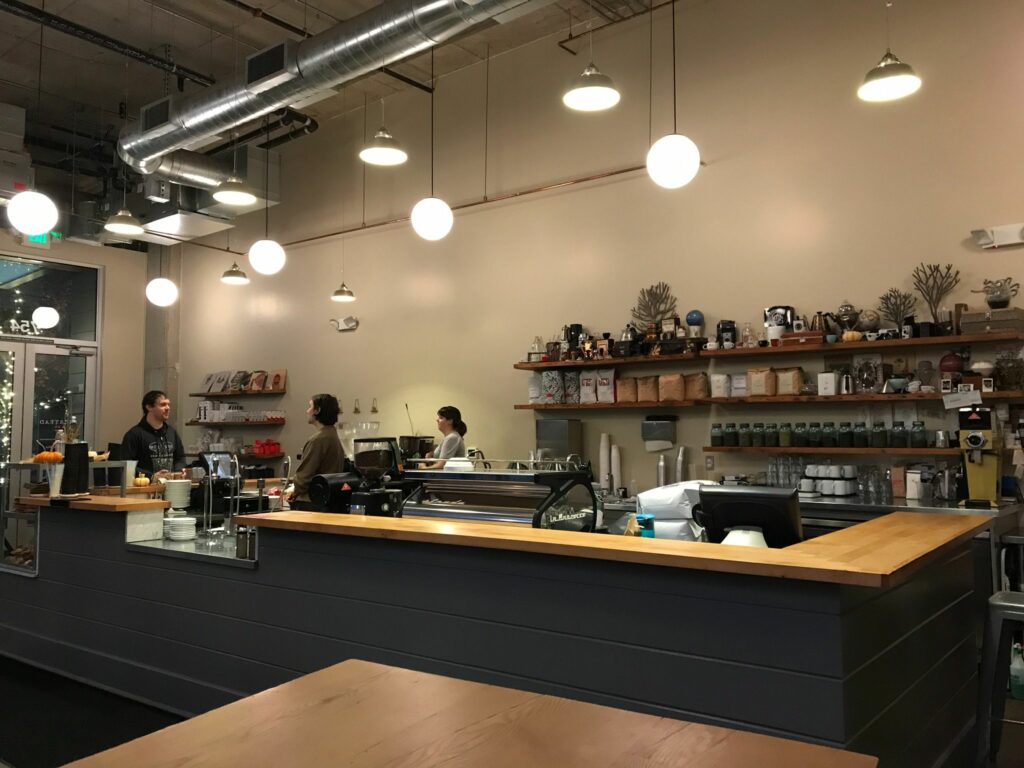 Located in the vibrant neighborhood of Fremont, Milstead & Co. stands out not just for its exceptional coffee but also for its commitment to the entire coffee journey. From the passionate farmers who cultivate the beans to the skilled roasters who prepare them, every step is taken with utmost care and dedication.
Milstead & Co. proudly features fine coffees from renowned roasters such as Stumptown, Intelligentsia, and Coava. Their baristas, well-versed in the art and science of coffee brewing, ensure that every cup served is a testament to the coffee's origin and the craftsmanship involved in its preparation.
Beyond coffee, Milstead & Co. is also particular about the milk, chocolate, and pastries they offer, ensuring that every aspect of your coffee experience is nothing short of exceptional.
The shop itself is a reflection of Fremont's unique personality, a place where every day offers something new and different. Whether you're a local "Fremonster" or a visitor, Milstead & Co. promises an experience that's both familiar and refreshingly different.
Elm Coffee Roasters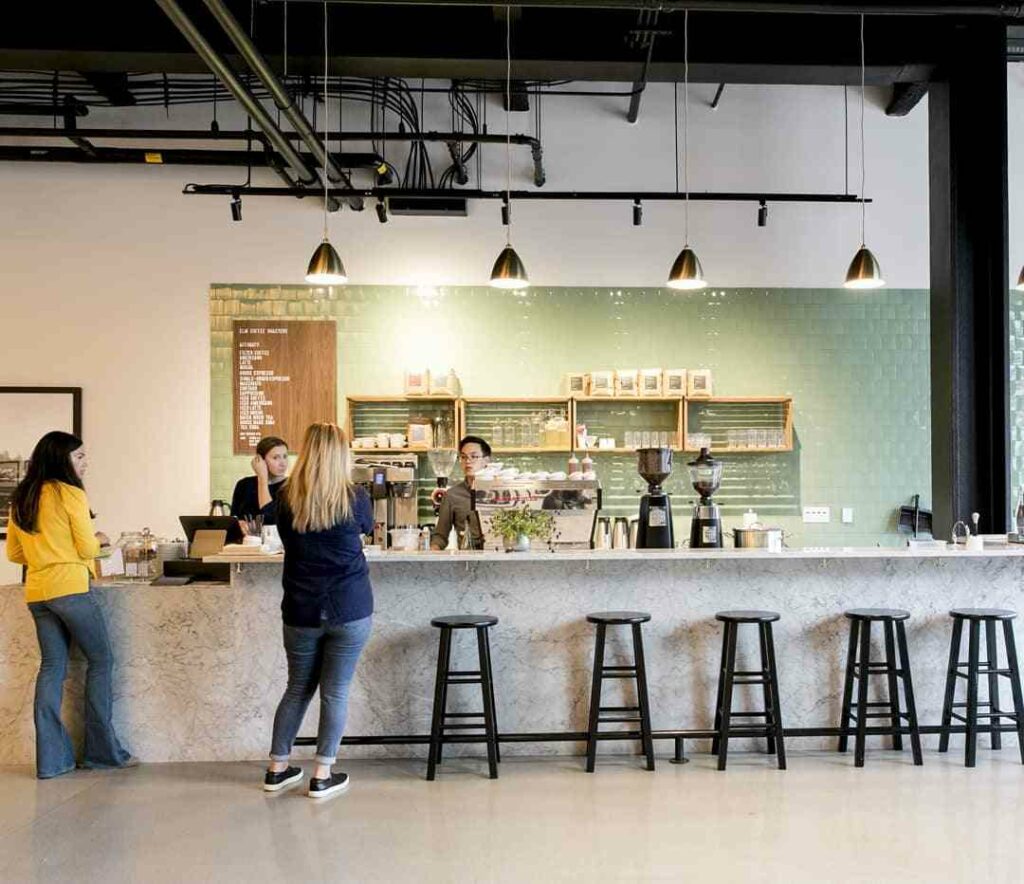 Elm Coffee Roasters is known for quality and craftsmanship in Seattle's coffee scene. Their commitment to sourcing unique coffees from remarkable producers is evident in every cup they serve. Their roasting philosophy is simple yet profound: roast the beans until they taste great, and no further. This ensures that the natural flavors and nuances of the coffee shine through in every brew.
The ambiance of their cafe is both inviting and modern. With high industrial ceilings and a bank of windows that flood the space with natural light, it's a place where you can truly relax and savor your coffee. The roasting operations are transparently showcased through a glass divider, allowing you to witness the magic behind their favorite brews.
Their drink offerings are both classic and innovative. A standout is the espresso tonic, a refreshing blend of fizzy tonic water and floral espresso notes, priced at $5. While they offer delectable morning pastries, they tend to run out by the afternoon, so it's best to get there early if you're looking to pair your coffee with a treat.
The staff at Elm Coffee Roasters are not just baristas; they're coffee enthusiasts. They might look like they belong in indie-rock bands, but they're friendly, laid-back, and deeply passionate about coffee.
Whether you're traveling through the King Street train station or exploring the galleries in Pioneer Square, Elm Coffee Roasters is worth the detour.
Storyville Coffee Company
Storyville Coffee Company is not just a coffee shop, it's an experience. Founded in 2006 on Bainbridge Island, Storyville has been passionately roasting coffee and shipping it fresh to customers worldwide. Their dedication to excellence is evident in every detail, from the artful roast of their beans to the meticulously crafted cup of coffee they serve.
Their commitment to quality is further shown in their roasting process. They pride themselves on sourcing the finest beans, ensuring that only the top 2% make the cut. Once selected, their roastmasters individually roast each bean varietal, combining them to create the smoothest, boldest blend. This dedication ensures that customers always receive the freshest coffee, shipped immediately after roasting.
Storyville Coffee Company's presence at Pike Place Market is their first retail venture. This coffee shop is more than just a place to grab a drink, it's a destination. It features a full espresso menu, freshly baked pastries made from scratch, and a range of Storyville Hardware products. The space is designed for customers to sit, relax, and immerse themselves in the Storyville experience. Located on the top floor of the Corner Market Building at First Avenue and Pike Street, it offers a unique vantage point to enjoy the iconic surroundings of Pike Place Market.
Over the years, Storyville has been recognized for its quality and ambiance. It was selected as the best coffee shop in Washington by "Eat This, Not That" in 2019, and was named the coziest coffee shop in the state by Insider. Furthermore, USA Today recognized Storyville Coffee as one of the top 10 roasters in America.
Analog Coffee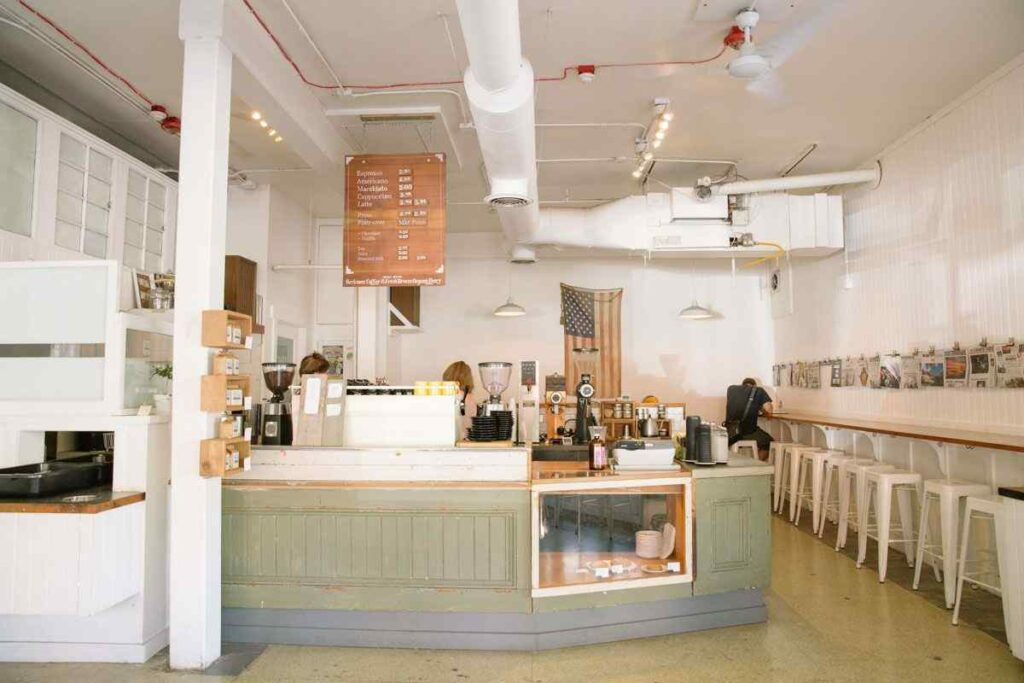 Analog Coffee, located on Summit Avenue, is a haven for those who cherish tactile experiences. The ambiance of the shop is a blend of nostalgia and modernity. Magazines and newspapers hang from the walls, while a diverse record collection provides a rich backdrop, ranging from the Jackson 5 to Destroyer.
The coffee experience at Analog is both unique and unhurried. Drinks are crafted with precision and care, whether served in a fancy Gibraltar glass or a vibrant orange mug. The staff ensures that every cup is a testament to their passion for coffee, offering meticulous attention to detail without any unnecessary fuss.
Beyond just coffee, Analog Coffee has made headlines for its ventures into breakfast. The shop has been recognized for its innovative approach to cold brew, experimenting with unique combinations like tonic water, hops, and even cannabis. Their aptly named "B-Side" offers English muffin sandwiches and a "healthy without harping on about it" menu, perfect for those looking for a nourishing start to their day.
The essence of Analog Coffee is captured in its commitment to creating a space that feels welcoming and familiar. It's a place where service is paramount, and the bond between the barista and the customer is cherished. As described by Seattle Coffee Scene, the baristas at Analog Coffee are personable and unpretentious, a refreshing change from the snobbishness sometimes encountered in other coffee shops. The unique vibe of the shop, coupled with its excellent music choices, makes it a standout in Seattle's coffee scene.
Slate Coffee Roasters
Slate Coffee Roasters is a beacon of specialty coffee in Seattle. Founded in 2011, this family-owned roasting and retail company has been dedicated to delivering quality coffee experiences to its customers. Their philosophy revolves around collaboration, and they actively pursue relationships with everyone involved in the coffee journey, from the producers to their community and guests.
Their approach to coffee is unique and transparent. They seek out coffees that have a distinct character, and they aim to provide customers with a glimpse into the story of their coffee. This includes sharing details about the region, district, elevation, processing, and more. Their roasting philosophy, termed "exposure roasting," is about roasting the coffee beans just long enough to highlight their inherent characteristics without overshadowing them. This method aims to honor the hard work of the coffee producers and to bring out the best in every bean.
Slate Coffee Roasters has multiple outposts across Seattle, with each one exuding a bistro-esque, boutique ambiance. Their Ballard location, though small, offers a cozy spot by the windows, making it an ideal place to relax on a lazy weekend. One of their signature offerings is the "deconstructed" espresso with milk. For those looking for a unique coffee experience, Slate offers a tasting flight that includes three different coffee varieties served in wine glasses, showcasing their commitment to elevating the coffee experience.
Beyond just coffee, Slate Coffee Roasters is also recognized for its modern coffee bars where coffee is brewed with both intention and innovation. Whether you're looking to spend some quality time in their intimate cafes or grab a cup to go, Slate promises unparalleled hospitality and a memorable coffee experience.
Fonté Café
Fonté Café and Wine Bar, located on 1st Ave in Seattle, is a delightful blend of coffee craftsmanship and wine expertise. This establishment offers more than just your average coffee experience. For coffee aficionados, Fonté Café provides drip coffee from their Special Selection menu, allowing guests to indulge in cuppings, the coffee equivalent of a wine flight. This unique experience allows customers to contrast different coffee origins and roasting methods, deepening their appreciation for the brew.
But Fonté isn't just about coffee. They also boast a selection of 12 wines by the glass and 21 bottles, catering to both casual wine drinkers and connoisseurs. For those with a penchant for beers, Fonté rotates a local lager, IPA, and seasonal offerings on tap, complemented by two other international beer selections.
The café's ambiance is both sophisticated and welcoming, making it an ideal spot for breakfast, brunch, lunch, dinner, or even a happy hour. Whether you're looking to start your day with a robust coffee, enjoy a leisurely brunch, or unwind with a glass of wine in the evening, Fonté Café and Wine Bar promises a memorable experience.
Seattle Coffee Works
Located near the iconic Pike's Place Market, Seattle Coffee Works offers a unique and immersive coffee experience. Established with a mission to make coffee better in terms of quality, equity, sustainability, and transparency, they have been serving amazing coffee, fostering kind relationships, and creating cozy experiences since 2006.
Seattle Coffee Works is an innovative café. Unlike many other cafes, they offer a potential two-for-one experience with their express bar, which provides the usual quick coffee service, and their "slow" bar. The latter allows customers to step into a coffee tasting room, giving them the opportunity to sample various brewing methods and truly savor the flavors of their chosen brews.
The ambiance of the café is designed to transport you away from the bustling traffic outside, providing a serene oasis in the heart of the city. They roast their own beans, offering a diverse selection of coffee blends from regions like East Africa, South America, Central America, and Indonesia. Their "Obama Blend" is a notable offering, combining varietal beans from Indonesia and East Africa.
The atmosphere at Seattle Coffee Works is relaxing and calm, making it an ideal spot to unwind. The baristas are known for their friendly and chatty demeanor, ensuring every visitor feels welcomed. Their coffee is highly regarded, earning a strong 5 out of 5 stars from Seattle Coffee Scene. With ample space to enjoy a latte with friends or browse online, the café manages to maintain a cozy feel despite being just a few feet away from throngs of tourists.
For those visiting Pike's Place Market, Seattle Coffee Works is a must-visit. While the famous first Starbucks is just around the corner, Seattle Coffee Works promises higher quality coffee, shorter wait times, and a more intimate setting.
Starbucks Reserve Roastery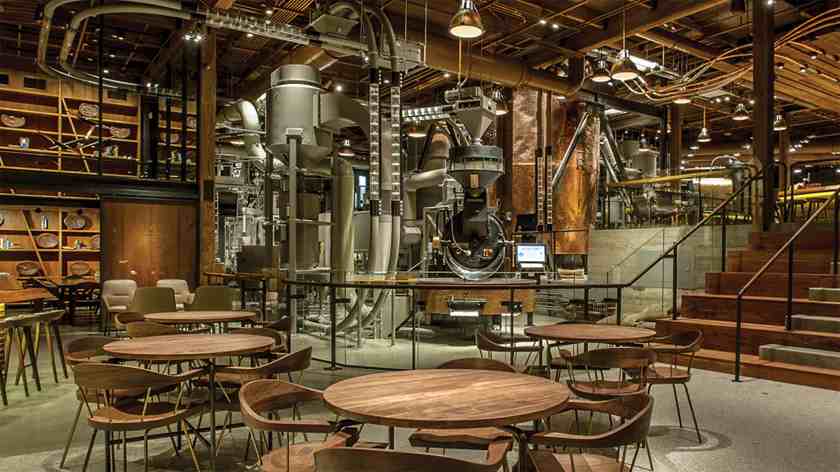 Starbucks Reserve Roastery in Seattle is a testament to the brand's evolution and its commitment to innovation in the world of coffee. Located in the bustling Capitol Hill neighborhood, just nine blocks from the original Starbucks Pike Place store, the Seattle Roastery opened its doors in December 2014. It stands as an immersive and dramatic expression of Starbucks' passion for coffee.
The Roastery is not just a place to grab a coffee; it's an experience. It offers an immersive journey into the world of coffee sourcing, roasting, and crafting. The space combines the art and craft of coffee in a meticulously designed environment, boasting an impressive mix of bars and custom details. Visitors can explore the entire roasting process, learn about different brew methods, and delve into the unique origin stories of the coffee beans.
Thrillist describes the Roastery as an "absolute playground for coffee lovers," offering a deep dive into how Starbucks sources, roasts, and crafts its beverages. The location even boasts a library with over 200 titles on coffee, fresh-baked Italian fare, local Fran's Chocolates, and coffee pairings, as well as coffee-inspired cocktails.
Historically, the Roastery occupies a building constructed in the 1920s, in an area known as "Auto Row" due to the numerous car dealerships that once operated nearby. Over the years, the Roastery has not only been a place for coffee lovers but has also seen its workers push for unionization, with a strike organized in June 2023.