Rook Coffee is a brand that has exploded in recent months, and there's a good reason why. Their incredible selection of cold brew coffees, coffee subscription services, and coffee beans are just part of the reason why. Their popularity is also down to their physical locations, where they serve awesome coffee with the atmosphere to go with it.
As with every brand, there is a story behind its success and popularity. If you want to find out more about Rook Coffee, then keep reading. If you like exploring different coffee brands, check out Blue Bottle coffee.
What is Rook Coffee?
Rook Coffee was created in 2010 by two childhood friends who swapped their 9-5 corporate jobs to follow their passion for coffee. Holly and Shawn were inspired by how coffee was able to bring people together and create connections. This inspired them to start their own specialty coffee business.
Rook Coffee didn't start as a trendy, modern coffee place, in fact, it's the total opposite of that. They started in a 300-square foot shack with only a few batches of coffee in hand to roast. Fueled by their passion for coffee, these two coffee connoisseurs were able to grow their business with 12 stores spread out over New Jersey across nine years.
Holly and Shawn believed in three core values to make their business work and that is quality, simplicity, and experience. They believed that in order to produce great-tasting coffee, quality should be the solid foundation. Rook coffee strives for perfection, and you can definitely taste the perfection in every cup.
Their belief is that people should leave all their troubles behind and enjoy their cup of coffee, in the moment.  This act of simply enjoying a cup of joe brings the people to their third core value, which is experience. Just you and the connections you make along with your coffee cup. That's the experience that Rook coffee wants to share with people.
What is Special About Rook Coffee?
At Rook Coffee, they make sure that what they're selling to their customers is always of high quality. They achieve this by focusing on sourcing quality coffee beans, roasting to perfection, and ensuring that coffee is brewed while it is still fresh. This is achieved by roasting coffee beans on-site.
Rook Coffee sources beans from Costa Rica, Turkey, Bali, Nicaragua, Columbia, Sumatra, Guatemala, and Ethiopia. This gives customers a vast selection of flavors when choosing to order coffee in-store or online. When you order coffee beans in-store or online, they will prepare the best grind size for your order. 
One of the main focus points of Rook Coffee is quality testing. This is a process that is followed throughout the journey of their coffee, from seed to cup. They select the highest quality beans, follow the best roasting methods, brew to perfection, and even taste test their products. This ensures that customers get the best out of every cup,
Everything from the customer journey to the quality of the coffee is considered with Rook Coffee. So whether you order coffee beans online or visit an in-store location, you won't be disappointed.
What to Order at Rook Coffee?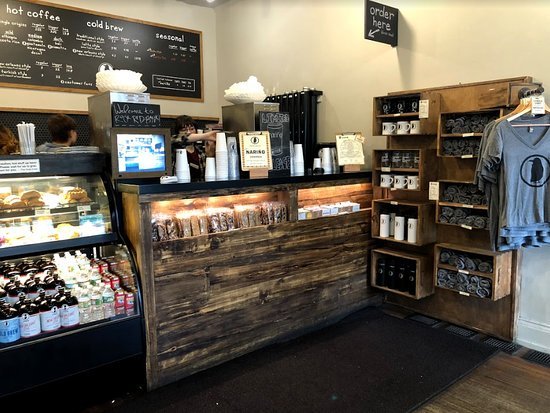 Depending on the location, it can be a coffee bar for take-out orders or can be a big chain that not only serves great coffee but also offers breakfast options and lounging areas. Although they offer sweets and pastries in some of their chains the main focus of Rook is coffee this is why food options are limited. 
When visiting the in-storelocation, make sure that you try their signature New Orleans Style cup of joe. It's a dark roasted coffee with a full-bodied flavor with a smooth note and chocolate taste. Because most Rook Coffee shops are small, they offer text-to-order options to make it more convenient for customers, so they don't have to wait and stand in long queues. 
Aside from their dine-in and text-to-order option, you can always have your favorite Rook Coffee delivered right to your doorstep by ordering online. 
What to Order at Rook Coffee Online?
With the online options, there is much more to choose from, not just coffee. You can purchase coffee beans, coffee subscriptions, coffee gifts, merchandise, and gift boxes. If you aren't looking to order anything, you can also check out recipes and brewing guides for some inspiration.
Here are our top choices to order online at Rook Coffee:
Top 3 Coffee Selections to Order
New Orleans Style – $16.25 – New Orleans Style is a dark roast coffee that offers a bold, smooth, and chocolatey flavor. 
Bali – $15.25 – Bali is a classic dark roast that offers a dark chocolatey taste with velvety notes. 
Ethiopia – $15.25 – They compare their Ethiopian coffee bean as tea-like with its floral and bright flavor. 
Top 4 Cold Brew Coffees to Try
Is Rook Coffee Only in NJ?
As of 2021, Rook Coffee only has locations in New Jersey. The popular coffee chain now has 12 locations in the state and also sells products on their online store. There could be expansion plans in the future, but that may have been delayed due to the pandemic.
We would love to see them expand all over the USA and eventually the world, but this would take a very long time!.
Key Take Away
For the avid coffee lovers, try Rook Coffees subscription coffee where you can choose from any of their coffee options, from the most popular New Orleans Style to Bali coffee. Their coffee subscription package starts at $14.50. Choose to get your coffee weekly, biweekly and monthly. 
Don't forget to head into one of their stores if you visit NJ and try their Rook Coffee cold brew too!