If you're like most people who enjoy creamer in their coffee but hate all the preservatives, artificial flavors, and sweeteners that come with store-bought creamers, then you'll definitely love this homemade coffee creamer recipe. Not only it is made with natural ingredients, but it also tastes better than processed creamers.
It may seem like a long process to make a coffee creamer from scratch, but it actually takes no time at all, and the taste difference is worth it. You can also adjust the recipe to your liking and make triple the amount if you use more.
If you really want to take it to the next level, you can add other ingredients that match your taste preference. Just make sure you test one ingredient at a time, otherwise, you might ruin the recipe entirely!
You can also check out this homemade pumpkin spice latte recipe if you enjoy making homemade coffees.
How to Make Coffee Creamer at Home
You can make coffee creamer at home with a few simple ingredients including condensed milk, maple syrup, arrowroot starch, and vanilla extract. It is a healthier alternative than store-bought creamer and can be much cheaper in the long run.
Even though creamers add a lot of flavor to your cup of joe, most store-bought creamers contain a lot of chemicals, added sugar, and additives that most people want to avoid. So in order to save you from all those unnecessary ingredients, here is a homemade coffee creamer for you to make.
The Perfect Recipe for Homemade Coffee Creamer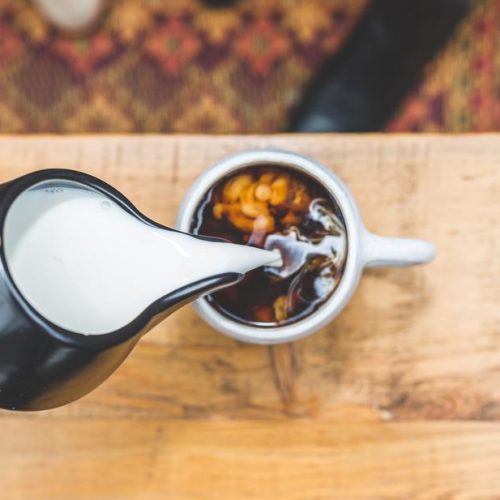 Homemade Coffee Creamer
Make a delicious homemade coffee creamer with natural ingredients, better than store-bought creamers.
Ingredients
1 1/2

cup

Sweetened Condensed Milk

1

cup

Milk

1

tbsp

Pure Maple Syrup

1

tsp

Arrowroot Starch

1

tbsp

Pure Vanilla Extract
Instructions
For Sweetened Condensed Milk:
In a saucepan, combine milk and sugar and whisk it thoroughly over low to medium heat. Continue mixing for about 15 to 20 minutes or until you get a nice and thick mixture.

Turn off the heat and add your baking soda while the saucepan is still hot.

Set aside to cool down. Once the mixture cools, it will thicken and will be ready to use.

You can place It in an airtight container and refrigerate your homemade sweetened which will last for weeks.
For Homemade Coffee Creamer:
In a saucepan, mix your homemade condensed milk, milk, maple syrup, and arrowroot starch over medium heat.

Blend the mixture properly and let it cook for about 6-8 minutes or until it starts to thicken and you can see bubbles beginning to form.

Remove the saucepan from the heat and add your vanilla extract.

Stir the mixture until the vanilla is mixed in properly and let the mixture cool down.

Once the mixture has cooled down, pour it into an airtight container and store it in the fridge until you're ready to use it.

Make sure to use it as soon as possible. Your homemade coffee creamer will last for around 7 days.
Notes
For your milk, you can either use heavy cream, whole milk, half-and-half, skimmed milk, or almond milk as a replacement for milk depending on your preference. 
Is it Cheaper to Make Your Own Coffee Creamer?
It is cheaper to make your own coffee creamer, and you can save up to $30 a month by making it at home. It will cost you money for ingredients initially, but these ingredients will last you a long time and enable you to make coffee creamer over and over again.
What Can I Use as a Substitute for Coffee Creamer?
If you don't want to drink coffee creamer, you can replace it with sweetened milks such as Almond Milk, Coconut Milk, and Oat Milk. These kinds of milk are sweetened naturally and will give you a different flavor to your coffee every time.
Can You Gain Weight From Coffee Creamer?
Yes, coffee creamer can be very high in calories and fats. Consider switching to a healthier alternative such as a homemade recipe with natural ingredients, low-calorie creamers, or protein coffee creamers.
The Final Sip
Homemade coffee recipes are great to try out and can help you to discover new flavors and ways to enjoy your drink. If you like this recipe, leave a comment below with how you did it! If you tried a slightly different way, let us know that too!