Finding the right coffee machine has never been easy, especially as there are so many brands out there that claim to be the best of the best. However, when it comes to Breville coffee makers, you can expect high-quality coffee makers and a selection of different models to suit your needs.
Breville is actually well-known for producing some of the best household appliances, so you can rest assured that you are purchasing a good-quality coffee maker. They are so popular that even big names like Nespresso pursued a collaboration with them on coffee machines.  
Although the prices of Breville coffee machines seem to be on the higher end of the spectrum, most people claim that the Breville brand is worth every penny. If you find it is too expensive, you can also check out the best Walmart coffee makers that are more affordable.
We now have an up-to-date article for 2022.
Related article: best coffee machines 2022
| | | | |
| --- | --- | --- | --- |
| 1. Breville Barista Express Espresso Machine | | | |
| 2. Breville Oracle Touch Espresso Machine | | | |
| 3. Nespresso Vertuo Coffee Machine with Aeroccino by Breville | | | |
| 4. Breville Nespresso Creatista Plus | | | |
| 5. Breville Café Roma Espresso Maker | | | |
| 6. Breville Barista Touch Espresso Machine | | | |
| 7. Breville Duo Temp Pro Espresso Machine | | | |
| 8. Breville Dual Boiler Espresso Machine | | | |
| 9. Nespresso VertuoPlus Deluxe  by Breville with Aeroccino3 | | | |
| 10. Breville the Precision Brewer Thermal 12-Cup Coffee Maker | | | |
Background on Breville
When two friends, Bill O'Brien (a radio salesman) and Harry Norville (an engineer), decided to collaborate in creating a company that would market and sell small household appliances, they weren't expecting how successful their business venture would become. 
Breville didn't start making household appliances until the late 50s when the brand stepped into the world of televisions replacing radios. In fact, the company started by manufacturing radios in 1932 during the national economic depression and made its way into making mine detectors during World War II.
The Breville company originated in Sydney, Australia, and the brand name is a combination between Bill O'Brien and Harry Norville's name. Breville is currently famous for its high-standard coffee makers.
How to Determine the Best Breville Coffee Maker for You?
When choosing the best coffee maker for you, you need to consider three things. 
The Size of the Breville Coffee Machine
First, you need to take into account the brew size of the coffee maker and how many cups it can accommodate in one go. 
When choosing from the different variations of Breville coffee makers, first you need to determine how many in your household will be using the machine on a regular basis. A good-sized coffee maker should be able to accommodate everyone's coffee need in one brew. This will not only save you time, but will also help you lessen the cost of brewing.
The Price of the Breville Coffee Machine
The second factor to consider is the price of the coffee machine, and whether it fits your budget or not. You can expect to pay a couple of hundred dollars for a beginner coffee machine, and that price can go all the way up to $5,000 for a top-of-the-line machine.
If money is not a problem when it comes to purchasing, then opt for the best quality and the best Breville coffee maker you can get.  
The Additional Features of the Breville Coffee Machine
The last factor to consider is the additional features the machine offers and whether or not it fits your requirements. For example, do you want to make black coffee only? Do you want a milk frothing attachment? Or do you want a full barista-grade coffee machine with all the bells and whistles?
Some Breville coffee machines are equipped with options that go beyond brewing. These coffee makers can include features like maintenance alerts, flexible shot control, 3-second heat-up, automatic shut-off, 24-hour pre-set timers, filter options, and a cup-warming plate to keep your coffee warm throughout the day. So when you choose a coffee maker, choose wisely. 
---
---
10 Best Breville Coffee Makers for 2021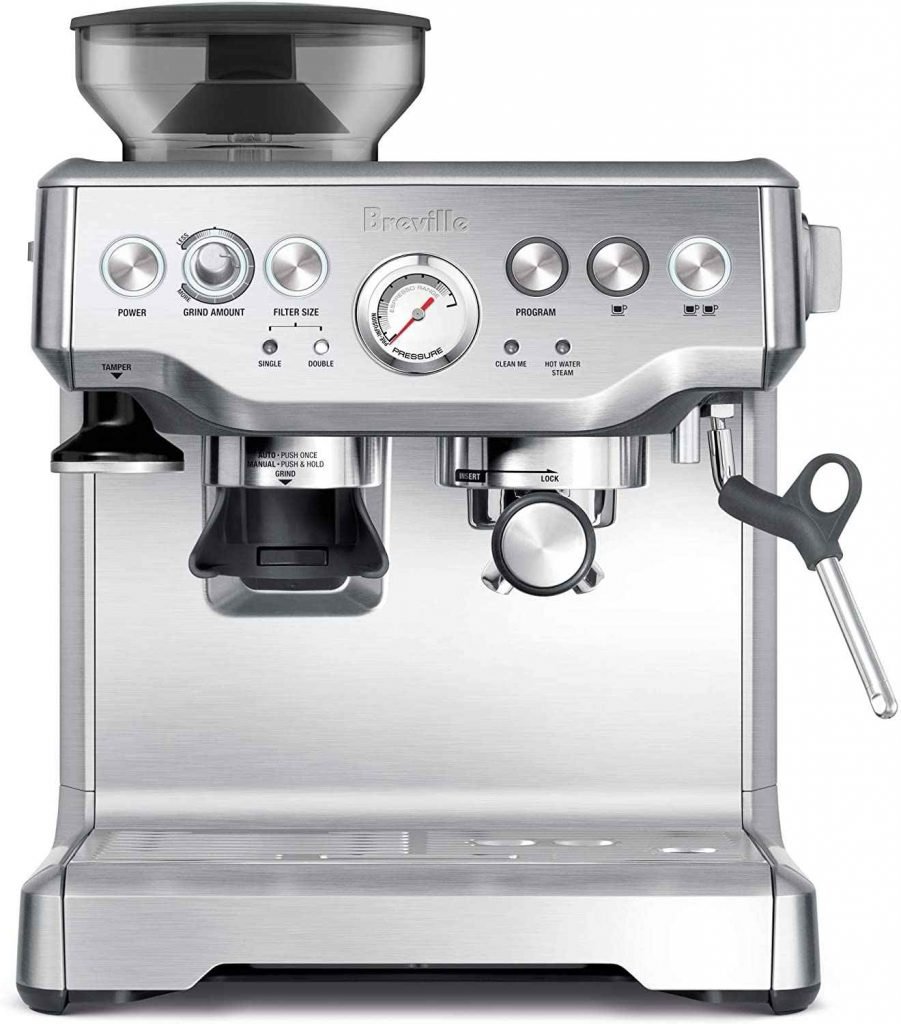 This espresso machine features a 15-bar Italian pump with a 25-shot capacity, which allows you to serve drinks for a group at ease. It also offers a programmable controls to suit your future coffee making needs. 
The Electronic PID Temperature embedded in the machine allows you to have a consistent temperature. It also offers a sleep mode which will be activated after 1 hour to ensure that you don't accidentally leave the espresso machine on. 
The Breville Oracle Touch features a touchscreen option where you can swipe and select your favorite coffee drink. Choose between an espresso, long black, latte, cappuccino, and flat white all with just one swipe of your finger. 
Say bye to your manual grinder since this machine offers an integrated grinder, where your whole beans are automatically ground before brewing to get the freshest result. 
The Oracle Touch also features a dual boiler system, where it lets you boil coffee and steam milk at the same time. 
This coffee maker offers an automatic shut-off feature to ensure that you won't accidentally leave the coffee machine on. It also allows easy water refilling with its removable water tank. The Nespresso Vertuo Coffee and Espresso Machine are equipped with an Aeroccino3 milk frother which allows you to create perfect frothed milk for your specialty drinks.
With high-quality coffee produced every brew, Breville Nespresso Creatista is worth every penny spent. It features a three-second heat-up time and an automatic steam wand. It also features an 11-milk temperature setting and three-shot options for espresso. The Nespresso Creatista boasts an integrated LED display that makes the machine easy to use.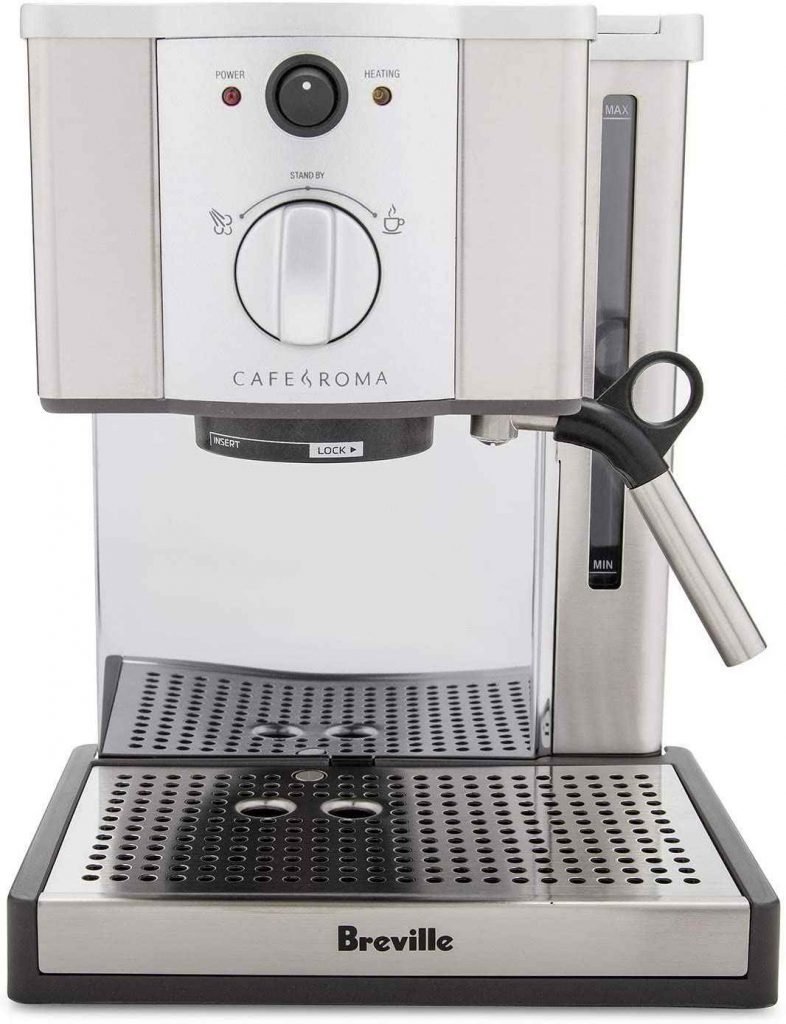 As far as the best Breville coffee makers goes, we had to include a budget option. The Breville Café Roma is a very simple espresso machine, but it's packed with great brewing features. It has three filter options where you can choose from a single shot of espresso, a double, or a pod. This machine comes with a steam wand and a cup-warming plate. 
Its design is great for people who prefer to have a simple machine over a highly complicated automatic machine. Breville Café Roma includes dual wall crema technology, which helps produce high quality and smooth espresso. 
With this coffee machine, the main feature is the touch panel. You can choose from a selection of coffee drinks from the menu and at the touch of a button have your coffee prepared. It has a coffee bean grinder built in and only takes 3 seconds to heat up, so you can enjoy a coffee in a matter of seconds.
You will get the perfect amount of coffee in every cup as the AI of the machine knows exactly how much to grind and put into your cup. This machine is great for those not on a budget and want a fully automatic coffee maker.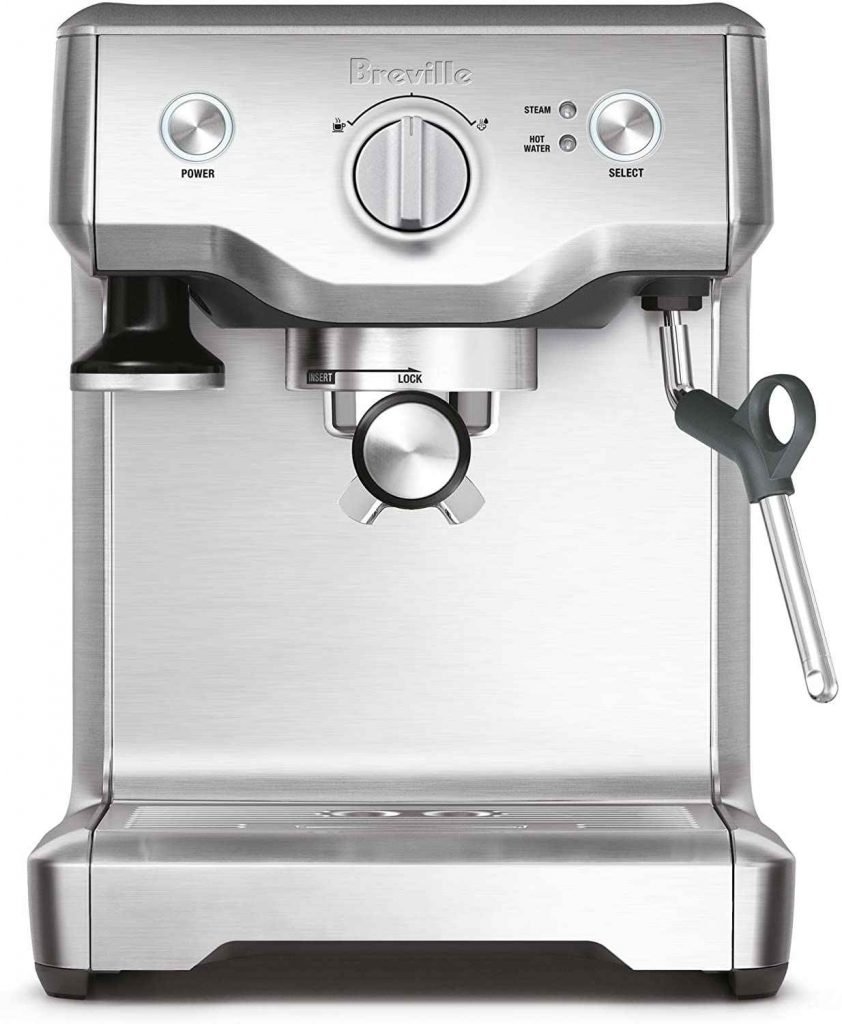 The key feature about this coffee maker is the extraction methods used for the coffee. It uses a low pressure and ensures that the flavors are extracted from the coffee precisely. The machine promotes making specialty coffee at home with low acidity and low bitterness.
It also has the ability to create lattes with microfoam, also allowing creation of latte art. There are a heap of other useful features, including a maintenance indicator, so you can keep the coffee maker in good condition.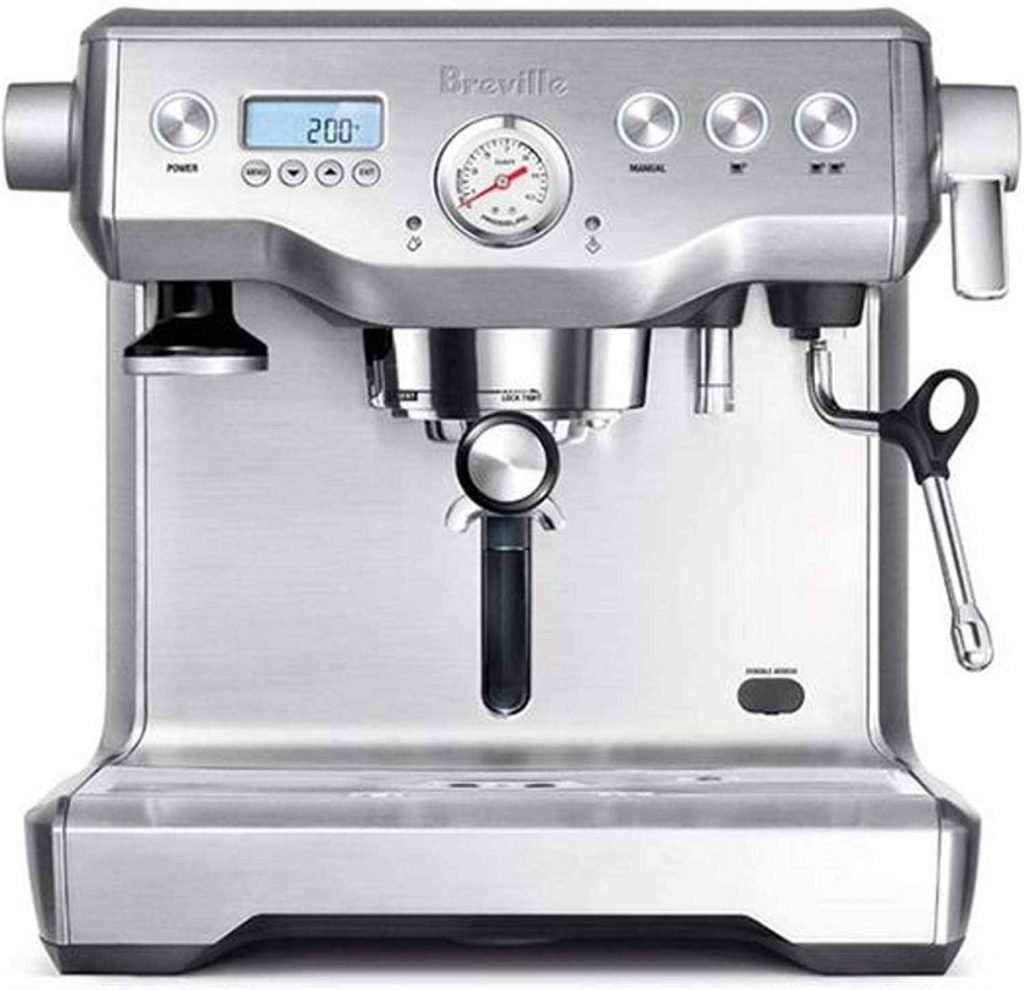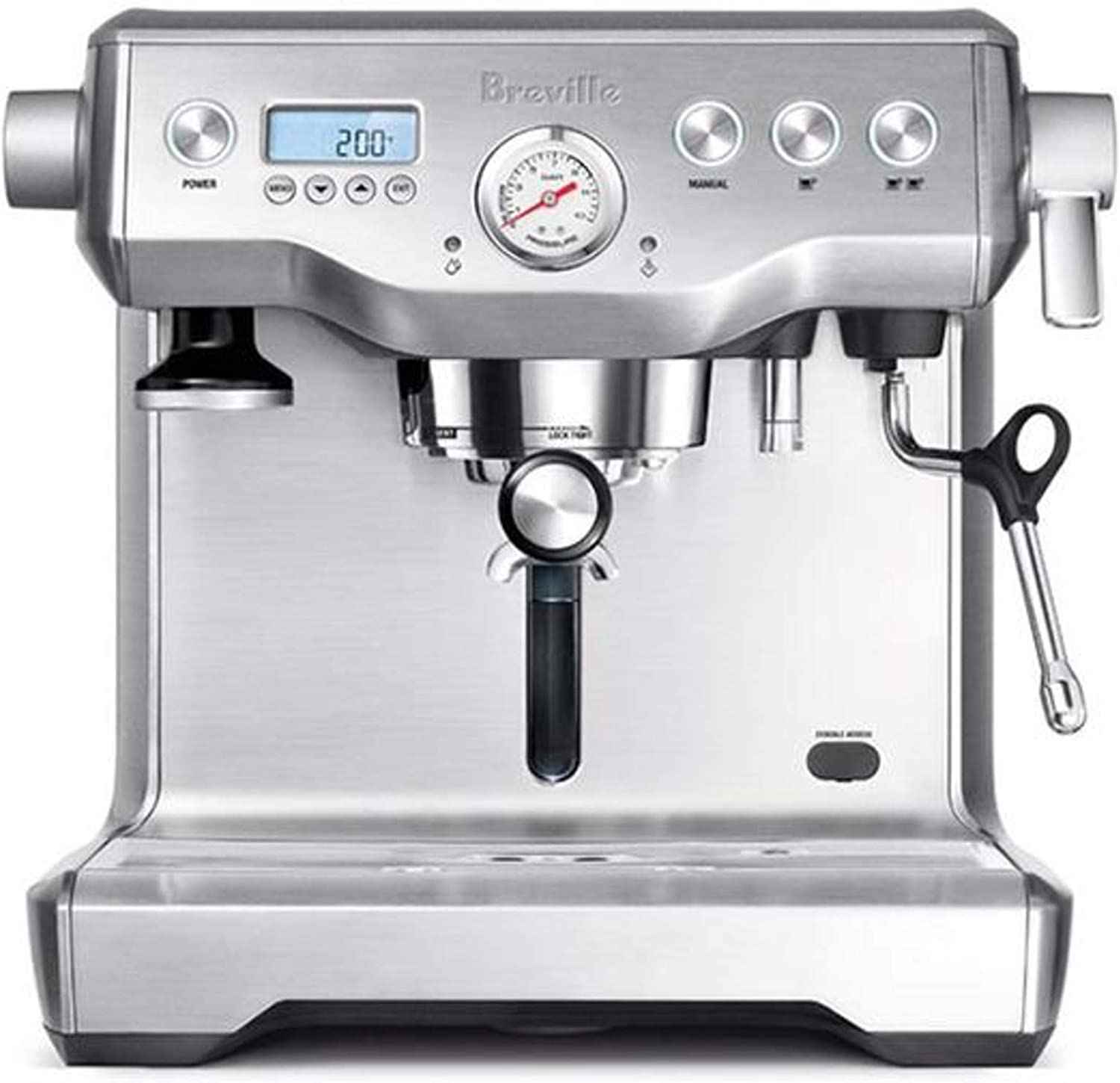 You are going to be looking at a hefty price tag with this Breville coffee maker, but it is a top of line machine. It has commercial features that produce specialty coffees at home. Everything is taken care of from the perfect grind to the perfect temperature. 
This machine boasts coffee extraction that reduces bitterness and acidity in your drink through optimum pressure and temperature. It has an LCD display and comes with a range of accessories. We recommend this machine for those who have an endless budget and want a high-grade coffee maker at home.
Another fine coffee maker that has resulted from a collaboration between Nespresso and Breville. The Aeroccino makes it very easy to produce a milky coffee, but you can also store it away if you don't use it. It can create the perfect cup of coffee in seconds and also can create different size cups.
This coffee maker is run using Nespresso pods rather than coffee beans. The good thing about this is the vast amount of premium Nespresso pods there are to try. This includes special edition versions too.
This one is slightly different from the others on the list, but when it comes to the best Breville coffee makers, we had to include a drip version. 
This coffee maker is actually a drip coffee maker. So you won't be making this brew in a hurry, especially compared to the other models above. It does have automatic presets and up to 6 different brewing modes, so you can create the perfect cup.
It is all automated, so you can just set it to brew and then come back when it's finished. Drip coffee takes longer and extracts more flavors. 
The Final Sip
That concludes the list of the best Breville Coffee makers. When it comes to making your purchase, weigh up the price, features, and benefits you would get from purchasing that machine.
So the next time you'll be shopping for great quality coffee makers, you definitely should check out the Breville brand since they are known for their quality coffee makers and other household appliances. You can also take a look at the best Braun coffee makers.
---
---