Texas proud and operated, Summer Moon Coffee started back in 2002 and has exploded in popularity, expanding to locations across the state ever since. There's a good reason why; they use a unique and innovative coffee roasting process that creates a great tasting coffee with no bitterness, but more on that later. 
Whilst they only have locations in Texas, those in other states don't have to miss out, and can order some of Summer Moon's awesome coffee online. Let's take a look a bit more at Summer Moon Coffee.
Related: Bulletproof Coffee
What is Summer Moon Coffee?
Summer Moon Coffee is a specialty coffee company that uses a wood-fired coffee roasting process. They are known for their rich, smooth, and robust taste, which also has a distinctive, balanced aroma. They take great pride in the fact that the beans are slow-roasted to perfection so they can maintain their unique flavors and aromas.
The idea behind Summer Moon Coffee is that coffee should be a part of everyone's life, and who doesn't agree with that?! The secret behind their success and what sets them apart from other coffee brands is their customer-centric approach, dedication to quality, and a strong focus on an inclusive community.
Summer Moon Coffee started with a simple idea – to make premium quality coffee at an affordable price. This family-owned coffee roasting business wanted to create something unique, something special for its customers… and they did.
The Interesting History of Summer Moon Coffee
Summer Moon Coffee has been around for almost 20 years. Founded in 2005 in South First St. Austin, Texas, this family-run business has now expanded to 30 locations across the state. 
This unique artisanal roaster began its journey in a seemingly ordinary local auction where they were able to acquire a winning bid on a piece of coffee equipment. This winning bid propelled them to open their first coffee shop in 2002 and they never looked back.
As they perfected their craft throughout the years, the demand for their craft increased. This paved the way for their expansion with the help of their close family friends who opened licensed locations all throughout Texas. 
Related: 7-Brew Coffee
---
---
Summer Moon Coffee Taste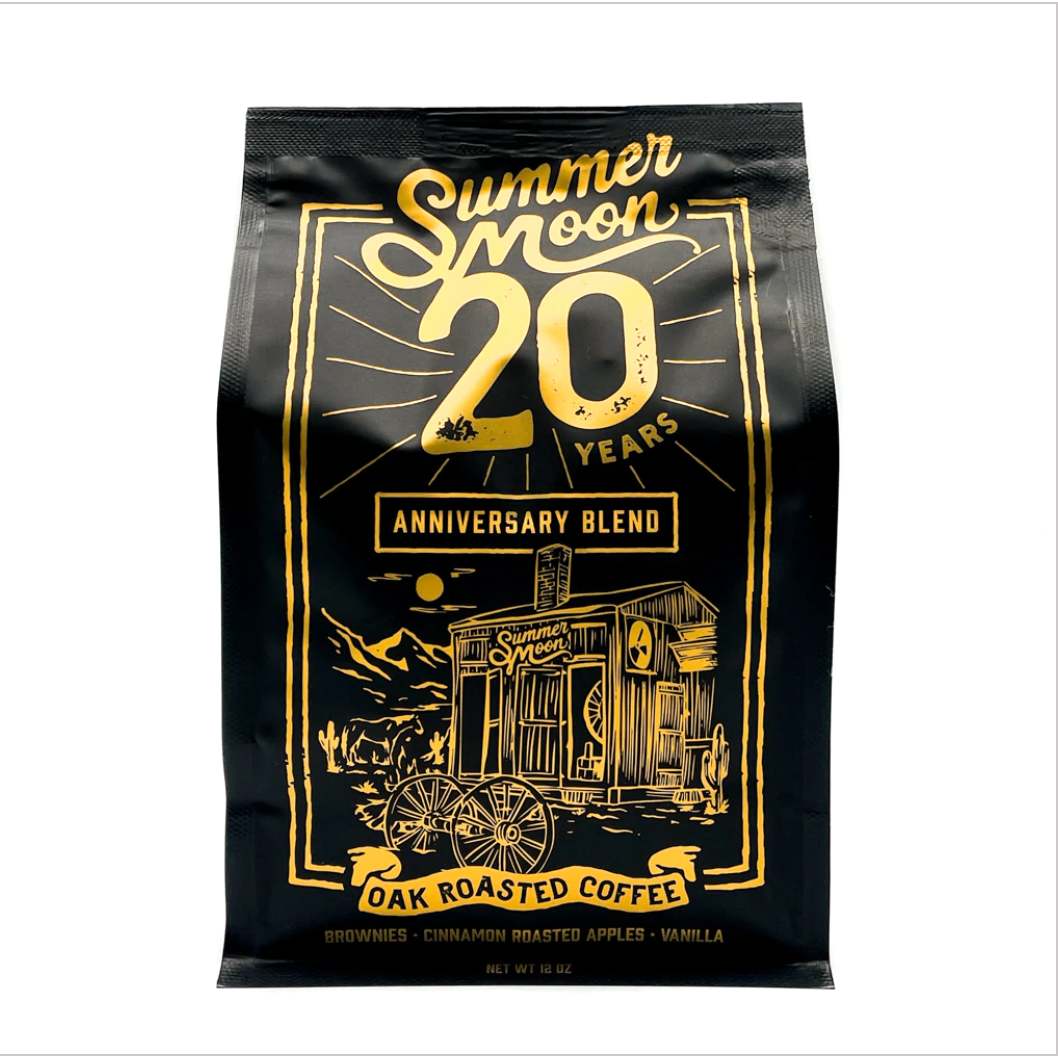 Summer Moon Coffee beans have a uniquely smooth and balanced taste, creating an enjoyable coffee drinking experience due to the wood-fired roasting elements. You will find that actual tasting notes differ depending on the type of coffee you purchase. Some have sweet chocolatey notes and some have fruity or earthy notes. 
Summer Moon beans are roasted at a high temperature in order to preserve their natural oils, which gives them a unique flavor profile. Using the fire roasting method, allows the roaster to remove 100% of the bitterness that comes with regular coffee.
Our Opinion: We tried the Anniversary Blend in a French Press and were pleasantly surprised. It was one of the best-tasting coffees we have ordered from an independent chain/roaster. The coffee was very smooth and sweet, it had a thicker body to it but that was still pleasantly enjoyable.
What Makes Summer Moon Coffee So Special?
Aside from the fact that Summer Moon coffee roasts its beans with oak wood fires, they don't use any chemicals or preservatives in the process of making their coffee.
Summer Moon Coffee believes that it's the natural process of roasting and brewing that make their coffee so special. That's why they only use natural ingredients like organic, fair-trade, and shade-grown beans sourced from Central and South America, Africa, and Indonesia.
They also follow the time-honored tradition of roasting and brewing over an open flame to create a taste experience unlike any other. Wood roasting is a slow, complex process that creates an even roast in each batch of beans, giving each cup its own unique flavor profile.
Related: Wandering Bear Coffee
The Art of Coffee Roasting at Summer Moon Coffee
Wood roasting is a process that is used to retain more unique flavors in the coffee beans. It produces a richer, smoother, and more balanced taste than the traditional method of using heat and pressure.
This method of coffee bean roasting preserves the natural oils in coffee beans which retain the unique flavors that each bean has. This results in a better-tasting coffee and being able to truly appreciate the flavors of the bean. By slow roasting, the coffee contains less acidity and a thicker cream and body for the coffee – which is ultimately the smooth texture you get for your cup.
The wood-fired coffee roasting process is an artisanal, time-consuming process that needs to be done with precision to ensure the same outcome every time. Drops in temperature, uneven fires, and many other factors can disrupt the roasting process. It requires skilled professionals to maintain focus and create these great-tasting coffee beans. 
"Roasters at Summer Moon Coffee do not rely on technology to help them with the roasting process instead they use their trained senses – sight, hearing, and smell."
The 3 key components of the wood-fired roasting process are the brick, the fire, and the wood. These three elements, aside from the beans themselves, is what give coffee its unique taste and aroma.
What is Moon Milk at Summer Moon?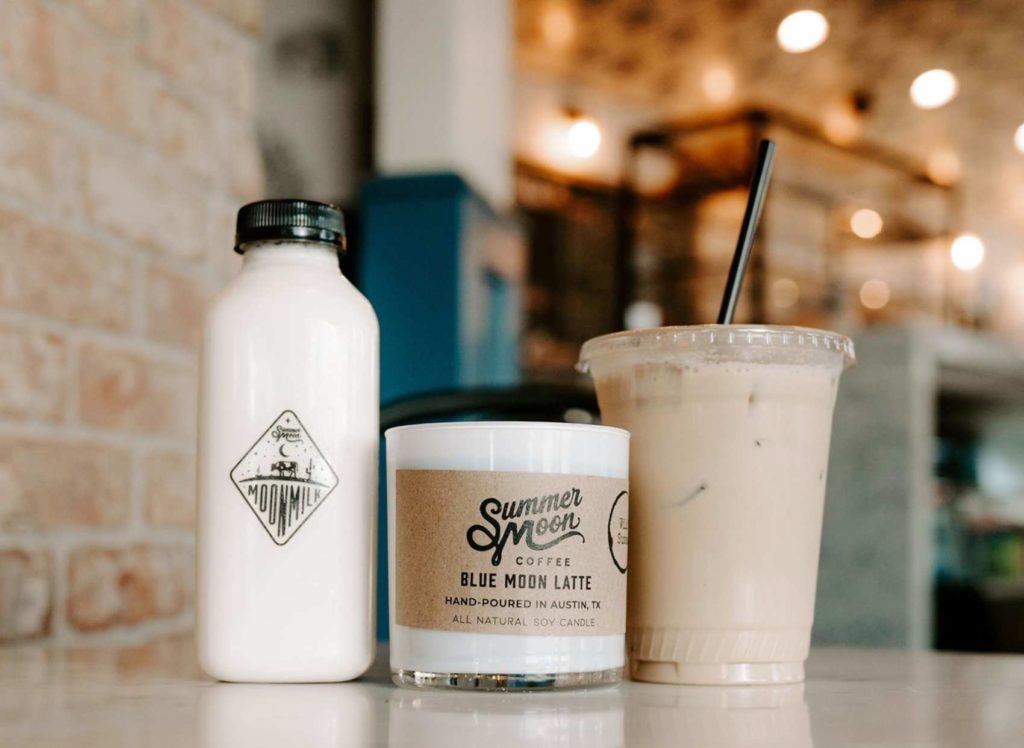 Moon Milk is a signature sweet cream created by Summer Moon Coffee. The recipe is secret and family-owned, it also contains 7 secret ingredients and can be made dairy-free too.
One thing that isn't a secret though, is how good it tastes and how good it makes lattes! We highly recommend you give it a try if you get to visit one of the Summer Moon locations.
Popular Summer Moon Beans
These are some of the most popular Summer Moon Coffee beans that you can order online:
---
---
Why is Summer Moon Coffee so Good?
Due to the wood-fired roasting process the coffee undergoes, the coffee tastes so good because the bitterness is removed and the coffee is smooth and full-bodied. Plus, the beans they use and source are from some of the best coffee-growing regions on the coffee belt.
The Final Sip
We loved tasting Summer Moon Coffee and think that it sets itself apart from many other coffee brands out there. We highly recommend that coffee drinkers try some of their coffee beans by ordering online or even better, head into a cafe in Texas to have a coffee made fresh.
---