Imagine a world where coffee isn't just a beverage, but a work of art crafted with passion and dedication. That's the world you step into when you decide to go with Dreamy Coffee Co. You might only just be hearing about Dreamy Coffee now, but you will be surprised to know they have been around since 1989 – with the Dreamy Coffee Roast, well-known for its chocolate notes.
What is Dreamy Coffee Co?
Dreamy Coffee Co. is a distinguished coffee brand known for its artisanal approach and unwavering dedication to crafting the perfect cup. With origins dating back to the 1990s, Dreamy Coffee Co. has mastered the art of producing handcrafted cold brew in small batches.
Their commitment to using only organic coffee beans and filtered water ensures a pure and robust flavor in every sip. Unlike mass-produced alternatives, Dreamy Coffee Co. cold brew is never processed or pasteurized, maintaining its irresistible taste.
Their loyal following and reputation have been ever-growing, as a result of 1,000s of visitors to their unique coffee bar located inside Lynda Sylvester's groundbreaking Modern General® store in Sag Harbor, New York. One of the most unique points about Dreamy Coffee is that they are 100% women-owned!
A Symphony of Cold Brew Mastery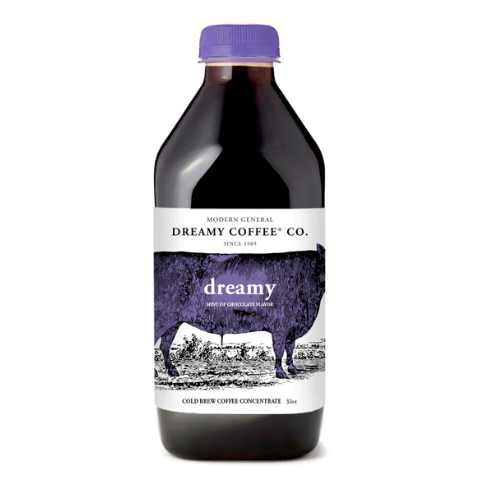 The heart and soul of Dreamy Coffee Co. lie in their artisanal cold brew – a creation that has been nurtured and perfected over decades. Picture this: small batches, meticulously selected organic coffee beans, and crystal-clear filtered water.
It's a process that stands against the tide of mass production. Their cold brew coffee is brewed fresh and only in small batches that boast organic coffee with filtered water, to maximise the quality of the coffee. As you may know, regular water contains minerals and chemicals that can alter the quality and taste of your coffee, so filtered water produces a higher-quality product.
Dreamy Coffee Co. also never pasteurizes its cold brew which allows for a longer shelf life, lower acidity, and ultimately a tasty and smooth brew. The best part is you can mix it with cold or hot water to make your coffee, allowing endless opportunities for coffee recipes and creations.
The main cold brew product is the Dreamy Concentrate, but you will find a small selection of cold brew options from the Dreamy range including:
Decaf Dreamy Concentrate
Hazelnut Concentrate
Coconut Concentrate
Purist Concentrate
Hibiscus Concentrate
Sourcing and Roasting
But where does this exceptional coffee journey begin? Dreamy Coffee Co. embraces a philosophy of conscious sourcing and sustainable practices. Organic beans, cultivated in farms that nurture local communities and uphold the dignity of farmers and workers, find their way into the Dreamy Coffee Co. collection.
Guided by seasoned experts, these beans embark on a transformational journey. They make their way to premier roasting partners, veterans of their craft, who bring decades of experience and state-of-the-art facilities to the roasting process. The result is a spectrum of flavors, from certified organic to fair trade, a testament to the company's commitment to quality.
A Nook of Nostalgia: The Dreamy Coffee Bar
Nestled within the pioneering Modern General® store in the heart of Sag Harbor, New York, the Dreamy Coffee Bar is a haven of comfort and flavor. Since 1989, it has been more than just a coffee spot; it's a time capsule that captures the essence of community and camaraderie. Imagine stepping through the doors, the aroma of freshly brewed coffee enveloping you, and the inviting atmosphere inviting you to stay a while. The Dreamy Coffee Bar is more than a destination; it's a cherished memory waiting to be made.
The Coffee Choices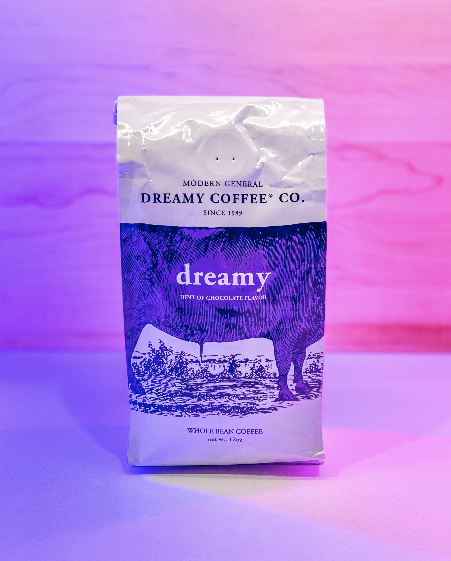 Dreamy Coffee Co. is popular for its Dreamy range, which blends one part Peruvian beans and one part inspiration to get a Medium roast with just a hint of natural chocolate flavor, but it has much more to offer to satisfy coffee fanatics.
For example, some popular choices include:
Coconut Organic Beans
Hazelnut Organic Beans
Colombian Organic Beans
House Blend Organic Beans
French Roast Organic Beans]
When ordering your beans online, in addition to Whole Bean, you can also select your beans to be pre-ground depending on which coffee brewing method you use – such as espresso or drip coffee.
Prices of the coffee beans hover around the $18 mark, which is reasonable when compared with similar brands such as Fire Dept. Coffee. However, the downside of Dreamy Coffee Co. is that they don't offer a large selection. So if you prefer to branch out and try different origins and roasts, a coffee subscription box or another brand might be better suited to your coffee needs.
Experience Dreamy Coffee Co.
Dreamy Coffee Co. isn't just a brand – it's a journey. It's the culmination of dreams nurtured over time, a dedication to the art of coffee that transcends mere consumption. Whether you're sipping on their handcrafted cold brew, exploring the array of thoughtfully curated beans, or embarking on a pilgrimage to the Dreamy Coffee Bar, you're immersing yourself in a story that began with a vision and has blossomed into an unforgettable experience.
The Final Sip
Whilst Dreamy Coffee Co. doesn't offer the variety that other brands do, it certainly lives up to the saying 'good things come in small packages'. The small and unique range of cold brew and coffee beans they offer is certainly worth a try. After all, by keeping their range small, they are able to perfect the creation of their products, much to a coffee lover's delight!